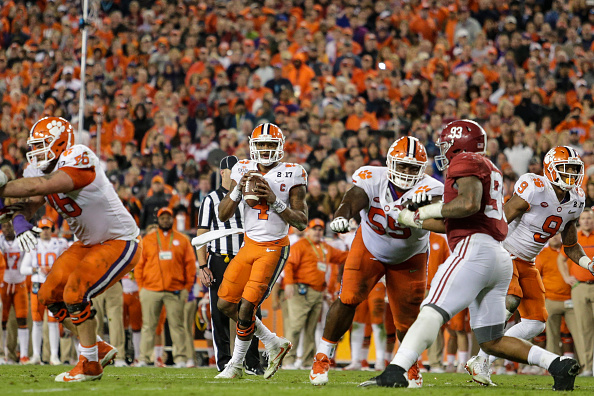 So last night my article about the Greatest 12 Months In Sports History stirred quite the buzz.  While everyone loved the material, the only question was, "What About College?"
Well, I couldn't agree more with those of you who wanted more, and considering the past 12 months in College Football and Basketball, how could I argue!  Heck, I will even throw in the 2016 Summer Olympics.
Let's start there shall we.
No one will ever argue that the two most memorable teams in Olympic History were the 1980 US Men's Hockey team that took part in the Miracle on Ice, as well as the 1992 Men's Basketball Team that will forever be known as the Dream Team.
Well, this years cast and crew on the hardwood in Rio de Janeiro gave us all some excellent memories as well.  Many wondered how the first Dream Team in years would perform without such All Stars as LeBron James and Kobe Bryant.  The answer,,,, EXCELLENT!
This past summers team had no problems once again taking home the gold with an undefeated run in the tournament.  In fact, their gold medal was part of 46 taken home by the United States.  That number (46) led all countries, as well as their 121 overall medals won.  It was the easiest and most dominant performance in United States Summer Olympic History.
But they don't get paid so it doesn't count you say?  Oh how I must disagree.  Try telling that to Kris Jenkins and the rest of the 2015-2016 Villanova Wildcats who won the NCAA Tournament for the National Champinoship.  Few if any who saw it will ever forget Jenkins nailing a dramatic three pointer with time expiring to beat heavily favored North Carolina 77-74 in thrilling fashion to win it all.
The dramatic Championship game came on the heels of a lackluster Final Four Saturday night that saw two blowouts.  Villanova had toppled Oklahoma 95-51 in one of the most lopsided Final Four games in tournament history.  Upstart 10th seeded Syracuse didn't fair much better as they lost to North Carolina 83-66.  However, no one really remembers those games nearly as much as Jenkins dramatic buzzer beater to win it all!
College Football wasted no time taking a cue from College Basketball when it came to Dramatic Championship games finishes.  This year it was a rematch between the highly touted defending unbeaten champions the Alabama Crimson Tide and the Clemson Tigers.
The Tide had reached the National Championship Game with a 24-7 win over Washington in the Peach Bowl.  Clemson advanced to the National Championship Game with a 31-0 drubbing of Ohio State in the Fiesta Bowl.
Just like basketball before it however, the NCAA bounced back from an awful semi-finals only to put on a classic National Championship Game.  The Tide held a convincing 24-10 lead heading into the fourth quarter before DeShaun Watson led a furious rally that saw the Tigers score with one second left on the clock to cap off an amazing 35-31 comeback win.
Two dramatic last second finishes that saw two College Giants fall, and one completely dominant performance by the United States in the Summer Olympics.  Hard to argue or follow that!

NEO Sports Insiders Newsletter
Sign up to receive our NEOSI newsletter, and keep up to date with all the latest Cleveland sports news.