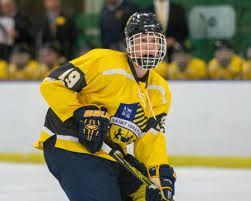 BROOKLYN, OHIO – The OHSAA Hockey District Sectionals continued Saturday afternoon with a quarterfinal match between #1 St. Ignatius and #9 Midview.
Ignatius continued their impressive season and scored eight unanswered goals to top Midview 9-1.
Ignatius got out to an early 1-0 lead, but Midview tied it up at the 5:04 mark of the first period.
Ignatius scored two more in the period to enter the intermission leading 3-1.
Ignatius came out on fire to start the second period, scoring four goals in the first three minutes to make it 7-1.
Midview Goaltender Jared Meredith repelled a barrage of shots the rest of the frame and Ignatius led by six heading into the final period.
Ignatius scored two more goals in the first four minutes of the third period and would add one more tally a few minutes later and go on to win 9-1.
Jared Stepka scored three goals, Connor Koehnke and Aidan Spellacy each scored two, Cam Gerard and Bain Kurtz each scored one.
The lone goal for Midview was scored by Nicholas Verlotti.
Midview Goaltender Meredith made a tremendous 62 saves on the day.
Midview's great run comes to an end with a record of 13-14-2.
St. Ignatius moves on to face #5 Holy Name in the District Semi-Finals. Face-off is set for 7 PM Tuesday night at the John M. Coyne Recreation Center.