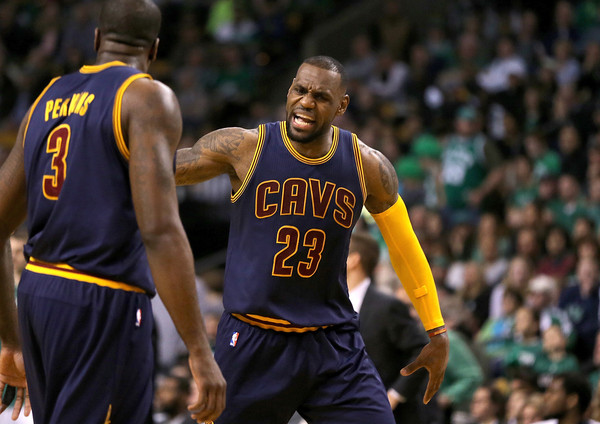 LeBron James spoke with reporters on Thursday and along with refusing to go into detail about a cryptic tweet, he mentioned that the Cavs are lacking an enforcer.
The "news" from LeBron: the Cavs don't have an enforcer and he's never won a title without one

— Joe Vardon (@joevardon) March 3, 2016
LeBron's decision to make the statement publicly might be an attempt to sway management into signing an enforcer-type player in the coming weeks, as the NBA season marches on towards the playoffs.
Along with LeBron telling reporters the team needs an enforcer, Chris B. Haynes of Northeast Ohio Media Group appeared on the Dan Patrick Show on NBCSports and revealed that members of the Cavaliers "were pissed" about the front office not re-signing Kendrick Perkins in the Summer of 2015.
"They were highly pissed. I knew this for a fact. They were highly ticked off, this team, when the team didn't re-sign Perkins and they ended up picking up over the summer Sasha Kaun – a 29-, 30-year-old rookie who has not really played at all and I don't really think is ready for the NBA." Haynes told Patrick.

"So, he's collecting about $2 million right now a season and not even playing. Perkins would've been brought back for the veteran's minimum.

Players – I know for a fact, I talked to them – they were highly ticked off about that, not bringing him back. Because it wasn't about his numbers. It was about the intangibles, the emotional leadership and the enforcer, the enforcement role he brought to the team"
It is reasonable for the Cavs' management to have believed Perkins would not have made a huge impact this season, but when looking at the production or lack there of from Kaun, it doesn't look like a brilliant move on their part.
Especially when one of the big factors for signing Kaun was his relationship with David Blatt, who was fired mid-season.
Maybe the Cavs will go after an enforcer in free-agency in the coming weeks, but they have already missed the boat on a couple of targeted free-agents in the last week.
Here's the video of Chris B. Haynes' appearance on the Dan Patrick Show from Thursday morning.