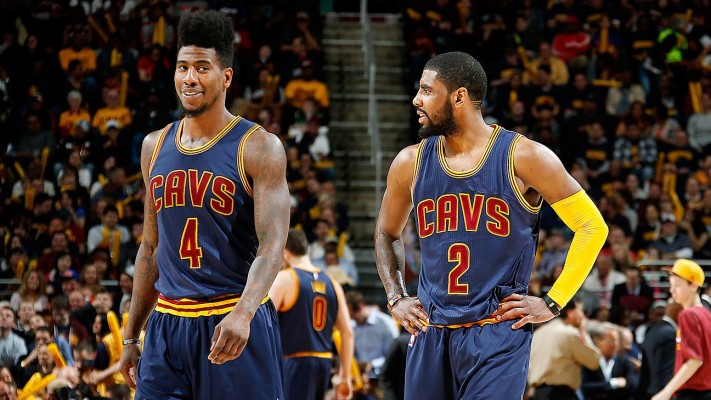 Before Friday night's blow out in Orlando, the Cavs were 14-7 missing at least two of their best players every game to start the season.
Some games they were without even their backups playing starting roles, like Mo Williams missing a few games and then choosing to come off the bench for a few games; J.R. Smith missing a few games; and Timofey Mozgov missing almost two weeks.
Needless to say, the Cavs have been short-handed, but managed to maintain the number one-seed in the Eastern Conference.
The return of Iman Shumpert on December 11th against the Magic certainly seemed to help, as the Cavs dominated the Magic 111-76. Shump contributed 14 points off the bench and was just as great defensively as we have come to know and love since he was traded from New York in January of last season.
Something else that stuck out when watching the game was that the whole team seemed to play with much more energy and fire.
It was a great win, but now there are bigger fish to fry.
Tuesday night, the Cavs take on the Boston Celtics at the TD Garden. The last time these teams met, Celtics' center Kelly Olynyk *unintentionally* injured Kevin Love, causing Love to miss the remainder of the postseason; a devastating blow to the Cavs trying to seek a title in their first season together.
That play led to Smith back-fisting Jae Crowder's face, which resulted in a two-game suspension for Smith.
Crowder has said he wants Smith to apologize. Smith said he has no intention to do so. Tuesday night should be fun to watch.
What might be lost in the whole conversation leading up to this game is that the Celtics are actually a pretty good team. Boston comes into play Tuesday with a record of 14-10, the seventh-best in the Eastern Conference.
They just took Golden State down to the wire in a double overtime shootout, and are one of the more underappreciated teams in the NBA, because they don't have a big name star to point to.
It should be a competitive ball game, and although Shumpert is back, we do know the Cavs will be without All-Star point guard Kyrie Irving.
There is still a chance Kyrie can play Thursday at home against Oklahoma City, which will be an even better matchup than the Boston game, but the most likely scenario appears to be a December 20th return, Sunday, in Philadelphia.
Whenever Kyrie and Shumpert are both inserted back on the court the Cavs will finally be back to their full arsenal, with Irving at starting point guard and Shump either coming off the bench to provide lockdown defense or starting at shooting guard, which would put Smith in the sixth-man role, where he can light it up off the bench. Either way, the rotations the Cavs can use with a healthy lineup can be deadly.
During the 2014-2015 regular season, following the trades to acquire Shumpert, Smith and Mozgov, Head Coach David Blatt opted to use a starting lineup of Irving at point guard, Smith at shooting guard, LeBron James at small forward, Love at power forward, and Mozgov at center 33 times.
The Cavs went 29-4 in those 33 games.
Although Shumpert didn't start during the regular season, he still played 24 minutes per game.
Shumpert became most valuable during the postseason, when injuries plagued the Wine and Gold. He was one of six Cavaliers who played in all 20 games, starting in 16 of them.
Shumpert averaged 35 minutes per game and played the third-most total minutes of anyone on the team in the postseason, just behind Tristan Thompson and LeBron.
The recurring theme that we have heard and will continue to hear all season long is "Just Keep Everybody Healthy for the Playoffs."
It seems fitting that the Cavs are just starting to get healthy when they face the team that first dealt a devastating blow to their health in May. 10 days later, a rematch against the team that benefitted from those injuries will give basketball fans a chance to see how the two teams match up when they are fully-loaded.
We'll have PLENTY more to talk about leading up to that Christmas Day NBA Finals rematch in next week's edition of Write Down Euclid, but between now and then, let's get some revenge on Boston and see how this team stacks up with a legit contending OKC Thunder team.

NEO Sports Insiders Newsletter
Sign up to receive our NEOSI newsletter, and keep up to date with all the latest Cleveland sports news.