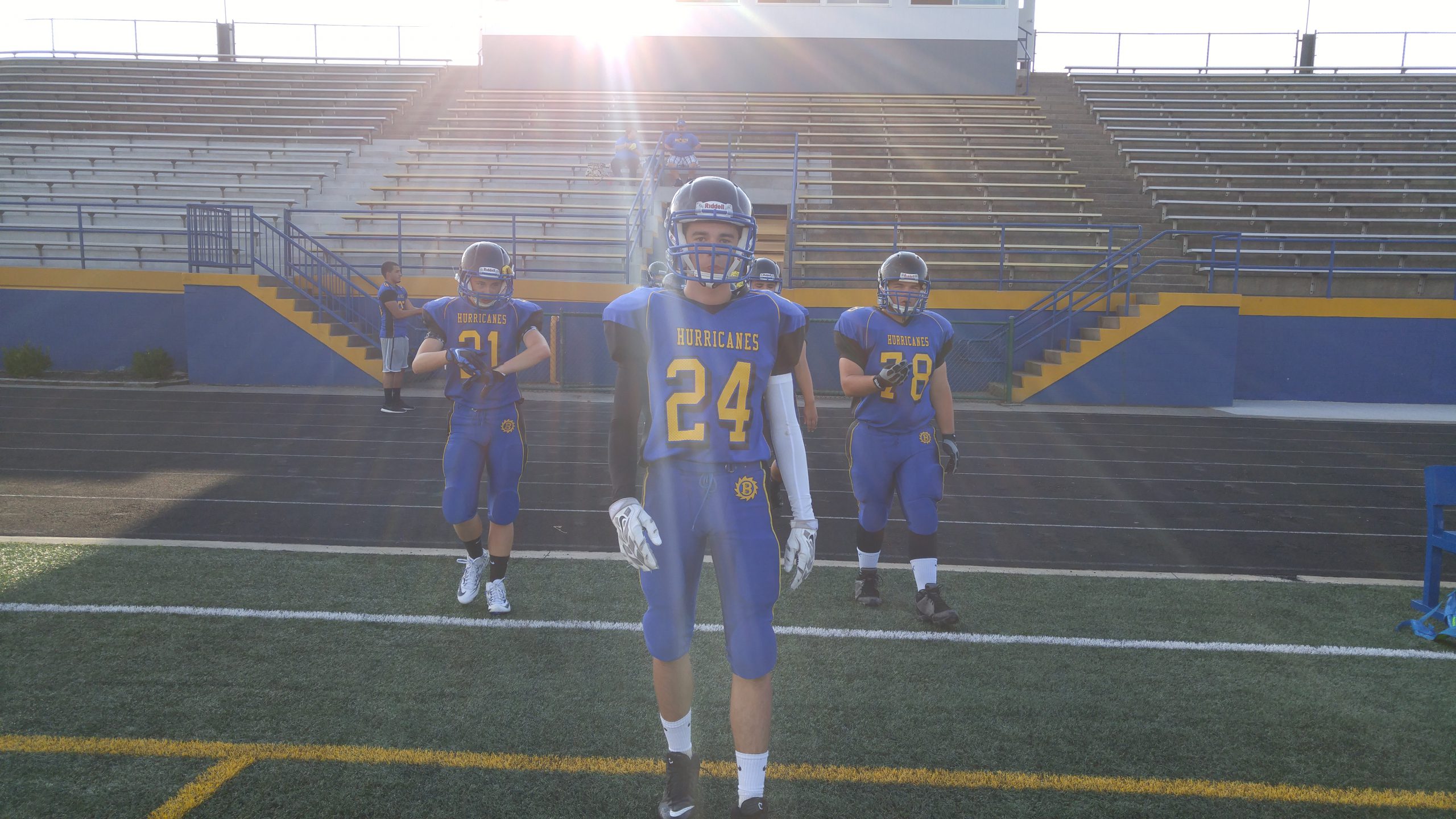 This game recap is brought to you by Mullins Construction, which you can visit at http://www.createns.com/mullins_construction/
BROOKLYN, Ohio – The 2-0 Lincoln West Wolverines invaded Brooklyn on Friday Night to take on the 0-2 Brooklyn Hurricanes in a hard fought battle. The Wing T offense was just a little too much to stop, and the Wolverines won 26-18.
Lincoln West had a trio of dangerous runners and they used them early and often, and in fact, all game as they never once attempted a pass. Lawrence Johnson ran for 62 yards on 10 carries. Robert Littlejohn went for 44 yards on 14 attempts. Quarterback Devonte Hale ran for 89 yards on 16 carries. The Hurricanes did force 4 fumbles.
It was a wild first half that saw Lincoln West score the first 20 points of the game unanswered. They struck first on a 10 yard touchdown run by Quarterback Devonte Hall. The drive was set up by an excellent 54 yard opening kickoff return by Devin Negron.
After Brooklyn fumbled on their first play from scrimmage. Lincoln West got the ball right back and scored again on a 1 yard scamper by Robert Littlejohn. The scoring wasn't done yet however, as the Wolverines connected on a pick six, as Lawrence Johnson took it 76 yards to make it 20-0 Lincoln West as the first quarter came to an end.
The Hurricanes would rally back in the second quarter however. An 11 yard TD run by Andrew Zarins would put them on the board. They weren't done yet, as on their very next possession, it was Quarterback Matt Crossman hitting Joey Sullivan on a screen pass, that Sullivan took 15 yards to make the score 20-12 and put the Hurricanes right back in it. Both teams would trade touchdowns in the second half and the final score was 26-18 as a late Hurricanes rally came up short.
The Hurricanes played great in the second quarter, forcing two fumbles, and even converting an onside kick. It would have been easy for them to fold, but they came out like a house of fire, showed heart and hustle and got right back into it. They also had great success with running the Wildcat offense.
Quarterback converted from Wide Receiver Matt Crossman did his best, but was the victim of several dropped balls. Crossman finished 6 for 19 with 73 yards. He had 2 td's and 2 int's. He was also sacked 4 times. He also ran the ball 5 times for 35 yards.
The running back duo of Joey Sullivan and Andrew Zarins also had big nights. Sullivan carried the ball 11 times for 64 yards. His backfield running mate, Andrew Zarins carried the ball 17 times for 45 yards. Sullivan had 26 yards receiving as well.
Brooklyn Head coach Sean Belveal is in his first year at the helm and talked about some of the transitions he has had to make since coming from Cleveland Central Catholic, "Here at Brooklyn it is about getting the kids out and teaching them about the fundamentals and the basics of football. I think that is what it is like anywhere. Here, we have a lot of new guys who haven't played before. For some of our guys, it is their first ever football experience and we are teaching them from the ground up."

Despite the rough start to the season, coach Belveal has confidence things will continue to improve, "Our team has dealt with its share of adversity thus far. We've had no access to the locker rooms until now, also dealt with injuries and grade issues. Despite that, they have battled and fought hard. My message to them is clear, win or lose, play hard, play with passion and do your best. If they can continue to give that to me then I'm okay with that. They have to keep pushing and build experience."
The Hurricanes will look to get on the winning side of things next weekend as they host Black River. The Lincoln West Wolverines will look to remain unbeaten as they travel to East Tech.
Score by quarter
Brooklyn 0-12-0-6 = 18
Lincoln West 20-0-6-0 = 26
Scoring summary
LW 10:38 1rst Quarter – 10 TD Run Devonte Hale – 2 XP No Good
LW 7:29 1rst Quarter – 1yd TD Run Robert Littlejohn – 2 XP Good
LW 2:04 1rst Quarter – 76 yd INT TD return Lawrence Johnson – 2 XP No good
B 9:23 2nd Quarter – 11 yd TD Run Andrew Zarins – 2 XP No Good
B 7:38 2nd Quarter – 15yd TD Pass. Crossman to Sullivan – 2 XP No Good
LW 0:32 3rd Quarter – 21 yd TD Run Devonte Hall – 2 XP No Good
B 0:26 4th Quarter – 42 Yard TD pass Crossman to Delligatti – 2XP No Good

NEO Sports Insiders Newsletter
Sign up to receive our NEOSI newsletter, and keep up to date with all the latest Cleveland sports news.