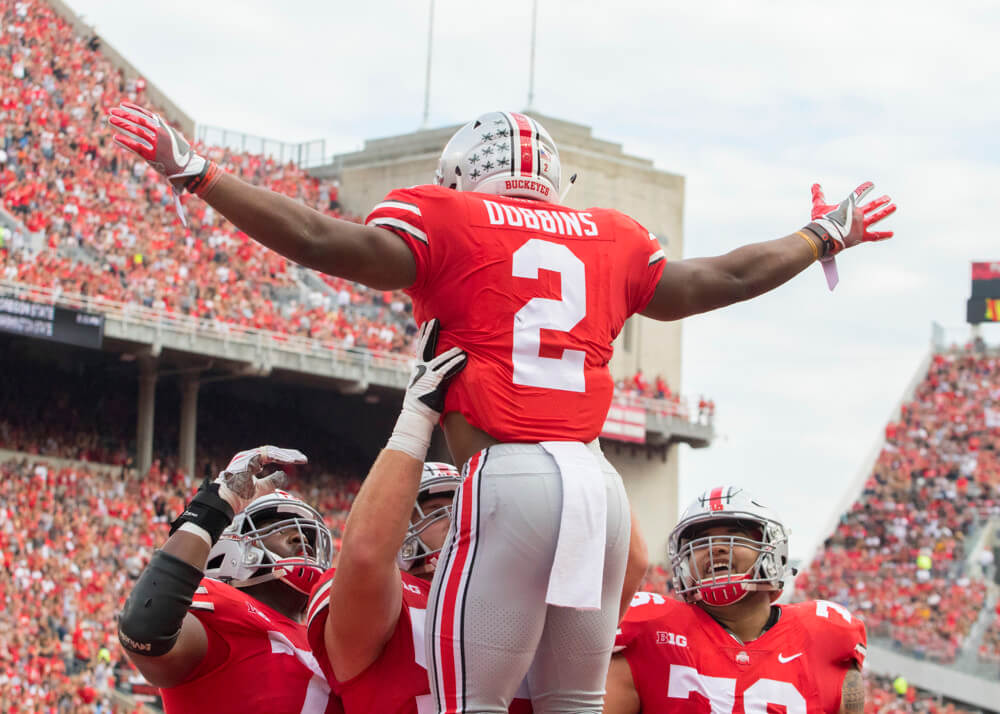 After a wild 2017-18 campaign, it's never been so cut and dry for Ohio State to make the College Football Playoff. All they need to do is win the Big Ten Championship Game against the undefeated Wisconsin Badgers this Saturday.
That's right, it's that simple.
Okay, maybe it isn't that "simple". Wisconsin is a tough team and it will be a tall task to hand them their first loss of the year. But if you were to tell Buckeyes fans three weeks ago after an embarrassing road loss to Iowa that they'd still find a way to sneak in as one of the final four teams, most would give you a big ol' hug.
You're probably asking yourself how it's still possible for the Scarlet and Grey to make it into the four-team field after suffering two losses. If you aren't asking yourself that currently, you've either dismissed the idea to avoid a letdown or you're screaming at this article saying there's absolutely no logic behind this argument.
That's where we'll begin.
Yes, Ohio State has lost twice and one of them is not as appealing as the other. Six weeks after being picked apart at The Horseshoe by Oklahoma and Baker Mayfield, the Buckeyes were absolutely shelled on the road against the Iowa Hawkeyes in a game that appeared to seal Ohio State's playoff fate. How could a team that gave up 55 points to a mid-tier Big Ten team possibly compete with the likes of Oklahoma, Auburn, Clemson, etc.? Yet the Buckeyes took that loss on the chin and went on to outscore their final three opponents 131-37. That's how you remind folks how dangerous you truly are. With those wins, Ohio State set themselves up for a final impression to be made on the Playoff Committee in the form of a Big Ten Championship clash against a very good Wisconsin team. We'll get into how the Buckeyes just need to win to get in with the paragraphs below, so stick with me.
Let's begin with the ACC. The Clemson Tigers have clawed their way back to the top of the rankings after an early loss to Syracuse and take on the Miami Hurricanes, who suffered an ugly loss at the hands of Pitt this past week which sent them down to seventh in the rankings. Both teams hold two top-25 wins including a mutual victory over twenty-second ranked Virginia Tech. Clemson's big win comes early on against an Auburn team that was not nearly as good as they are now. Miami's victory over Notre Dame was impressive at the time but has certainly lost its luster due to the lame play of the Fighting Irish. Despite the loser only having two losses, it comes at a point where there is no other chance to impress the committee. Also, both teams don't boast a great strength of schedule and that has been a big part of the committee's criteria up to this point.
On to the SEC, we go. Auburn and Georgia battle for the crown of what is still referred to as the toughest conference in college football. Auburn has two losses which come at the hands of Clemson and LSU on the road. Though they have huge wins over Georgia and Alabama at a time when both were the top team in the nation, they can't afford a third loss. Georgia has just that one loss to Auburn and also has two top-25 victories. There's really no way they would get in with two losses due to the fact it would be their second head-to-head loss to Auburn, which would make a potential third matchup between the two teams not even the least bit appealing. Simply put, whoever wins is in and the loser is out.
The Big 12 is where we will stop next. Oklahoma has run through opponents and besides their one blunder against Iowa State, they've looked unstoppable. Sooners quarterback Baker Mayfield has positioned himself to not only win the Heisman Trophy but also be the first quarterback taken in the 2018 NFL Draft. He's led this Sooners team to remarkable heights and if they get through TCU, it's a lock for them to be in the College Football Playoff. Unfortunately for the Horned Frogs, a win will not get them in as one of the four teams. TCU holds only one ranked win to their name and that is Oklahoma State. The Cowboys have no key victories and that will hurt TCU's resume in the long run. It just won't be possible for Texas Christian to jump all the way up from their eleventh spot in the rankings, so them knocking off the Sooners would do more good for Ohio State and Alabama.
Then we reach the Big Ten, where Ohio State has an opportunity to right their past wrongs with a huge win against Wisconsin. The Badgers have been overlooked by the committee despite their blemish-free record. They just finally cracked the top-four this past Tuesday and now have a chance to make their first playoff appearance. All they have to do is knock off Ohio State in Indianapolis. The Buckeyes couldn't be in a better spot, however. If they go out and handle their business against Wisconsin, the voters couldn't leave them out. It would be the third ranked opponent Ohio State has defeated, adding the Badgers to the list of Penn State and Michigan State. The resume along with a good strength of schedule would make the Buckeyes an appealing choice to put into the playoffs. Also, they have one of the most loyal fanbases and one that travels well. Most won't want to hear it, but revenue is a big factor for these postseason games. The fact that Ohio State fans followed their teams down to watch them play a team in Clemson that was expected to roll Ohio State has to speak volumes to the committee. That's why the Big Ten winner is a lock to get into the CFP, no matter which team it is.
Some may argue the fact that Alabama would be getting snubbed out of a deserved spot. To dispute that point, this author points to Colorado State and Mercer. Those would be two of the non-conference games the Crimson Tide decided to play this season. No better way to prepare for the Iron Bowl then a doozy against Mercer, right? This weak out-of-conference scheduling has finally caught up to Alabama and will be the main reason for their demise this year.
So there you have it, that's my breakdown to who gets in on Selection Sunday. If you disagree on Ohio State's validity simply because they have two losses, let me remind you that last year the big argument as that a team that did not win their conference championship would not get in. What happened come season's end? The Buckeyes were in.
Don't get fooled again. Ohio State controls their own destiny and is playoff-bound with a win at Lucas Oil Stadium this weekend. May the chips fall where they may.

NEO Sports Insiders Newsletter
Sign up to receive our NEOSI newsletter, and keep up to date with all the latest Cleveland sports news.