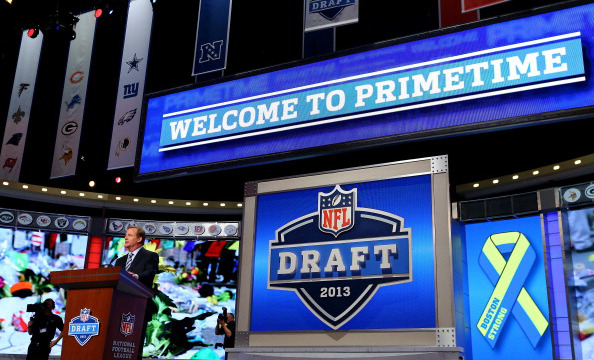 The first round of the 2016 NFL Draft was full of drama and one surprise after another all across the board. Here are my winners and losers from Day One.
Winners:
Jacksonville Jaguars
Jacksonville was getting ready to trade back out of the number five spot because they didn't think Jalen Ramsey would be there when they were picking. Somehow the Jaguars got the player most thought was the best in the draft and he fills a need along their defensive secondary. Got to love the home run of an offseason the Jaguars are having.
Ohio State
While they didn't tie the record, the Buckeyes saw three of its players go in the top ten, and all of them higher than anticipated. With Bosa going three, Elliott going four, and Apple going ten, the Buckeyes had a monster night as no other school had more than three drafted.
Ezekiel Elliott
Ezekiel should be thrilled that he went to Dallas. Not only does he go number four as a running back which is unheard of nowadays, but he also goes to a no income tax state and a playoff contender. Not to mention he will have the best offensive line in the NFL to run behind. He is your early front runner for Rookie of the Year.
Josh Garnett
I have no idea what you did to sell San Francisco, but good for you Garnett. He might not even be the best guard in the draft and should have been a late second round pick, but the 49ers actually traded up quite a bit to go ahead and get him over some of the other needs the team has. He was the biggest day one reach so for his cause, he's a winner.
Miami Dolphins
While it may be a gutsy call with the controversy surrounding Laremy Tunsil that we will get to soon, the Dolphins got my best player in the draft at number thirteen. That's a big time steal for the value of player going at that point. If he stays focused the Dolphins might have gotten one of the biggest steals of the entire draft.
Minnesota Vikings
The Vikings got the WR most thought was the best in the draft as the fourth WR taken. Minnesota needed a guy that could catch the ball and be a true number one wide receiver. Treadwell was one of the players that best fit that role and him sliding to them made the pick a no brainer.
Losers:
Laremy Tunsil
It doesn't matter if you were hacked, made a mistake, etc. you can't have a video of you ripping a bong in a gas mask emerge just minutes before the draft. He was thought to go no lower than six but with that video he dropped all the way down to 13 and he's lucky it wasn't farther. Then in an interview he admitted to receiving improper benefits at Ole Miss. Thursday was a disaster for Tunsil.
Ole Miss
Speaking of Ole Miss, they now become a loser because of Tunsil. With him admitting that he received money and improper benefits while at the school, the NCAA will likely relook into allegations against the school. Sanctions in the form of fines, postseason ban, or scholarship losses are likely heading the Rebels way after Tunsil just publicly sold them out.
Alabama
Speaking of schools that didn't do so hot, Alabama was one of them. They could have rivaled Ohio State in terms of players taken in the first round, but only saw one player go Thursday. DT's A'Shawn Robinson and Jarran Reed and LB Reggie Ragland will all have to wait another day to hear their name called after it was thought they would go Thursday.
Myles Jack
The knee concerns surrounding him must be more serious than everyone thinks for him not to go at all on day one. One of the top five players in the draft, the threat of future microfracture surgery has caused him to slip all the way into round two at the earliest. It's unfortunate that it happened to him, but I thought someone would have taken a flier on him by this point.
Atlanta Falcons
I wasn't a fan of the Atlanta pick. I think both safeties going that early were both reaches but especially Atlanta for taking the second safety with all the talent on the board. They could have improved up front defensively with Darron Lee, Reggie Regland, or Shaq Lawson, but instead opted to overdraft Keanu Neal.
Philadelphia Eagles
I'm still unsure of what the Eagles plans are with their QBs. Sam Bradford got 22 million guaranteed and Chase Daniel got 12 million guaranteed. Now you add a third QB to the roster and they are going to have to carry all three QBs during the season unless they can trade one. Sam Bradford is demanding trades and supposedly not answering phone calls. With the Broncos drafting Paxton Lynch, the market for them to find any takers for the backup QBs has shrunk again. Plus they don't have a first round pick next year now so I'm not sure what the big plan is for Philly.

NEO Sports Insiders Newsletter
Sign up to receive our NEOSI newsletter, and keep up to date with all the latest Cleveland sports news.