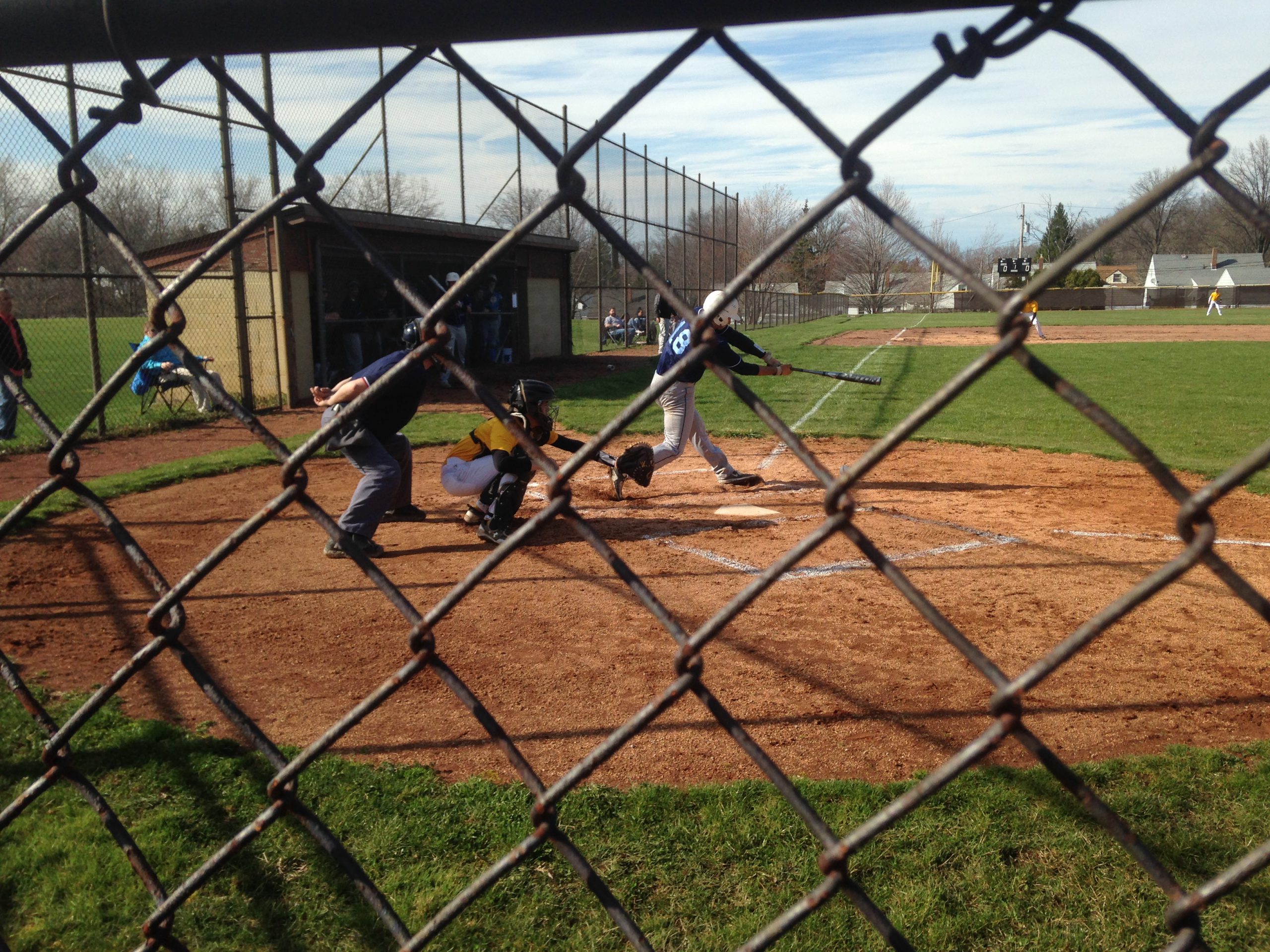 Lyndhurst, Ohio – If you liked pitcher's duels, today was the game for you at Humpal Field. There were many strikeouts to be had, as well as stellar defense.
But in the end, one run made the difference, as junior third baseman and Youngstown State commit Steve D'Eusanio knocked in the go ahead run on a ground rule double, helping the Willoughby South Rebels secure a key road win in the Western Reserve Conference opener, 2-1 over the Brush Arcs.
Before today's game, there was a moment of silence for former Brush Arcs baseball player Alec Kornet, who passed away in February. Both teams paid tribute to him during the game.
The first four innings were a pitchers duel between Willoughby South senior and Ohio State commit Juan Broom and Brush junior Travis Thompson.
Thompson got out of two bases loaded jams in the first and second innings, giving up only one run, off of a two-out double by Steve D'Eusanio, giving Willoughby South the early lead, 1-0. He threw 6 1/3 innings, walking five, and striking out four.
"I hit my spots and stuff and I just felt like I did really good." said Thompson of his efforts.
Willoughby South pitcher Juan Broom threw 4+ innings, striking out ten batters, walked four, and allowed only two hits.
"I think I did good, I just have to limit the walks, and we just bring the bats out, keep them hot, we'll be good." said Broom.
In the bottom of the fifth, after a walk and a hit batsman, Broom was replaced by senior Jack Elliott, who managed to allow only one run, which came off a fielder's choice groundout by Brush junior Tyler Iacobucci, which tied the game at 1.
In the bottom of the sixth, Brush loaded the bases on the strength of a single, an error, and another single. But Jack Elliott was unfazed, getting a strikeout, a groundout, and a flyball to escape the inning unscathed.
In the following inning, after a single and a sacrifice bunt, Travis Thompson was relieved by Tyler Iacobucci. After an intentional walk and a single, Jon Chinchar lined out to third, and the runner on third base was doubled off.
The game then went into extra innings, and that's when Willoughby South made their move.
Senior outfielder Matt Buck drew his third walk of the day. He went 2-2 on the day with a single, a double, three walks, and scored both runs.
"I just went up looking for my pitch. If I didn't get it, I just took it. I had a pretty good game." said Buck.
Following Buck's walk, Jack Elliott reached on an error by second baseman Brett Gordon. Then Steve D'Eusanio came to the plate, delivering a clutch double to left-center field, plating Matt Buck. He knocked in both runs for the Rebels.
"I felt good, I thought the guys in front of me did their jobs getting on base, and I just happened to be in a situation where I could get those two runs in." said D'Eusanio.
Jack Elliott shut down the Brush Arcs in the bottom of the inning, sealing the victory. He threw 4 innings, struck out a batter, walked two, and gave up only two hits.
"I was struggling a bit at first, couldn't find the strike zone, but the guys behind me picked me up. We worked together as a team." said Elliott.
"We made adjustments when we had to, and we played team baseball, and let the guys behind us pick each other up." said Willoughby South head coach Steve Norris.
Despite the loss, Brush coach Tony Maniglia was proud of the efforts of his team.
"100% proud of my team. They played outstanding. Great defense. Offense was fairly consistent, we just didn't hit it when we had bases loaded. Other than that, I'm proud of how we played. I have nothing negative to say." said Brush second-year head coach Tony Maniglia.
Willoughby South improves to 4-3 (1-0 Western Reserve). They travel to Mentor on April 8 to take on the Mentor Cardinals.
The Brush Arcs fall to 3-3 (0-1 Western Reserve). They host Mayfield on April 10.

NEO Sports Insiders Newsletter
Sign up to receive our NEOSI newsletter, and keep up to date with all the latest Cleveland sports news.