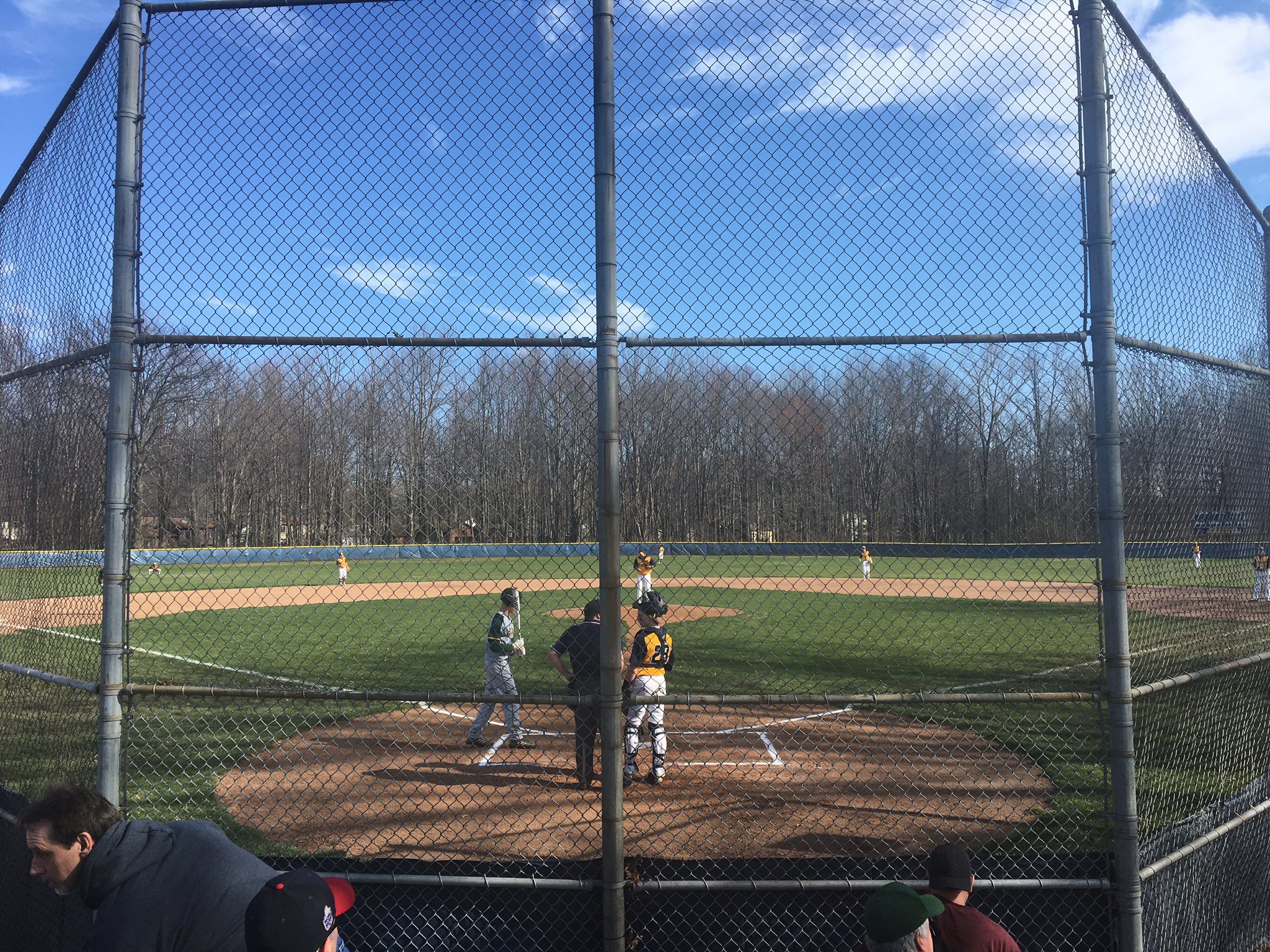 Olmsted Falls— It's no secret that the Amherst Comets have one of the most competitive bullpens in Northeast Ohio.
That competitiveness was on full display Wednesday afternoon, as the Comets topped the Olmsted Falls Bulldogs, 5-1, behind pitching from Evan Shawver (Nebraska recruit).
Shawver pitched 12 strikeouts and only surrendered four hits and three walks in six innings.
Sophomore Jack Spellacy picked up the loss for Olmsted Falls, giving up seven hits and four runs in four innings.
"When Evan is on the mound, he's one of the kids you don't have to worry about, because he knows how to pitch," Amherst head coach Matt Rositano said. "He's just not up there throwing. He's very meticulous when he's on the mound, and when he's filling up the strike zone like he was today he's tough to beat."
Shawver also led the way offensively for Amherst and went 2-4 from the plate and recorded an RBI single.
The Comets got off to an early lead. Shawver started out with a double in the top of the order. Amherst was able to manufacture a 1-0 lead after Jeremy Smith laid down a sacrifice bunt and Mark Harris got a two-strike RBI ground out.
"It made me feel really good because I could start to settle down knowing that my team was hitting. Because once they're on, they're on. They're not gonna let go on me," Shawver said.
In each of the next three innings, the Comets led a balanced offensive attack. Ryan Glowacki recorded an RBI single in the second, while Kyle Dalzell recorded one in the third and Shawver added his in the fourth.
Throughout the first three innings, Shawver struck out seven of the first 11 batters he faced.In the bottom of the fourth, however, it looked like Amherst may have been getting a little shaky on defense.
Shawver gave up hit to Spellacy, followed by an RBI single to Jack Hamel. After walking Bret Asadorian, Rositano called a timeout to calm Amherst down and avoid any more runs from the Bulldogs.
"[Shawver] was pitching well. Bases loaded, they had their nine hitter up. And our approach was we were going to go right at him. We were going to make him hit his way on, attack him in the strike zone, Rositano said.
"And that's what he did, we got the ground ball and we got out of the inning."
The Comets ended the inning only allowing one run from Collin Romel, as runners advanced on a single from Hamel.
Thanks to Shawver's steadiness on the mound, the Bulldogs were not able to get any momentum going offensively.
"I think the hardest thing to do against a pitcher like that is string hits together," Bulldogs' head coach Dan Largent said. "We definitely had some nice hits off him, we definitely had some base runners, but it's hard to string them together and make something happen. And they're a good team and they're not going to boot the ball around."
The Comets improve to 5-3 overall and 4-0 in Southwestern Conference play, while the Bulldogs dropped to 2-3 overall and 1-2 in the conference. Amherst is back in action tomorrow against Avon Lake and Olmsted Falls takes on Westlake on Friday.
Watch video highlights of the game below, via OhioSportsNet.

NEO Sports Insiders Newsletter
Sign up to receive our NEOSI newsletter, and keep up to date with all the latest Cleveland sports news.