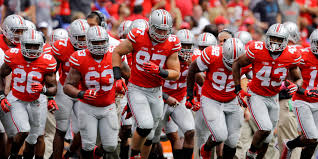 The College Football Playoff seeding will be decided by this weekend's slate of conference championship games.
Entering Friday night, Ohio State is ranked No. 2 in the playoff picture.
College Football Playoff Rankings
There are four games with playoff implications.
PAC-12 Championship
Friday, 9 pm ET @ Levi Stadium, Santa Clara, CA
4 Washington vs. 8 Colorado
Big 12 (de-facto) Championship
Saturday, 12:30 pm ET @ Memorial Stadium, Norman, OK
9 Oklahoma vs. 10 Oklahoma State
ACC Championship
Saturday, 8 pm ET @ Camping World Stadium, Orlando, FL
3 Clemson vs. 23 Virginia Tech
Big Ten Championship
Saturday, 8 pm ET @ Lucas Oil Stadium, Indianapolis, IN
6 Wisconsin vs. 7 Penn State
Let's start out with the assumption that even if No.1 Alabama loses to Florida in the SEC Championship, the Crimson Tide will not drop in the rankings.
Here are possible scenarios that can play out with the results of the other conference championship games:
Scenario A: Washington and Clemson both win. Ohio State plays Clemson in semi-final.
If both teams win, it's tough to see either of them being left out. It's possible that Clemson could pass Ohio State and become the 2-seed with a blowout win over Virginia Tech. However, Clemson and Ohio State would be the 2nd or 3rd seed. So they would face in the first round of the playoff.
Scenario B: Washington wins, Clemson loses. Ohio State plays Washington in semi-final. 
If Washington wins, whether by a blowout or a close margin, and Clemson loses, the most likely outcome would be Ohio State stays at No.2 and Washington moves up to No. 3.
At this point, No. 5 Michigan would most likely slide up the rankings from 5th to 4th because of their head-to-head wins over both Wisconsin and Penn State – so regardless of who wins the Big Ten Championship, Michigan has an argument to get in ahead of them in this scenario.
Scenario C: Clemson and Washington both lose. Ohio State plays Michigan in semi-final.
Whether you love it or hate it, this scenario is certainly possible.
If Clemson and Washington both lose, Michigan is virtually guaranteed to get into the playoff. Whether it is as a 3 or 4 seed is debatable.
If Washington loses to Colorado, the Buffaloes would have an argument to get into the playoff. However, Michigan beat Colorado head-to-head, so if Colorado does make it, there's no way they could be ranked ahead of the Wolverines.
Even if Colorado wins and Clemson loses, it's possible for the Buffaloes to be left out.
This is where the winner of Penn State vs. Wisconsin has a shot to get in ahead of Colorado, but because both teams lost to Michigan head-to-head, there's no argument to put them ahead of Michigan.
Scenario D: Clemson and Washington both lose. Ohio State plays Oklahoma in semi-final.
Keeping all of the above factors in mind, the one possibility that could develop is if Oklahoma dominates Oklahoma State and the Penn State vs. Wisconsin game is ugly, let's say a 9-6 low-scoring game with no offense, the committee could propel Oklahoma into the top 4.
Perhaps Oklahoma could leap frog Michigan and Colorado because of their conference championship and not having a head-to-head match vs. Michigan.
Oklahoma's only two losses came in Week 1 and Week 3 of the season to No. 2 Ohio State and No. 24 Houston, while Colorado lost to No. 5 Michigan and No. 11 USC.
Oklahoma and Colorado would have each beaten two teams who finish in the AP top 25.
Oklahoma would have won its ninth-straight game and finish conference play with a 9-0 record, dominating its entire conference handily.
Colorado would have gone 9-1 in conference play.
These are all just possible scenarios and I'm not the only person projecting what can happen, but keep these in mind, as the College Football Playoff Picture unfolds this weekend.

NEO Sports Insiders Newsletter
Sign up to receive our NEOSI newsletter, and keep up to date with all the latest Cleveland sports news.