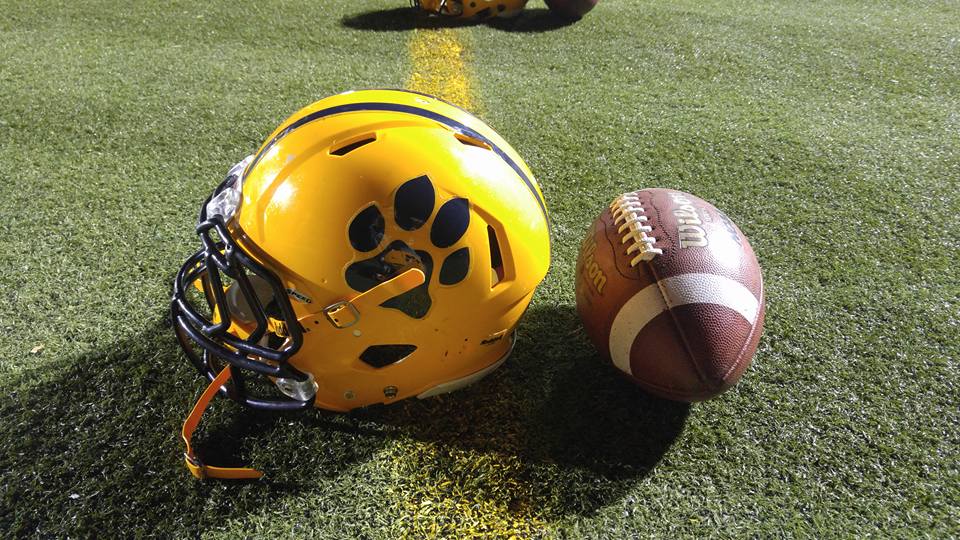 BEDFORD, Ohio – St. Edwards (Lakewood) took on St. Ignatius (Cleveland) tonight, in the regional finals of the Division One OHSAA State Tournament. This was a rematch of their week 10 battle that Ignatius won, 34-7. This time was a bit closer however as St.Ignatius held on in overtime to win 38-31 to advance to the state final four in Division One.
It was an 8 yard touchdown rumble by Mark Bobinski on the first possession of overtime to give them the 38-31 overtime lead. They would hold the Eagles to a 4 and out, and that put them in the final four. It was a wild finish to a back and fourth game.
I spoke with coach Chuck Kyle before the game who had this to say about the challenges St. Edwards brings to the table each week,
"They are a very good football team. They are well equipped on defense with a lot of good players who are quick. They use a variety of stunts to force a lot of second and longs. They run it well, they execute it well. Their offense can really spread you out. If we get on a one on one, we have to make a play. That's football the way that it is. We have to play every down and realize they will bring some wrinkles and we need to adjust to that since our last game again them."
The scoring began the second-time St. Ignatius touched the ball. They had a long methodical drive, using two passes to Travis Pot to set up a Mark Bobinski 2 yard touchdown run with just under five minutes to go in the first quarter.
St. Edwards would use the no huddle offense and several QB draws with Kramer to drive the ball right down the field on their next possession. Coach Lombardo went for it on a fourth and goal from the one yard line, pounding it in for six points with Curtis Szelesta on the ground.
Moments later on the next Eagle drive, Justin Sands of the Wildcats laid a huge hit on Kramer, jarring the ball loose, and giving it right back to the Wildcats deep in Ed's territory. The Wildcats would capitalize with a 32 yard field goal by Matthew Trickett. The Eagles stuffed three straight Stowers runs to hold them to a field goal.
On the very next drive, on a fourth on very long, the Eagles used a fake punt to gain 20 plus yards to keep their drive alive. They would get down deep in Wildcat territory, but couldn't punch it in. Then, the Wildcats blocked their FG try.
The Eagles would then force a 3 and out, but blow the chance to get the ball back when they muffed the punt on their own 18 yard line. The Wildcats recovered and took over in the Eagle red zone with 2:46 left in the half. This time, the Wildcats would cash in on the turnover, with a 7 yard Ryan QB draw for the touchdown. Making the score 17-7.
The first half scoring wasn't over yet with a 66 yard touchdown bomb from Kramer to Hoover to make it 17-14 Ignatius with 18 seconds left in the half. The Eagles were lucky to only be down 3 at the half, considering they had two turnovers and a blocked FG.
The two teams would swap touchdowns in the third, and enter the final quarter 24-21 with St. Ignatius ahead.
The Eagles capitalized on a huge fourth quarter interception to take a 28-24 lead, only for the Wildcats to strike right back plays later on the arm of Patrick Ryan to make it 31-28. As the Eagles got the ball back with minutes left in the fourth quarter, a horrible injury occurred to their quarterback Kevin Kramer. He had to leave the game after laying motionless for several minutes. The Eagles would settle for 3 and tie the game at 31 with four minutes to go. The game would then go over time in dramatic fashion.
Notes
Box Score
St. Ignatius 7 10 7 7 7 – 38
St. Ed's 7 7 7 10 0 = 31
Scoring Summary
Bobinski 2 yard TD run. @4:57 1Q XP Good. 7-0
Szelesta 1 yard TD run @0:09 1Q XP Good. 7-7
Trickett 32 yard FG @8:01 2Q 10-7
Ryan 7 yard TD run. @1:50 2Q XP Good. 17-7
Kramer to Hoover for 60 yard TD @0:18 2Q. XP Good. 17-14
Ryan to Layden 19 yard TD catch. @2:48 3Q XP Good 24-14
Szelesta 7 yard TD run @1:13 3Q. XP Good 24-21
Szelesta 6 yd TD run @10:05 4Q. XP Good 28-24
Ryan to Leto TD pass @7:39 4Q. XP Good. 31-28
Lawler 33 yard FG @4:14 4Q. 31-31
Bobinksi 8 yard TD run Bobinski. XP Good 38-31 OT

NEO Sports Insiders Newsletter
Sign up to receive our NEOSI newsletter, and keep up to date with all the latest Cleveland sports news.