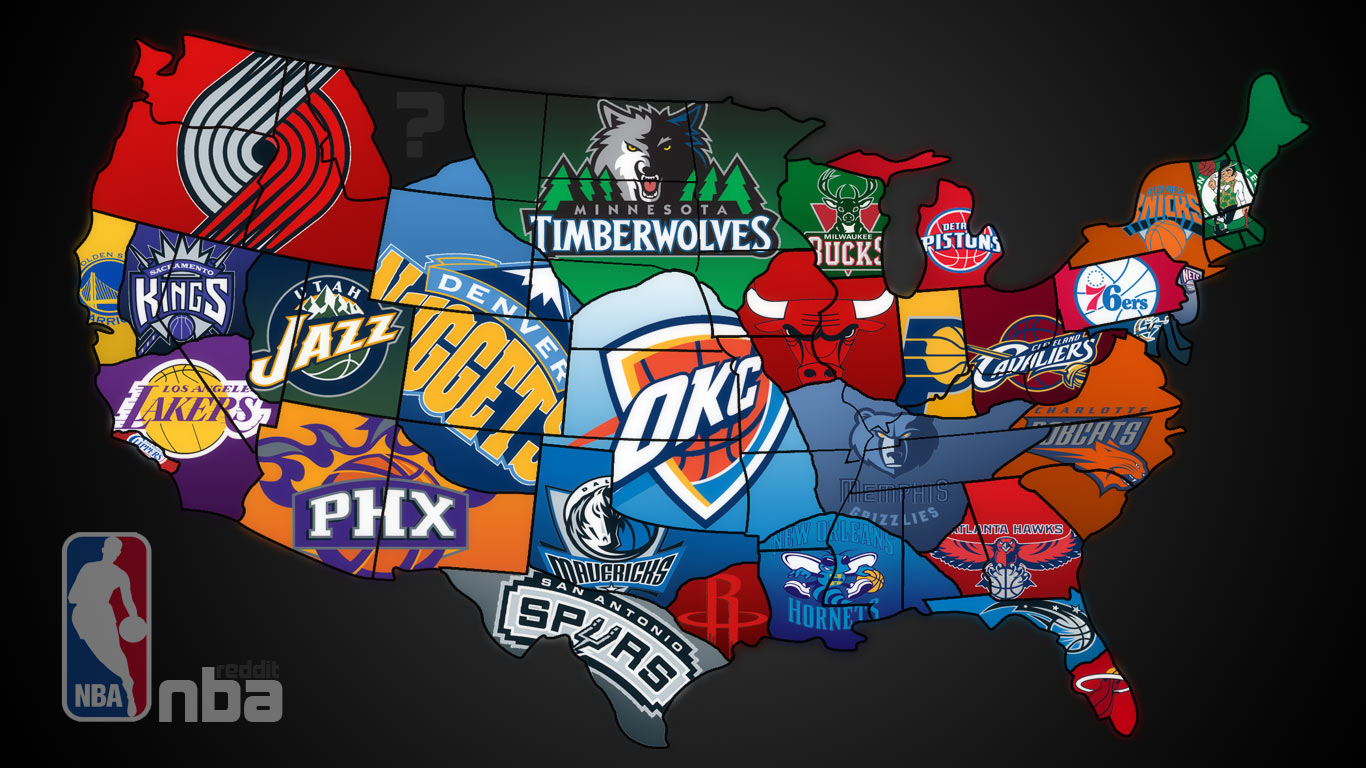 This year's NBA trade deadline came and went without much of a whirlwind that we've seen from past years. None of the major names that were thought to be on the market were moved, with the headliners being Channing Frye, Markieff Morris, and Jeff Green. The last of the two were the only ones averaging twenty minutes a game this season. Usually the NBA deadline plays two roles. Those roles are postseason buyers and rebuilding sellers. Teams that are buying are usually looking for pieces that will compliment what they have for a championship run. Sometimes it may be a bench role player in an area where they are lacking, or other times it's for a big time player to try and give them the championship edge. Those players often come from the rebuilding sellers.
More often than not, those teams are smaller market or struggling teams who have a star player in the last year of his contract and knows they are not going to re-sign with the team. So instead of going through the season and getting nothing in return when they are not a contender, they can trade him at the deadline and get some young assets in the form of draft picks or players that they can build around, and likely have a worse record for the remainder of the season and get an even better pick.
The last kind of moves that typically happen are teams with cap space that can take on bad contracts or expiring contracts and buy that player out while getting picks or something in order for doing it. We can do a quick breakdown of why we didn't see many big time moves at this year's deadline and why this one was so important. The main reason why I feel is that teams think this is not the year to go all-in. If you are going to make a championship run you need it to become the best team in the NBA. Right now it's hard to say that you are going to give up a lot of assets and be confident you can beat Cleveland, Oklahoma City, San Antonio or Golden State. Those are the top four teams by far and it's going to take a lot to give up in order to have a shot at beating them. The other reason and the main driving force behind this article is the new collective bargaining agreement (CBA) that should be going into place next season.
It is widely expected that the NBPA will opt-out of its current agreement and force a new one to be made. Much of that is based on the recent $24 billion dollar TV deal that ESPN and TNT made with the NBA. Instead of gradually increasing the cap to accommodate for it, the players will want it to be enforced right away starting in 2016-2017. That is why some of the best players have set themselves up
for the market to cash in on it. Notable free agents after the year include; LeBron James, Kevin Durant, Dwight Howard, Andre Drummond, Demar Derozan, Al Horford, Pau Gasol, Dwyane Wade, Dirk Nowitzki, Rajon Rondo, and Joakim Noah among others.
The cap for next year is expected to range somewhere between 85 and 95 million, up from the 70 million it sits this year. Currently players max contracts can range from 25-35% of a team's cap space depending on the amount of years they have spent in the league. For example, LeBron's two year 42 million dollar contract from two years ago can easily change from 21 million a year to upwards of 30+ million. Players are going to be ready to cash in on that money and teams are also forced to spend 90% of their cap space as a minimum.
When we look ahead and look behind at this deadline, there are two strategies that most people will
probably be playing. The first is that teams can clear a lot of space such as the Orlando Magic and hope they can woo in some people with large amounts of money and build around them. However, they are taking a chance and if they don't get the star players, they are going to overpay a lot for second tier guys.
Under the new agreement, most teams will seemingly overpay players over the next few seasons until the old contracts die out and they are all on the new contract money because we are going to see teams have to spend 20-25% more. For the sake of numbers, a 10 million dollar contract becomes a 12-12.5 million dollar contract. The way where I see teams best set up to succeed is that they have star players wrapped up to long term deals now. Some players took guaranteed money and contracts under this current CBA and their contracts can look like steals compared to some of the new ones we will see next year. This allows teams to sign players for well under what they would have been paid and allow them to use that extra money elsewhere for the next couple of seasons. While it may not be a long term solution five+ years down the line, these teams may immediately start to shift the face of the NBA in a new direction. Some other teams may creep out of the woodworks and become serious NBA title contenders in the next three years. I will list some of those teams shortly here.
The last point that I wanted to make before I start going towards the future of the NBA was once again about this deadline. It was pivotal because most teams held on to their long term assets. Nobody was willing to give up a long term solution, looking at the new CBA and having to try and get past a 48-5 Golden State in the playoffs. The major player with a great contract that got traded was Morris and that's because he was a cancer to the Suns locker room. That team is heading for a high draft pick
and would be much better off getting assets. Luckily for them, they were still able to get two role players and a first round pick. While not the same sport, the Browns would be hard pressed to get anything for Johnny Manziel with both players having off-the-field/court problems. Teams really held on to their guys and are going to roll the dice with what they got going forward and hoping for a big free agency win. Obviously with so many talented players going to free agency, the way the NBA looks now will greatly change. As of right now though, here are seven NBA teams I think are set up really well right now to succeed.
1.) Cleveland Cavaliers
Let's get the obvious one out of the way after everything I've talked about. The Cavs have the highest salary in the NBA this season and have more money committed long term to their team than pretty much anybody else in the NBA. This roster is set to survive the long haul unless they trade it away.Iman Shumpert and Kyrie Irving are signed through 2019, and Kevin Love and Tristan Thompson are both signed through 2020. Love will be the oldest of the group at 31 when their contacts end, LeBron's current age right now, so they have plenty of good years left. LeBron James new contract will hurt them with the new CBA but if the team is willing to go into the luxury tax again the Cavs can get seasoned veterans willing to take less money for a shot at the championship. The starters are there for years to come in Cleveland and that's the most important factor.
2.) Los Angeles Lakers
Yes, like the Cleveland Cavaliers the Los Angeles Lakers can scrape by on the bottom for a few years and come back to life. What the Lakers need more than anything is a top three pick in the draft this year. Their first round pick is top three protected or else it goes to Philadelphia. The Lakers have among the fewest dollars tied in contracts after this season making them major players in free agency. What could help persuade free agents would be a top three draft pick to pair along with D'Angelo Russell and Julius Randle. They also have other pieces parts in Lou Williams and Nick Young who would make great sixth men for depth. With a lot of cap space, the lure of living in LA, the great Lakers history, and some great young pieces to play with, the Lakers may be an attractive place for some big ticket free agent to come and have a team built around.
3.) Detroit Pistons
I really like what the Pistons have done. What I would like to see even more is for them to lock up
Drummond. Drummond has put up 17 points and 15 rebounds a night for Detroit. That is a key building block right there as he is set to hit free agency this summer. The Pistons have newly acquired Tobias Harris locked up through 2019, shooter Reggie Jackson through 2020 and Marcus Morris at only five million a year through 2019. Kentavious Caldwell-Pope will still be there for two years and this year's first round draft pick Stanley Johnson is under team control through 2019. Detroit can be an intriguing option for players looking for an easier route to the finals through the East.
4.) San Antonio Spurs
Are the Spurs ever in a situation where they don't seem to be winners? I'm starting to think it's not possible. Kawhi Leonard is becoming one of the best players in the NBA and at only 24 is locked up through 2019. Besides that, the Spurs were able to bring in LaMarcus Aldridge through 2018. The foundation has been there for years with Gregg Popovich, Tim Duncan, Manu Ginobili, and Tony Parker. Duncan at 39, Ginobili at 38, and Parker at 33 are getting closer to their ending days, but their retirement can free up some cap too. Ginobili and Duncan would relieve around eight million in cap total, which can lead to the signing of another role player. Parker should still have years left and Danny Green and Boris Diaw are signed for two more seasons. The driving force of it is who wouldn't want to play for possibly the best franchise in all of sports and be on a team with Leonard, Aldridge, Parker and be coached by Popovich?
5.) Toronto Raptors
First they get the All-Star game and now they make it to my list. Add being in second place in the East and it's a fantastic day for Canada and therefore the world. Toronto's key is going to be to lock up a couple of key pieces or at the minimum one between DeMar Derozan and Kyle Lowry. DeRozan can hit the market after this season and Lowry after next. Both guys are averaging over twenty points a game this season. They also recently locked up young center Jonas Valanciunas to go along with Terrence Ross and DeMarre Carroll , who are all signed through 2019. They could possibly move one of those pieces if they needed to in order to resign DeRozan or Lowry. The Raptors also get a first rounder from the Knicks this year and a protected first round pick from the Clippers in 2017 in addition to their own. Those picks can be used as a trade asset or to add more key pieces through the draft if they lose people. Either way, Toronto can still be sitting well for the next few years in a booming basketball area.
6.) Boston Celtics
The Celtics might be the scariest team on this list. Danny Ainge was a genius when he was able to bring the original big three together and now he has the ability to do a lot of damage again. The Celtics will likely have its first round pick in addition to Brooklyn's and Dallas. They also have two first round picks in 2018 in addition to the right to swapping picks in 2017. They also have a boat load of second round picks. Boston can use all these picks in trades to get a star player from a rebuilding team or can use them to try and add a top draft pick to the roster. The team also recently released David Lee who was the highest contract on the team at 15 million. That cap space will go a lot farther next season for them. Then there is the actual roster that has them in third place in the East. Jae Crowder is signed at under eight million a year through 2020, Isaiah Thomas at six million through 2018 and Avery Bradley at eight million through 2018. Between the draft picks and the young talent signed long term, Boston should be really scary over the next so many years.
7.) Golden State Warriors
The main problem for the Warriors is they have to resign Steph Curry. He's a free agent after next season. All-Stars Draymond Green and Klay Thompson are signed long-term. They may lose some bench guys to bigger contracts after the season such as Harrison Barnes, Marreese Speights, and Festus Ezeli. Where they do stand to benefit is shedding the contracts of Andrew Bogut, Andre Iguodala, Jason Thompson, and Shaun Livingston for a combined 35 million after next season. Much of that will go to trying to resign Curry and bring in another player.
Honorable Mention:
Utah Jazz:
They don't have anybody over the age of 28 on the team so they are young and inexperienced for the most part. However they are a hungry team and has a good amount of young talented players. They are fighting for a spot in the playoffs this season. Hayward, Favors, and Burke under contract help, but they only have two free agents after this season. They may have to stand pat mainly for another year but if they take the next step they can be a contender in the West.
In retrospect, this deadline was teams preparing ahead to next year. We're almost assured of a Cavs versus one of the top teams in the West Finals this year. While that will entertain fans and get the views the NBA will want the big thing on the horizon is the new CBA. Teams are looking to hold onto their assets and make deals now to put themselves in great position to succeed before a lot of changes happen. The landscape we know of the NBA will face some major changes before next season begins. What we know now is that some teams are in great position to continue their dominance and others are ready to make their presence known. While this deadline didn't feature the big blockbuster trades we want to see, it will have a big impact for years to come that most people will probably ignore or forget.

NEO Sports Insiders Newsletter
Sign up to receive our NEOSI newsletter, and keep up to date with all the latest Cleveland sports news.