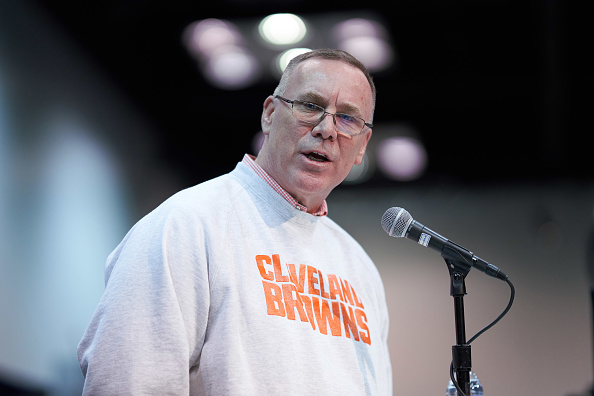 If you're a Cleveland Browns fan, Twitter has been an interesting place these past couple days.
It started with Browns players making cryptic tweets Tuesday night, hinting something might be cooking in Cleveland. This was followed yesterday by various NFL media members claiming they, too, were hearing big rumors about the team.
Suddenly, fans began to dream big, thinking it was only a matter of time 'til their collective phones buzzed with an alert saying the Browns had traded for Giants wideout Odell Beckham Jr.
I'll admit, I may have gotten caught up in this myself. It's safe to say 65% of my Wednesday was spent refreshing Twitter hoping to see an official report of said deal.
While this buzz had me eagerly seeking updates, it also forced me to stop and consider who we're talking about here. Knowing that Browns GM John Dorsey would be the one pulling the strings on any potential mega-deal, it makes me think we should pump the breaks a bit on chasing all these rumors.
Before you save this column as part of your "told you so" revenge tour, let me just say this. I'm not telling you shouldn't buy any of the Beckham-to-Browns rumors whatsoever. If anyone is capable of pulling off a blockbuster move which catches the league by storm, it's Dorsey. We've seen plenty to prove this.
However, let's take a step back and look at said proof a little closer.
Dorsey opened last year's offseason with three team-changing trades, acquiring wideout Jarvis Landry, quarterback Tyrod Taylor and safety Damarious Randall.
This was followed a month later with his unexpectedly selecting Baker Mayfield first overall in the draft.
Later in the season, Dorsey announced Cleveland was cutting troubled wideout Josh Gordon hours before the team's week two game in New Orleans.
A similar move was made the following month, where he traded starting running back Carlos Hyde two days before the Browns took on Tampa Bay.
Top it off with the last month's controversial signing of running back Kareem Hunt, and you've got all you need to know about Dorsey's ability to make a headline-stealing move.
That said, look at these aforementioned acquisitions and consider the one thing they all have in common.
None of us saw any of them coming.
The majority of these moves didn't have a single rumor preceding them. While small leaks began surfacing about Mayfield the morning of the draft, this followed months of people insisting Dorsey was leaning towards Wyoming's Josh Allen.
The rest came out of nowhere, seemingly catching even the most connected insiders off guard.
Knowing this, it sure makes me hesitant to completely buy in to all the smoke circulating around Browns Twitter.
Since arriving in Cleveland, Dorsey put forth a concerted effort to eliminate leaks from the team facility. He operates in secret, keeping the lid on the bulk of his moves until they've actually been made.
It forces you to believe the rumors which do float onto social media are essentially his way of finding out who's sending info to NFL media (stuff like "the Browns are considering Condoleezza Rice as their next coach").
As a result, I find myself unable to buy in to any Beckham rumors just yet. This is especially true when you consider the absurdly high amount of people who are claiming to have heard said whispers.
I'm not denying the rumors aren't out there. Heck, for all we know, Dorsey may even be talking to the Giants as we speak.
However, we should maybe hold off on thinking something like a Beckham trade is on the cusp of completion, solely because of how much buzz about such a deal is circulating.
Dorsey is surely getting some big plans together for the days ahead. Based on past experience, I'm assuming we're not going to know what said deals are until he pulls the trigger.

NEO Sports Insiders Newsletter
Sign up to receive our NEOSI newsletter, and keep up to date with all the latest Cleveland sports news.