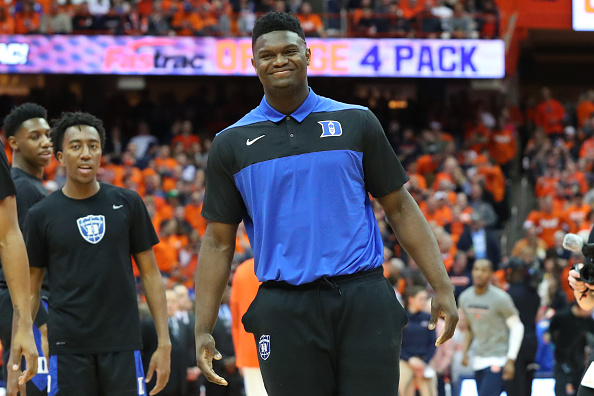 Everyone knows the Cleveland Cavaliers are trying to land the best lottery pick they can get in next year's draft.
Well, the Cavs players themselves may have lost said memo, as they're suddenly starting to look far more functional on the court. Still, in an ideal world, Cleveland finds itself sitting at or near the top of the draft order this summer.
When it comes to who the Cavs would take if they end up that lucky, things get a little tricky. More often than not, Duke sensation Zion Williamson is viewed as the consensus best player available. However, in listening to recent sports radio debates about this subject, I've heard a word which raised a red flag with me.
Said word was "tweener." This term, best used to describe a player who has no true position in the NBA, makes me more than a little antsy about the idea of Cleveland selecting Williamson.
I want to stop right here and clarify I am in no way predicting Williamson to be a bust. He's an extremely athletic and talented player, and has spent the past year turning in highlight reel moments at Duke while bullying opponents who appear to be half his size.
However, it needs to be stated that won't be the case in the NBA. While Williamson is a physical freak in college ball, the opponents he'll go up against in the pros will certainly be a step up in competition.
Making this tricky is the issue I pointed out above, the inability to truly determine what position Williamson can play in the NBA.
At 285 lbs, Williamson is essentially a Mack truck. However, he also measures in at 6'7″. He's essentially too heavy to deal with the quickness of NBA small forwards, yet doesn't have the desired height for a pro power forward.
For reference, Williamson is two inches shorter than Cleveland's "smallest' power forward, Larry Nance Jr. The Cavs' starting small forward – Cedi Osman – is one inch taller than Williamson, notably coming in 70 lbs lighter on the scale.
This isn't to say Nance and Osman will have better pro careers than Williamson. It's merely to highlight the fact that, while his size makes him a match-up nightmare in college, there's no guarantee this will be the case in the NBA.
If you're looking for a perfect example of the struggles a player can endure without a true position, look no further than former Cavs top pick Anthony Bennett.
I need to pause this column again and ensure nobody thinks I believe Williamson's career path will mirror Bennett's. I'm just pointing out that a big reason why the latter struggled in the pros was because of his "tweener" status.
Coming in at 245 lbs, Bennett was too heavy to handle faster defenders at small forward. At the same time, his height (6'8″) made him relatively easy for opposing power forwards to guard. The inability to find a natural fit did significant damage to his confidence. Cleveland eventually dumped him a year after taking him first overall, and he hasn't been in the pros since 2017.
Again, this is just one example, and certainly shouldn't be seen as proof Williamson won't live up to his draft status. Not all "tweeners" are doomed to fail. An obvious example of this is none other than LeBron James, whose size has hardly held him back.
That said, using James as reassurance is difficult when you consider we've never seen an athlete like him, and may not ever again.
If the Cavs do end up taking Williamson this summer, then so be it. He certainly brings with him a ton of promise. However, I'll certainly be worried about whether his size makes him a square peg Cleveland is continually trying to fit into a round hole.
Or, if worst comes to worse, this column ends up getting a spotlight on Old Takes Exposed. I'm assuming I'd make peace with that outcome.

NEO Sports Insiders Newsletter
Sign up to receive our NEOSI newsletter, and keep up to date with all the latest Cleveland sports news.