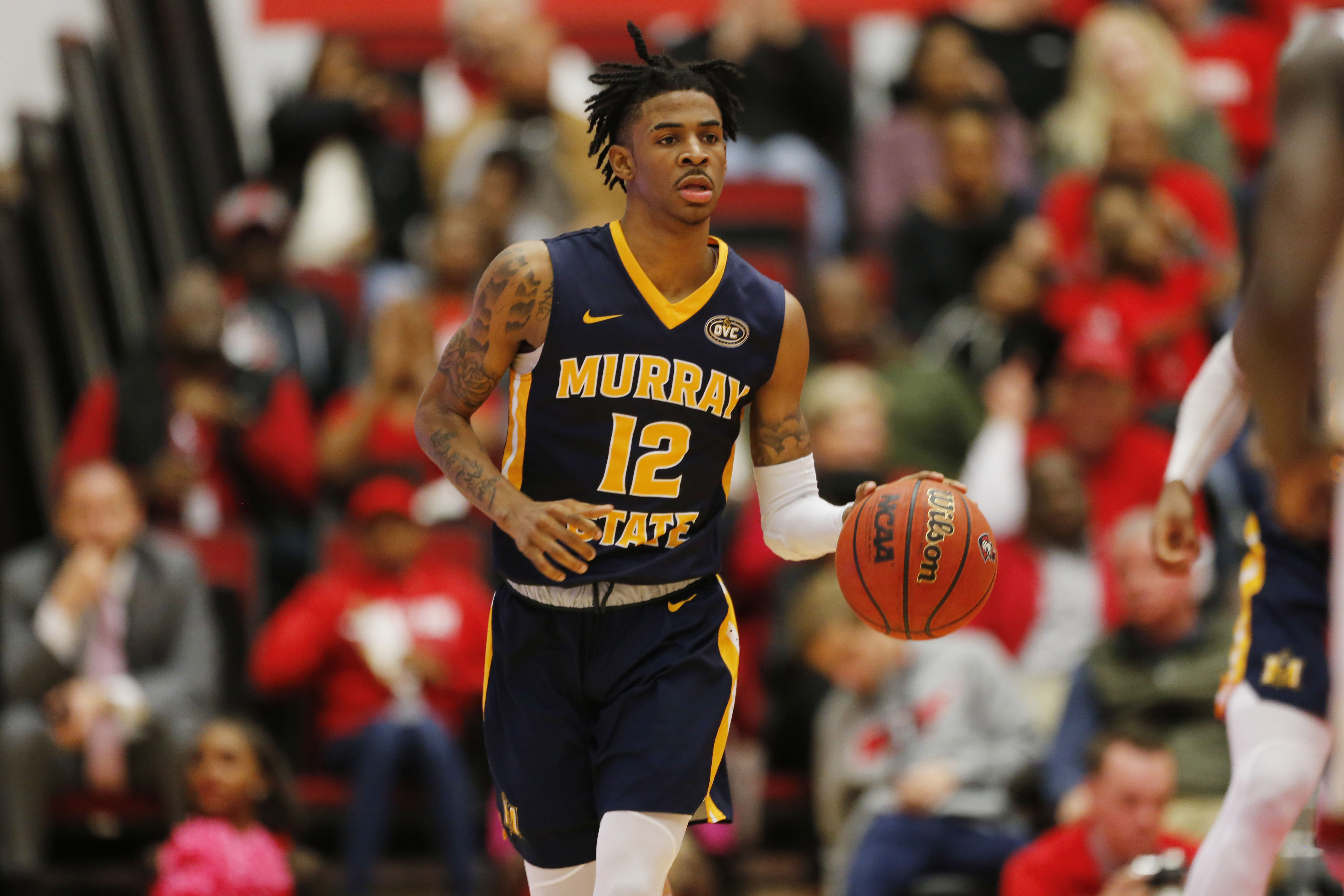 Per cleveland.com's Chris Fedor, the Cleveland Cavaliers have been intrigued by the idea of pairing rookie point guard Collin Sexton with Murray State's star point guard Ja Morant.
The Cavs will not overlook Morant because of Sexton. Members of the front office like Morant and have watched him in person a couple of times already. There are a few more visits Altman has lined up to see Morant in the coming weeks.
Sexton, who has played in a combo guard role throughout the season, has a score-first mindset while Morant has the the ideal passing instincts of a point guard (he currently leads the NCAA with 277 assists). Further, Morant is a more solid ball-handler and has shown a knack for hitting tough shots, which are currently two of Sexton's weaknesses.
That said, it's not a bad idea to pair the two guards, particularly with Sexton having grown comfortable playing off of guards like Jordan Clarkson and Brandon Knight.
The duo of Sexton and Morant will thrive off of their speed more than any other trait and with forwards Cedi Osman and Kevin Love having long proven themselves to be threats in transition, Osman as a finisher and Love as an outlet passer and trailer, the addition of the 19-year-old would likely inspire memories of the Steve Nash-led Phoenix Suns offenses. Players that get up and down the floor quickly while benefiting from the heavy use of high pick-and-rolls.
Osman and Morant, who have shot 34.5 percent and 33.8 percent from three-point range respectively this season, will need to improve their efficiency from beyond-the-arc but with Sexton (39.4 percent) and Love (37.5 percent) certainly able to space the floor, there's little doubt that a lineup with Morant will have the necessary floor balance to have an effective halfcourt offense as well. Especially with Morant's court vision and Sexton's improving passing ability, in combination with the playmaking ability that Osman and Love put on display.
The biggest question seems to be what the Cleveland Cavaliers want to do with their center position, as having a stretch-five would bode well for their efforts. Big man Marquese Chriss, who has made 44.4 percent of his three-point attempts as a Cav, could be that player at 6-foot-10 and 240 pounds. Nonetheless, the Cavs could also turn to the draft or free agency, utilizing their first-round pick from the Houston Rockets to acquire a big man than can both protect the rim and knock down shots from long-distance.
Draft prospects like Oregon's Bol Bol or Missouri's Jontay Porter could be scooped up by Cleveland in the bottom of the first-round.
Prospects like Zion Williamson and R.J. Barrett are still more enticing prospects, as they should be, but a future with Morant looks promising. There aren't many dual point guard lineups in the NBA but there are a few that have dual combo guards in the Milwaukee Bucks, Portland Trail Blazers and Boston Celtics, all bonafide playoff teams.
Morant (6-foot-3, 175 pounds) is currently averaging 24.4 points, 10.3 assists, 5.3 rebounds, 2.0 steals and 0.8 steals per game while shooting 51.0 percent from the field, 33.8 percent from three-point range and 80.9 percent from the charity stripe. Sexton (6-foot-2, 190 pounds) is currently averaging 15.0 points, 3.1 rebounds, 2.9 assists and 0.6 steals per game while shooting 40.5 percent from the field, 39.4 percent from three-point range and 85.0 percent from the free-throw line.
*All stats gathered from Sports Reference and Basketball Reference

NEO Sports Insiders Newsletter
Sign up to receive our NEOSI newsletter, and keep up to date with all the latest Cleveland sports news.