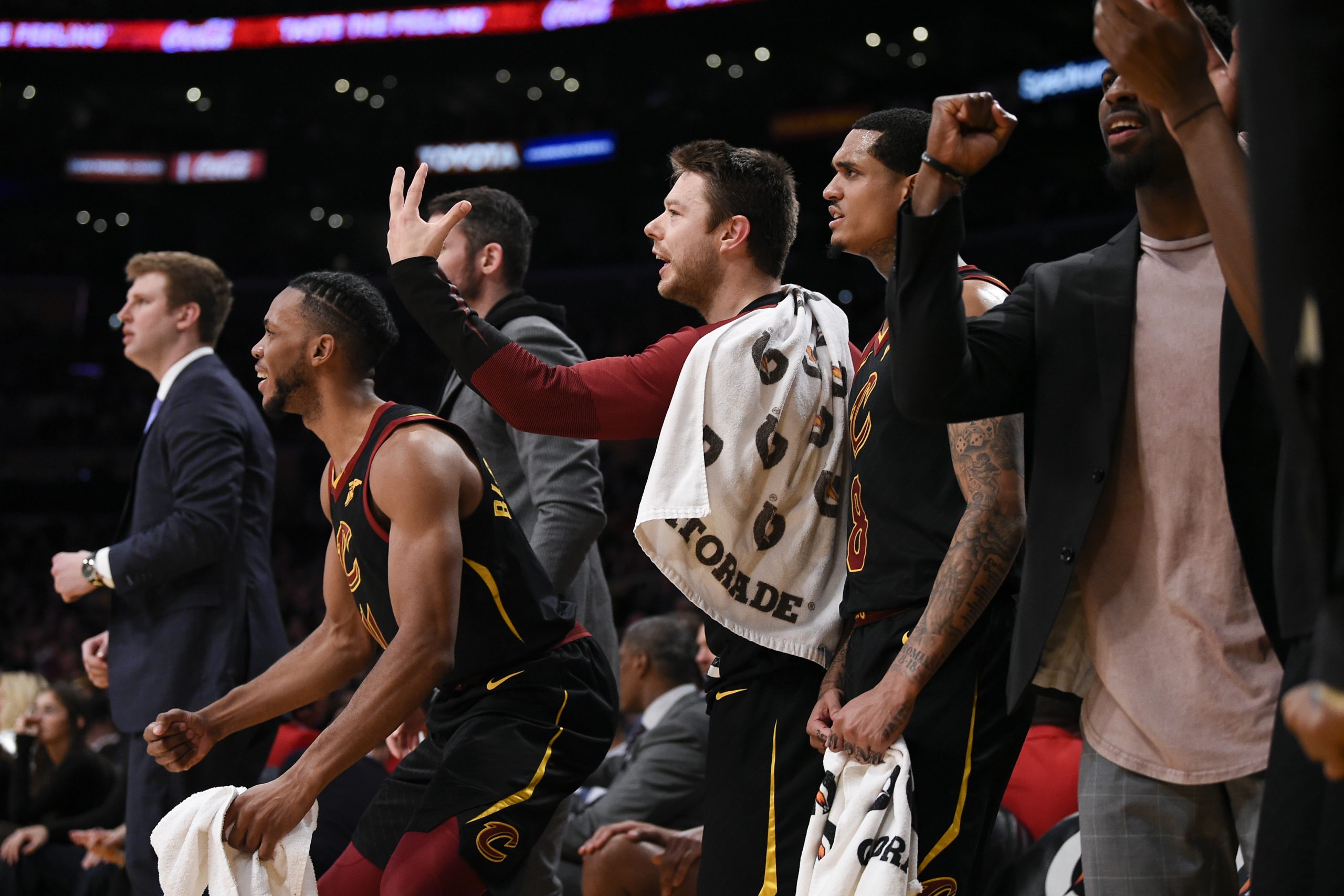 The Cleveland Cavaliers are missing up to five key player depending on what you think will become of Cavs center John Henson, who Cleveland acquired from the Milwaukee Bucks in early December in the trade that sent veteran point guard George Hill to Milwaukee in exchange for fan favorite Matthew Dellavedova.
Between Henson, David Nwaba, Larry Nance Jr., Tristan Thompson and Kevin Love, the Cavs are missing a lot of rebounds, a lot of defensive aptitude, a lot of on-court leadership and a lot of points. Most importantly though, they're missing the mobility at the center position that teams need to thrive in pick-and-roll coverages. In a league that's mostly pick-and-roll.
Nonetheless, with injuries to so many key players, it's hard to gauge where the team is as players like sixth man Jordan Clarkson have noted.
Per cleveland.com's Chris Fedor:
"All these guys dealing with injuries and stuff like that. Sometimes coming into the game a little overmatched. But I'm not set on this is how we are. You can't gauge what we are with, what, six dudes out. There's no gauging anything. I'm not going to let myself fall into that."
So when do they come back?
Thompson (left foot soreness) and Nwaba (ankle sprain) are listed as day-to-day. However, while Thompson — once an ironman for the Cavs — has only missed Cleveland's last two games while dealing with his foot injury, Nwaba has missed the Cavaliers' last 13 games, last being seen in game action on December 23 against the Chicago Bulls.
These are the first two players fans should expect to return and they'll be essential for Cleveland's work on the boards and on the defensive end, whether it be pick-and-roll defense, interior defense or perimeter defense. Cleveland's defensive play has gotten to the point where it's being mocked, as matador defense at the arc and a lack of communication have led to teams putting up astronomical numbers against the Cavs.
When Thompson returns, no longer will Drew have to choose between starting between centers Channing Frye and Ante Zizic, two players who are talented offensive players but lead-footed defenders who lack a semblance of vertical explosion. With Nwaba's return, Cleveland can get an actual defensive stopper in the starting lineup or on the floor period. He's the most physical, hardnosed defender that the Cavs have and it shows.
Meanwhile, Nance Jr. (MCL sprain) and Love (toe surgery) are both weeks away from returning to the court but should return shortly before or after the All-Star Break. Such is the case for Henson (wrist surgery) as well, although he'll more than likely return after the All-Star Break rather than before it.
Cleveland has 11 games to go until they reach the All-Star break so that may be the magic number for the Cavs. After All-Star Break, their next game won't be until February 21st, a full calendar month away from now. Even if Henson isn't fully recovered (The Athletic and Stadium's Shams Charania originally reported a minimum 12-week timetable for his return), Nance Jr. and Love should be (Love was originally only supposed to be out until mid-January).
With the return of Nance Jr. and Love, Cleveland's frontcourt will be as healthy as it's been all season.
Until Henson — who has the potential to be the Cavs' best shot-blocker since former NBA center Zydrunas Ilagauskus — returns, Nance Jr. will likely play in a dual-role of backup power forward and backup center behind Love and Thompson. However, regardless of who is placed where on the depth chart, there's no doubt that having Love's inside-outside play, rebounding and elite three-point shooting will benefit Cleveland tremendously.
Often a team with ineffective or inconsistent three-point shooting from their current starting power forward (Cedi Osman, who is playing out of position but shooting 30.4 percent from three-point range), Love will be a night and day difference in the frontcourt. He'll have some rust when he returns and some underwhelming games here and there even after the rust shakes off. Nonetheless, he'll provide the Cavs with both a go-to and bailout option on offense while making Cleveland one of the best rebounding teams in the league when placed beside Thompson.
Love's defense and lack of conditioning does generate some concerns about how the Cavs will play on the other end but Love has shown that when he plays defense with all-out effort, he can make a positive impact on that time of the floor. His ability to play with consistent effort on the defensive end, which isn't a strength of his, can't falter because Cleveland gets down big either; Love is considered one of the team's leader and because of such, has to lead by example.
Nance Jr.'s conditioning will be a concern briefly but his defensive play won't be. Neither will his playmaking ability on the offensive end as he's capable of generating easy shots for his teammates, even when he's not able to connect from the field — where he's become a three-level scorer — himself.
In sum, it'll be great for the Cavs to get their rotation players back — as you might expect from a team missing five of their top players.
It's only a matter of time before the team becomes a much better version of itself and though Cleveland has made clear strides in their shot-selection, shot-creation, chemistry and effort level, their improvements will be tied into their health more than anything else.

NEO Sports Insiders Newsletter
Sign up to receive our NEOSI newsletter, and keep up to date with all the latest Cleveland sports news.