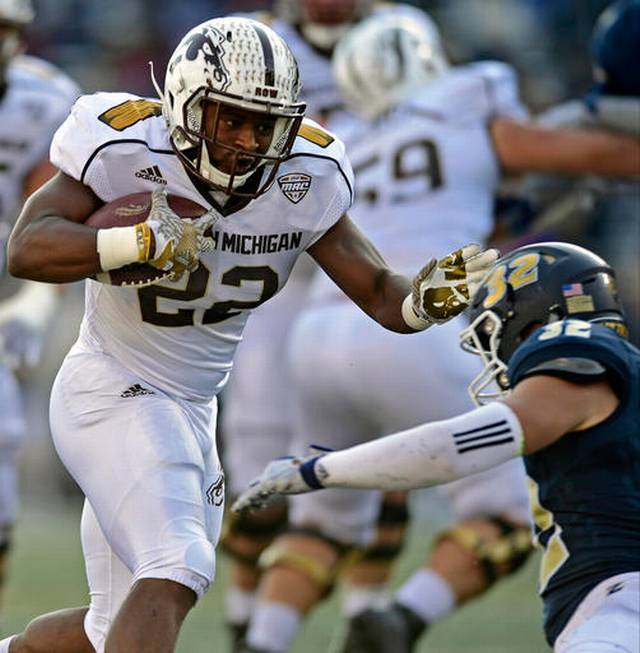 East Division
Offensive Player of the Week: Buffalo RB Jaret Patterson
Buffalo freshman running back Jaret Patterson (Glendale, Md.) rushed for a career-high 187 yards and two touchdowns in just the first half in a 48-14 win over Kent State on Tuesday night. Patterson carried 18 times for a 10.4-yards per carry average. Patterson set the tone early by ripping off a 64-yard touchdown run on the second play of the game to give the Bulls a 7-0 lead, then added a 21-yard touchdown run. His 187 yards on the ground was the highest single-game rushing total by a freshman in school history.
Defensive Player of the Week: Buffalo DT Justin Brandon
Buffalo senior defensive tackle Justin Brandon (Indianapolis, Ind.) had a pair of sacks in a 48-14 win over Kent State on Tuesday, Nov. 6. The Bulls senior had three tackles and two sacks and helped spearhead a defense that held Kent State to just 39 total yards in the first half.
Special Teams Player of the Week: Miami P Kyle Kramer
Miami junior punter Kyle Kramer (Glen Ellyn, Ill.) averaged 45.8 yards per punt on six attempts in a 30-28 win over Ohio on Wednesday, Nov. 7. Kramer downed a punt inside Ohio's one-yard line with seven minutes to go in the fourth quarter. Three plays later Miami recorded a safety that was eventually the deciding difference in the RedHawks victory.
West Division
Offensive Player of the Week: Northern Illinois RB Tre Harbison
Northern Illinois sophomore running back Tre Harbison (Shelby, N.C.) ran for 139 yards on 21 carries for his fourth 100-yard game of the season in a 38-15 win over Toledo on Wednesday, Nov. 7. His effort was part of a 296-yard rushing day by the Huskies. Harbison averaged 6.6 yards per carry and had a long rush of 33 yards on the day. Harbison, who ranks second in the MAC in rushing, gained 43 yards on four carries on NIU's third-quarter touchdown drive that gave the Huskies a 24-9 lead. He also added a four-yard catch in the game.
Defensive Player of the Week: Eastern Michigan DE Maxx Crosby
Eastern Michigan junior defensive end Maxx Crosby (Colleyville, Texas) totaled an interception return for a score, one sack, eight tackles and three tackles for loss in a 27-7 win over Akron, on Saturday, Nov. 10. Crosby picked off Akron's Alex Ramart's pass at the one and returned it for the score to make it 17-7 in the fourth quarter. Eastern Michigan's defense limited the Zips to just 90 yards of total offense while forcing 10 three-and-outs.
The last time the EMU defense gave up that few of yards total offense was Nov. 14, 1970, in a 60-0 shutout of Ball State (24 total yards). The defense extended its streak of not allowing an offensive score to eight quarters, for the first time since 1970. Crosby moved into a tie for second all-time at Eastern Michigan with 20.0 career sacks, which is tied with Pat O'Connor (2011-16). Crosby has 39.5 career tackles for loss for the second-most in school history.
Special Teams Player of the Week: Northern Illinois DE Sutton Smith
Northern Illinois junior defensive end Sutton Smith (St. Charles, Mo.) made a key special teams play in a 38-15 win over Toledo on Wednesday, Nov. 7. Smith changed the game when he blocked Toledo punter Bailey Flint's third punt of the game late in the second quarter, picked up the block and ran it in for a touchdown. The block and 27-yard return turned a 10-9 NIU lead into a 17-9 margin going into halftime.
More amazing is the fact that the block came when NIU was in "punt safe" mode, not going for a block, and was an instinct play by Smith. He earned 38 total punt return yards on the play, and added a sack, a tackle for loss and forced his fourth fumble of the year on defense. Smith's punt block was his second of the year; he ranks third in the nation in blocked kicks and in punt return touchdowns.
As announced by the media team of MAC communications