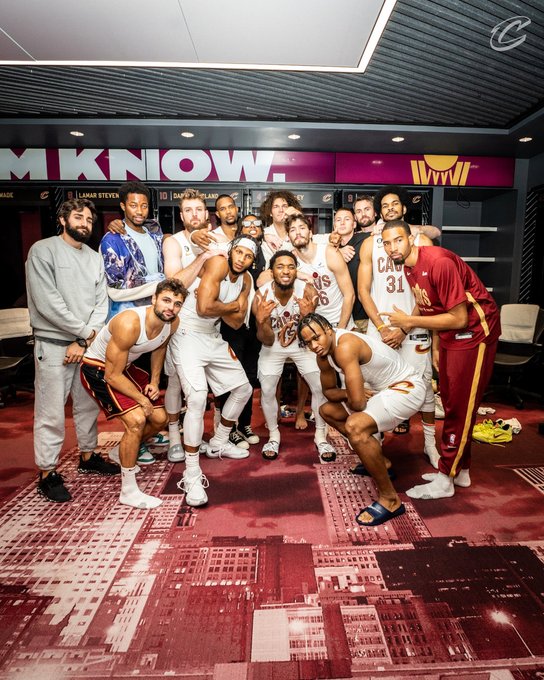 Cleveland didn't have time to rest from their game in Chicago. It was opening night in the LAND, and they had to host the Washington Wizards, who had an off day Saturday. The Opening Night sellout crowd, there to see their newest All-Star, Donovan Mitchell, watched a game that didn't disappoint! The Cavs (2-1) outlasted the Wizards (2-1) in overtime, 117-107, as the Cavalier bench was the story and kept the club from losing this game in regulation!
The Rock is ready. #LetEmKnow pic.twitter.com/ue2XtoRhEx

— Cleveland Cavaliers (@cavs) October 23, 2022
Quick Recap
Mitchell had another 30+ game with 37 points. Jarrett Allen had 15 points, 14 boards and an emphatic slam to seal the OT win. The Cleveland Bench outscored the Wizards, 43 points to 35, and outrebounded them 17-13. Led by Cedi Osman (16 points, 3/5 from three) and Dean Wade (12, 2/3 three ball, 4/5 from the charity stripe), the bench brought energy and grit to keep the Wizards from reestablishing the lead throughout the first four quarters.
Kristaps Porzingis had a double/double, Bradley Beal dropped in 27 points and Rui Hachimura had 16 off the bench in a losing effort for Washington.
Pre-Game
Kyle Kuzma had led the Wizards to a 2-0 record so far in the early season. Between him and Bradley Beal, who hit the game winner Friday night over the Bulls, the Wes Unseld Jr coached club is expecting big things this year. They were fully rested come tip-off.
The Cavaliers missed their point guard Darius Garland for the second game, whose eye injury kept him from this contest. His return could be next Friday in Boston.
First Quarter-Wizards
The fresh Wizards jumped out to a quick 10-3 advantage over the leg-weary Wine and Gold. But behind Cedi's 10 first quarter points, the Cavs battled back and only trailed 31-30 at the end of the quarter. While the Wizards starters all had a +/- rating of 7 for the quarter, their bench let their lead nearly disappear.
Mitchell's first three in the Rock!
Spida's first three in the Rock! 🕷️

Bally Sports+ is a new option to watch Cavaliers games: https://t.co/V25o0xyI4Q#LetEmKnow pic.twitter.com/4H4yPy7aXD

— Bally Sports Cleveland (@BallySportsCLE) October 23, 2022
Second Quarter-Cavaliers
The bench continued their dominating play and helped the club to a halftime advantage of 57-51. Robin Lopez and Raul Neto accounted for 8 points in the quarter while keeping the Wizards entire bench to only 6! In the quarter Evan Mobley and Kevin Love pretty much matched the Wizards rebounding with 8 compared to the entire Washington team with 9.
Here's a Dean bucket from Spida in the frame!
Donovan finds Dean and Darius digs it!

Bally Sports+ is a new option to watch Cavaliers games: https://t.co/V25o0xyI4Q#LetEmKnow pic.twitter.com/Ylxj2yT7Mu

— Bally Sports Cleveland (@BallySportsCLE) October 23, 2022
Third Quarter-Draw
When the game is tight you call on your stars. Monte Morris and Bradley Beal carried their team by scoring 19 of the 25 points in the third. Donovan had 13 for the Cavs on 3 of 5 shooting from downtown, while Caris LeVert continued his strong start to the year with 6 points coming from two threes. It was a strange quarter where Cleveland went up by as many as 12, but Wiz kept working and getting good shots and managed to be down by four until Mitchell hit a huge three to end the quarter!
Huge Bucket for Mitchell
That's how you end a quarter!#LetEmKnow pic.twitter.com/cVMT1jJFF9

— Bally Sports Cleveland (@BallySportsCLE) October 24, 2022
Fourth Quarter-Washington
Hard to believe that for a game that made it to overtime there was only one lead change the entire first four quarters of the game when the Cavs jumped ahead in the beginning of the second quarter.
There was only one time the game was tied and it was with 25 seconds left in the game! Mitchell looked gassed near the end of the game and his two costly turnovers in the last minute of the quarter helped the Wizards knot the game at 103.
Will Barton had five points to lead a trio of Wizards who evened up the game late. Barton's steal and slam was a heady play. The Cavs had the match they wanted when they got Barton switched from Beal. But Barton picked Spida's pocket and the ball found Beal, who quickly tossed it ahead to the flashy Barton for the dunk and tie!
clutchhhhhhhh, @WillTheThrillB5 🥶 pic.twitter.com/yrohwPuxIm

— Washington Wizards (@WashWizards) October 24, 2022
A Mitchell step back three missed with 1.6 seconds left that would have sent the crowd into pandemonium. So on to the "free" basketball!
OT – Cavs Win!
The Cavs scored first on a nice shot by Caris. But both sides struggled to score in the first minute of overtime. Porzingus hit a step back three to get the Wiz up, 106-105. On the next possession, LeVert had a good look but missed a 3. Allen got the board and found Levert in the corner. Caris head faked, was wide open but missed another look! 
Washington then grabbed the rebound but couldn't get a basket before the shot clock expired. Mobley then missed a hook shot. Kuzma was fouled and missed both free throws! In fact the Wizards were 1 for 4 from the charity stripe in OT. 
Turning Point
But the play of the day was what happened after. LeVert grabbed the rebound off the missed toss and Mitchell turned it into a bucket from an assist from Allen and an AND 1!
Boy, was Donovan pumped!
AND ONE.#LetEmKnow pic.twitter.com/5ZPUswbM38

— Bally Sports Cleveland (@BallySportsCLE) October 24, 2022
The Wizards quickly pushed the ball down but Donovan stole a Beal pass and Cedi converted on a running layup and made the free throw after he was fouled. The 106-105 Wizard lead evaporated on that amazing 20 second sequence. Those six points gave the Cavs the 111-106 lead that they would never relinquish!
Cedi Hoop and 1!
This is good defense but really it is terrible spacing, Kuzma and Wright both end up in the corner so Mitchell gets a steal and makes a great kick-ahead to LeVert who hits Osman. pic.twitter.com/MgpQ4WAqdi

— Mo Dakhil (@MoDakhil_NBA) October 24, 2022
Mitchell finished the extra five minute period with 7 points and Allen put the final stamp on it with a massive dunk off an assist from LeVert.
Big Jayy puts this one away! 💥#LetEmKnow pic.twitter.com/6lYjYrUbpR

— Bally Sports Cleveland (@BallySportsCLE) October 24, 2022
Notable quotables
Cedi Osman after the win on WTAM: 
"There's so much grit from the team and we are still going to improve! My job is energy and I'm going to give 100% every time out!"
JB Bickerstaff in his presser after being asked about how Mitchell can come back after the two turnovers.
"It's belief. He has confidence in himself. And we have confidence in him."
Stats
Good Guys                      Bad Guys
 117              Score            107
41/96       Field Goals       43/87
13/33        3 pointers       12/28
22/25       Free throws       9/15
 56             Rebounds         52
 19                Assists            25
Cavs Scorers
Mitchell 37 points/4 assists/5 rebounds
Osman 16 points/ 3 of 5 from 3 ball land
Allen 15 points/14 boards
Wade 12 points/ 2 of 3 from three/ 4 of 5 from FT line
Junkyard Dog Award
Donovan got his first JYD award for the year! Hopefully more will come!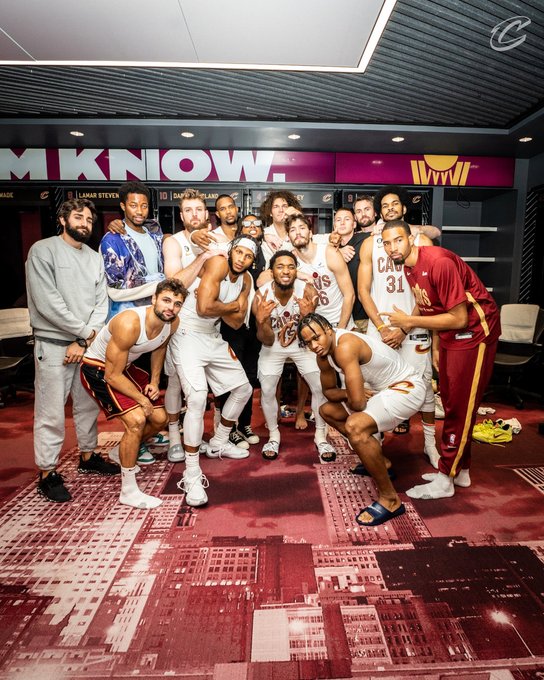 Shot of the Day!
Are you serious, RoLo!? 🤣#LetEmKnow pic.twitter.com/KjO6PLo0hx

— Bally Sports Cleveland (@BallySportsCLE) October 23, 2022
Next Home game:
Wednesday Magic 7:00PM Tickets

NEO Sports Insiders Newsletter
Sign up to receive our NEOSI newsletter, and keep up to date with all the latest Cleveland sports news.