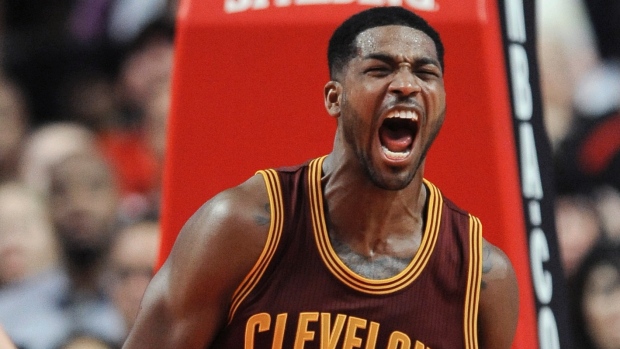 Have you ever worked at a job where you felt like you gave more effort than a co-worker and receieved less acknowledgement, praise or compensation? Maybe you worked weekends, overtime and did the dirty work, but someone else got more of the credit and a bigger paycheck.
Then you could probably relate to Tristan Thompson. It's a natural feeling that comes to anybody who's human. Basketball players are human.
This summer Cavaliers forward Kevin Love signed a five-year, 110-million dollar contract. It was the biggest question mark on the minds of Cavs fans and probably the minds of the players, coaches and front office personnel.
It was resolved fairly quickly and it seemed like the main concern for the Cavaliers was all taken care of. Maybe fans would be a little sad if J.R. Smith didn't come back, but no big deal… And Tristan?
Oh, surely he'll sign. He's a team player. He's a hard-nosed, blue-collar worker. Of course he'll come back, no worries.
Well, as of October 3rd, the Cavaliers are practicing. Tristan is a holdout.
It's being reported that the Cavaliers have removed all Thompson-related merchandise from the team shop and online store. Quicken Loans Arena is being stripped of all artwork and signs of any indication that Thompson is a member of the Cavaliers.
That same hard-nosed playing style we all have come to love has turned into hardheadedness.
But, let's imagine for a minute we are in Tristan Thompson's size-16 shoes. He spent four seasons busting his tail for this organization, (three of which, most of this town forgot there was a basketball team).
He has the second longest active games played streak in the NBA. He played the most minutes in the postseason of anyone on the team not named LeBron James in the 2014-2015 season. In particular, he played fourth quarter minutes all season long. He was on the court all postseason while Love missed all but 4 games of the playoffs.
Would it be reasonable for the thought to enter Tristan's mind that he feels like he is worthy of more appreciation? Love was rewarded with a $110 million dollar contract and perhaps Tristan believes he should be closer to that than the Cavaliers front office personnel are willing to concede.
I'm not going to say Tristan is a max player or he deserves $94 million or that he is being reasonable with his contract demands.
But I will say I can understand where the guy is coming from and although Cavs fans are quick to say bringing back Thompson will not be the difference in winning an NBA championship, having Thompson on your roster last season was probably the biggest reason they were even able to withstand the devastating blows of losing Kyrie Irving and Love.
If you really feel comfortable moving forward with two injury-prone all-stars and Anderson Varejao (who has seen more doctors' offices than NBA arenas the past 5 years) as your backup center/power forward; be my guest.
If not, let's hope the two sides come to an agreement.

NEO Sports Insiders Newsletter
Sign up to receive our NEOSI newsletter, and keep up to date with all the latest Cleveland sports news.