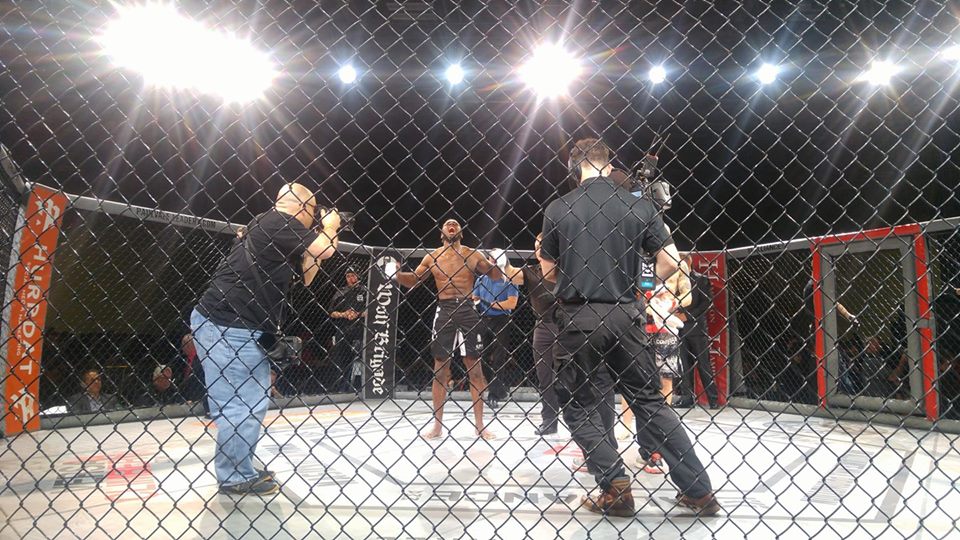 Alliance MMA was the main event of The Arnold Expo Classic last night in front of a packed crowd.  Members of that crowd to watch these excellent fights included current UFC Featherweight Champion Max Holloway as well as UFC stars Paul Felder and Neil Magny.  The show didn't disappoint!
Fight One
Payton Rose vs Brad Orsbone
Result – Orsbone via UD 29-28 29-28 29-28
Summary – Brad Orsbone controlled most of the action in the first round and took the fight where he wanted it to go.  The second turned in to a bit of a slugfest that actually got Rose back in the fight in the eyes of the judges, stole him the round.  It was a very close third round, but Orsbone used his grappling skills to pick up the 29-28 UD win across the board.
Fight Two
Melany Ward vs Karlie Jones
Result –  Ward by UD 29-28 29-28 29-28
Summary – This was a tale of two different fights as Melany Ward dominated on her feet.  She used quick hands to get the best of Jones in the fisticuffs exchange.  Then Jones very wisely took her to the ground in the second round and came within seconds from tapping her out.
Jones made an excellent judgement call and it almost won her the fight.  If that second round was even 5 seconds longer, she would have had the win.  Ward managed to keep it on their feet in the third, and once again got the better of the exchanges to capture the duke.
Fight Three
Larkyn Dasch vs Jayde Sheeley
Result – Sheeley by UD 30-27, 29-28 29-28
Summary –  A wild flurry of strikes to start this one, saw Sheeley get the better of it, but also look a little too wild at times which allowed Dasch to get the takedown and come close to choking Jayde out a couple of times.  Sheeley used great hand control to escape several choke attempts in this fight.
At times, Sheeley looked a little too over anxious during the stand up, which allowed Dasch to take her down.  The thing that made this one tough to judge, is that once Dasch had her down, she didn't do much with it.
Going into the third round, I had the score even at a round a piece, I even could have made a strong argument for Dasch to be up 2 rounds.  However, once the third round began Sheeley turned it on!  It is easy to spot championship fighters and Jayde Sheeley is one.  She absolutely turned it on with a flurry of punches and a relentless attack the entire round to steal the fight and walk away with the gold.
Watching this one again, I do believe it could have went either way 29-28, but the judge that scored it 30-27 was watching a different fight. With the win, Jayde Sheeley is your new 125-pound Amateur Female champion.
Fight Four
Zack Davis vs Jake Miller
Result – Miller by 3rd round ref stoppage to strikes at 2:44
Summary -What a fight this was!  My hat is off to both men who absolutely went to war!  First off, they both came into the fight at 155lbs, but Davis had an incredible built.  He looked as though he was chiseled out of stone.  Miller, was not shaken by it however, and brought the heat!
Davis, in his first pro fight, actually got the better of Miller several times in the first two rounds on their feet.  At one point he busted Miller open on the side of his left eye.  But despite the blood, despite the size of Davis, Miller remained ever the pro and just kept coming.  This was never more evident than in the third round when Miller needed a KO or TKO, he got one!
Jake Miller came out in the third round like a house on fire, and Davis had no answers.  With his back against the wall, Miller pulled out every stop and grinded out the win.  Miller scored a take down two minutes in, and then just pounded Davis into submission.  Congrats Jake Miller, you are the now The Mayor of Comeback City!
Fight Five
Greg Sizemore vs Lance Phillips
Result – Phillips by 1rst round KO at 1:09
Summary –  Not much to say here other than Lance Phillips gave the fans their first "quick" fight of the night.  Phillips made Sizemore go stiff with a thunderous blow that brought the rain! Phillips is now off to a strong start to his pro career.
Fight Six
Davis Oracio vs Mike Mason
Result –  Mason by ref stoppage at 2:22 of round one.
Summary –  This grudge match was never even close as Mason took down Oracio seconds into the fight and just kept pounding him until the ref called it. Look for big  things from Mason, he may have an easy going demeanor, but this guy is a serious threat with a great team around him!
Fight Seven
Que Parks vs Rocky Edwards
Result -Edwards by UD 29-28, 29-28, 30-27
Summary – Rocky Edwards showed just how important making adjustments during a fight is.  After some early goings that did not go his way, Edwards made key adjustments to take control of the fight.  He also knows how to close fights, as he poured it on late into third round to convince the judges that there was no doubt in this one. Edwards is a smart and tactical fighter who will continue to big things as he learns and improves each time out.  Parks as well, he looked good at points tonight and will have a lot to build off of.
Fight Eight
Tray Taylor vs Alfred Leisure
Result – Leisure by submission at 2:41 of the first round.
Summary – Alfred Leisure knew he was going to have his hands full with the strong and crafty Taylor in this one.  Leisure wasn't messing around however and wasted no time in coming right at Taylor.  Leisure eventually took full control, locked in the guillotine choke and it was over quickly. Taylor showed what kind of a class act he is after the fight however, by lifting Leisure up in victory and parading him around the cage.  Even in the loss, Taylor showed why attitudes like his are great for this sport.
Fight Nine
Jesse Murray vs Travis Davis
Result –  Davis by second round injury.
Summary – Travis Bam Bam Davis put on a ground and pound display for the ages.  Two straight rounds of taking Murray down, and pounding him.  Murray is a very talented fighter and should have not been controlled this easily.  It goes to show the skill level of Davis.  Murray showed tremendous heart and never quit despite the pounding he was taking.  Murray showed a lot of heart in this one, but in the end, the relentless attack of Davis got the best of him.  Travis Bam Bam Davis is on the fast track to MMA stardom if this keeps up.  He has been on an incredible roll with no signs of stopping anytime soon.
Fight Ten
Christopher Petty vs Isaac Steele
Result -Steele by second round submission at 1:34
Summary –  Isaac Steele was battered and bloody, it didn't matter!  Steele used takedowns, and targeted strikes to get the advantage in this one.  Steele paid no attention to the blood and bruises and stayed focused to capture the second round submission.
Fight Eleven
Cee Hay Hamilton vs Jordan Espinosa
Result -Espinosa by SD
Summary – A wrestling clinic as expected out of these two world class grapplers saw Espinosa get the better of it in the eyes of 2 out of the 3 judges.
MAIN EVENT
Devonte Smith vs Justin Edwards
Result –  Smith by KO at 1:31 of the first round.
Summary – Smith is scary quick, and scary good.  Next stop for this young man is either Bellator or UFC.  It shouldn't be much longer.

NEO Sports Insiders Newsletter
Sign up to receive our NEOSI newsletter, and keep up to date with all the latest Cleveland sports news.