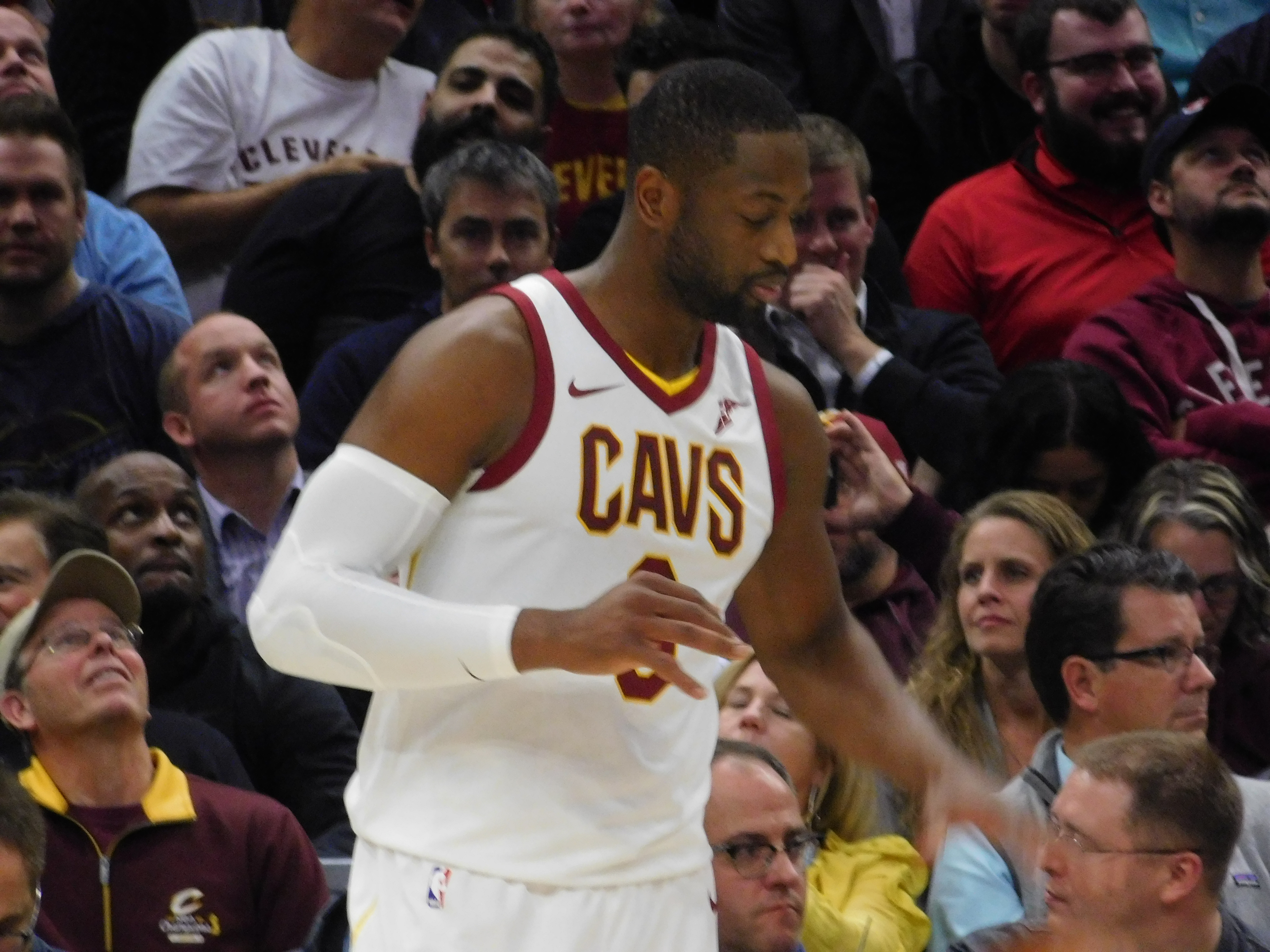 CLEVELAND– When the Cavaliers signed Dwyane Wade to a one-year, $2.3 million dollar deal at the beginning of training camp, it was likely with situations like Friday night's game against the Los Angeles Clippers in mind.
With just under three minutes to go in the first quarter, Wade checked in the game for the first time with the Cavs trailing, 22-15. In the final minutes of the frame, Wade notched an assist, two free throws and a defensive rebound that helped the Cavs cut their deficit to 3.
From those opening minutes, it was clear that Wade was going to have no problem being aggressive at either end of the floor. All throughout the second quarter he was masterful at attacking the rim and drawing fouls. By the time halftime rolled around, Wade had 19 points on 11 made free throws and the Cavs had tied the game at 56. All three of the Clippers' point guards, Austin Rivers, Sindarius Thornwell and Jawun Evans, had three fouls each.
"I was just trying to be aggressive, and thank God," Wade said. "It felt good to get to the line, I think it's only happened twice this year when I've gotten to the line that much. But I was just being aggressive; we were down a lot and just trying to bring some energy, trying to bring something to this team. It was good for us because it allowed us to get some points, set our defense, and then try to chip away back into this game."
While Wade didn't score as many points in the second half, he switched gears to being more defensive-minded as LeBron James began to assert his will. Wade was successful at getting defensive stops and continued to rebound the ball.
When it was all over, the Cavs had a 118-113 overtime win against the Clippers, and Wade had his second double-double of the season with 23 points, a season-high tying 11 rebounds, five assists, two blocks and one steal.
Had Wade not been a spark off the bench, however, the Cavs may not have even been in a position to tie the game in the final minute and send the contest into overtime.
"I thought the game could have gotten away from us, but he came in scoring the basketball and he had a speed and pop to him, and we really needed that offensively," head coach Tyronn Lue said.
Lue on DWade's performance pic.twitter.com/wqrlBk6g9z

— Ashley Bastock (@AshleyBastock42) November 18, 2017
His energy gave him arguably his best game yet as a Cavalier. There was only one game this year that he scored more points, but it came when he dropped 25 in Cleveland's 117-115 loss to Atlanta. Prior to tonight, Wade had only five other games where he scored in double-figures this season.
Given that Wade was able to seize opportunities in big moments in a close game on Friday, there is undoubtedly the expectation in the Cavs locker room that Wade has turned the corner when it comes to his role on the team.
"That isn't surprising, the more and more games, the more and more his legs start moving, the more and more he gets comfortable with the situations," James said after the win. "It was great to see him at the free throw line, we know he was aggressive getting in the paint, double-double, getting rebounds, assists, some blocked shots. That's who he is, that's who he's been his whole career."
But regardless of the way things are going for him individually, Lue said Wade is so great because he "never let's the game get to him." That mindset undoubtedly help Wade find his rhythm through simply being aggressive.
"For me, I'm a rhythm player," Wade said. "I'm all rhythm, and that definitely helped the flow of my whole game."
Lue says Wade "plays within the game" and "never lets the game get to him" pic.twitter.com/IDZOlIcN6U

— Ashley Bastock (@AshleyBastock42) November 18, 2017

NEO Sports Insiders Newsletter
Sign up to receive our NEOSI newsletter, and keep up to date with all the latest Cleveland sports news.