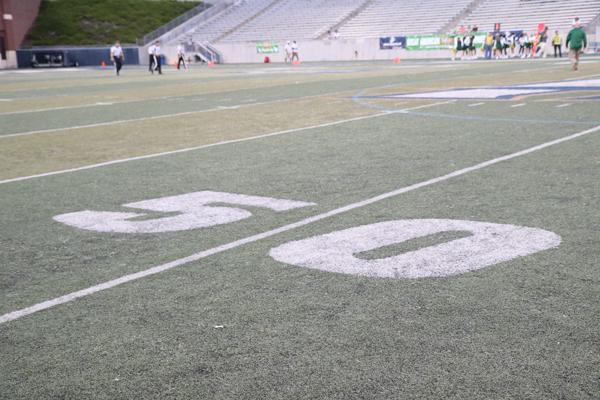 It's been a fun and amazing season for high school football in Northeast Ohio and the surrounding areas, and this week we are back with our 8th edition of the "NEOSI High School Football Player of the Week."
From a record-setter in Strongsville, a running back who put up close to 19 yards a carry in Manchester, to a Streetsboro Rocket who seemed to get it done in all facets of the game, we've got four worthy candidates for this week's player of the week award.
As we have done the last seven weeks, you can vote using our automated poll and also follow along until noon on Friday when the voting wraps up.
With that, here are the candidates for this week as we give you our best with the "NEOSI High School Football Player of the Week" for week eight.
Brody Stallings – Cloverleaf
The Cloverleaf Colts have played competitive football all season as they sit at 4-4 after eight weeks of action. Part of their solid play in 2019 has to be credited to the play of 5-foot-8, 185 pound senior quarterback Brody Stallings.
Stallings was all over the field on Friday as the Colts topped Woodridge on the road by a final of 34-28. In the win, Stallings recorded 22 carries for 260 yards and five rushing scores.
All this while throwing for just 51 yards in the win.
The Colts will have a big week nine game at home this Friday against Norton, as again Stallings will look to add to his highlight reel.
Garret Clark – Strongsville
The 5-3 Mustangs lit up the scoreboard in week eight for Strongsville, as they scored 56 points in a 56-33 victory over the Elyria Pioneers.
One of the stars for the Mustangs was running back Garret Clark, who bull rushed for 215 yards on the ground on 27 carries.
Clark also had a nose for the end zone all night, as he ran for 6 rushing scores and scored again on a kickoff return.
It was a record-breaking night for Clark, as his seven touchdowns broke Brandon Murphy's single-game record at the school. Strongsville will be back on the field against Solon in a huge week nine game Friday.
Kyrs Riley-Richardson – Streetsboro
The Streetsboro Rockets are a perfect 8-0 on the season, as Friday night they got another huge outing from one of their best players – Kyrs Riley-Richardson.
In the Rockets win over Field 49-13, Riley-Richardson went off for 104 yards on 20 carries with a pair of touchdowns.
One of the touchdowns came on a 49-yard pitch and catch. Riley-Richardson was a force on defense as well, as he compiled 16 tackles on defense.
The Rockets will look to make it 9-0 Friday against Woodridge on the road.
Ethan Wright – Manchester
The Manchester Panthers are 5-3 after eight weeks of play, and a lot of their big plays in 2019 have come with the help of running back Ethan Wright.
The 6-foot-1, 195 pound senior runner had a monster night in the Manchester 39-0 win over Northwest Friday evening.
He carried the ball 16 times, compiling 296 yards with five touchdowns. The running back put up chunks on just about every play, averaging 18.5 yards per carry in the win.
Manchester is in battle in week nine taking on Orrville on the road.

NEO Sports Insiders Newsletter
Sign up to receive our NEOSI newsletter, and keep up to date with all the latest Cleveland sports news.