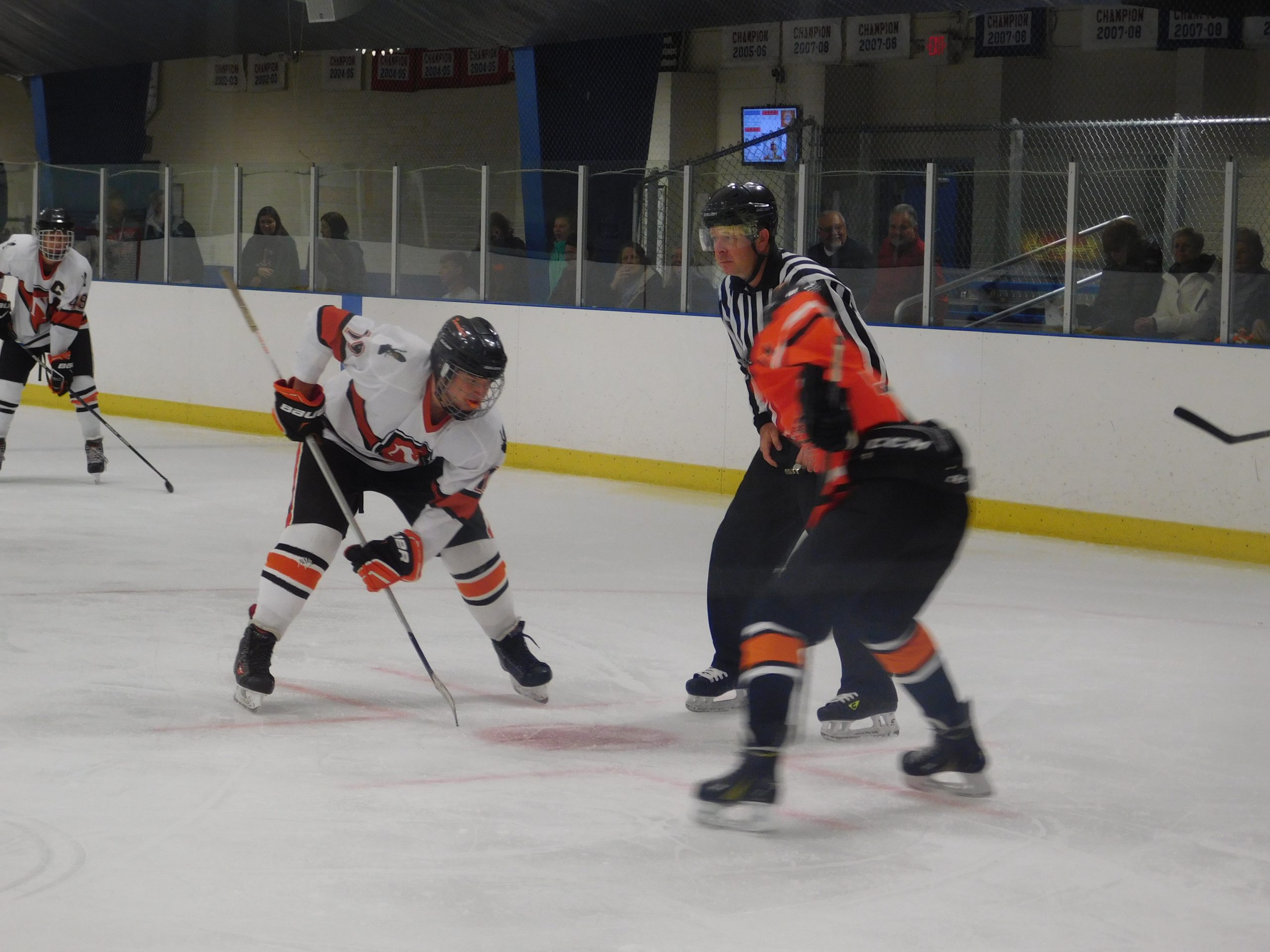 PARMA, OHIO – The North Olmsted Eagles may only currently have 10 players on their roster, but one of those players is last year's second leading scorer Riley Vertosnik, and his two goals were key as the Eagles topped host Normandy 3-0 in the third game of Friday's first round of the Bruce Anderson Memorial Tournament.
The Invaders, who went 16-14-0 last season, played in the Championship game of the tourney last season but fell to Chagrin Falls 7-2 in the title game.
The Eagles played a strong game on defense, as despite being outshot 40-32 in the win, they got a good game in net from goalie senior Ryan Godin who turned away all 40 chances from the Invaders.
North Olmsted struck first in the first period, as Vertosnik used a pretty assist from Cameron Sukenik as he pulled off a perfect wrap around and tapped the puck in under Normandy goalie Alexis Ryan to give North Olmsted a 1-0 lead 5:16 into the first.
The rest of the period was up and down the ice, as both teams had chances, but the Eagles for the most part controlled the tempo, as they outshot the Invaders 15-13 in the first 15 minutes of play.
The second period was fairly even as well, but again it was Vertosnik striking on his second goal of the day as he put another shot by Ryan, this time streaking down the right wing to make it 2-0 with 6:42 to play in the second period.
The assist on Vertosnik's second goal went to junior Jake Mlady. The Eagles were outshot in the second period 14 to 11, but led by two goals after 30 minutes.
The third period saw the Eagles get on the board early as just 3:03 into the final period it was sophomore forward Shawn Donovan scoring the goal on an assist from Vertosnik to put North Olmsted firmly in control 3-0.
The rest of the period saw more strong defense from the Eagles, as they held the Invaders in check for the final 12 minutes and skated off with the shutout win and a second-round game in the winner's bracket at 7:45pm on Saturday.
Click the Pages Below to See More Pictures From the Game between North Olmsted and Normandy!

NEO Sports Insiders Newsletter
Sign up to receive our NEOSI newsletter, and keep up to date with all the latest Cleveland sports news.