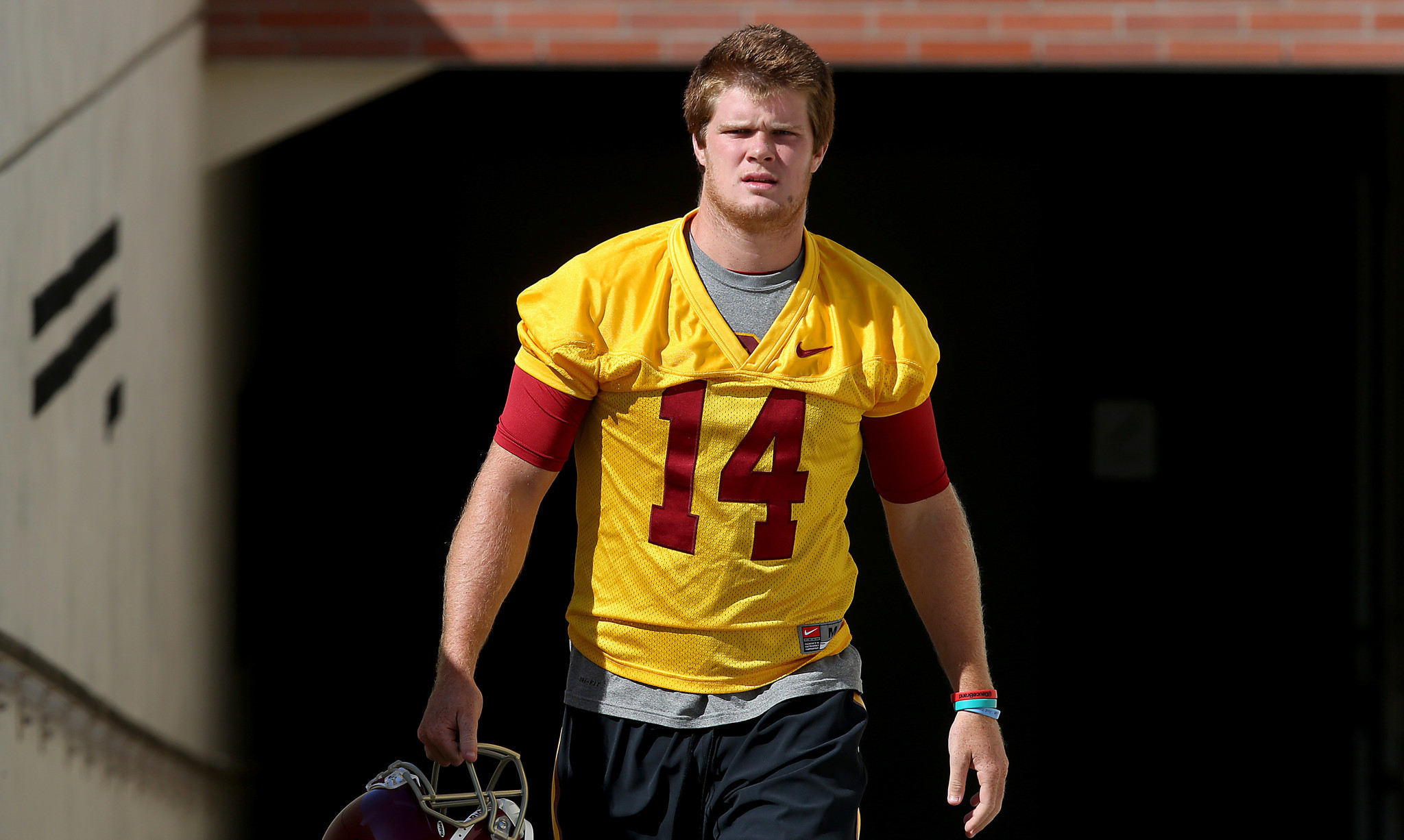 Many seem on board with thinking despite acquiring quarterback Tyrod Taylor from the Buffalo Bills a few weeks back, the Browns are still on task to take a quarterback with the first pick of the draft next month.
One quarterback that seems to be the apple of the Browns eye is that of USC thrower Sam Darnold, and today a large contingent from the Browns including owner Jimmy Haslam watched Darnold's Pro Day at USC in the rain.
Cleveland.com reports that Haslam, along with Hue Jackson, GM John Dorsey, offensive coordinator Todd Haley and quarterbacks coach Ken Zampese all watched closely as Darnold took the field throwing and putting on a show for the team he may wind up playing for.
"It's just a job interview to be honest with you," Darnold told NFL Network after the workout. "I thought I showed them the best version of myself. I've been training really hard for this day."

He enjoyed meeting with Haslam and the whole Browns staff, who took him to dinner on Tuesday night. Haslam also spent time chatting with Darnold's parents in the USC stands during the workout. Darnold also had dinner with the Giants, who pick No. 2, on Monday night.

"I met with him (Haslam) yesterday, he's a great guy," said Darnold. "That whole staff is awesome. Those people are at the top of the world right now. I'm trying to impress them but at the same time be myself."

He also said on ESPN that he really likes where the Browns are headed "and there's a part of me that really wants to go No. 1" but also wants to go where he's most wanted.
The report says that Darnold threw about 60 passes in the rain and looked very good doing it, and threw mostly under center, throwing from the shotgun just a handful of times.
It never hurts having a solid session in front of the owner who may be signing your checks to play in the NFL.
"I knew I was going to come out here and do well. Having played games in the rain, I knew I wasn't going to have a problem with it. The managers did a good job of keeping the ball dry."

As for throwing in the rain, he said, "Not often, but I thought I made the most of it.

"Just going out and just kind of proving what I showed on tape, throwing on the run, keeping two hands on the ball…coming out here and ripping it.. thought I did a pretty good job."
Now we will see in a month if he's done enough for the Browns to pull the trigger and take him with the first overall pick.