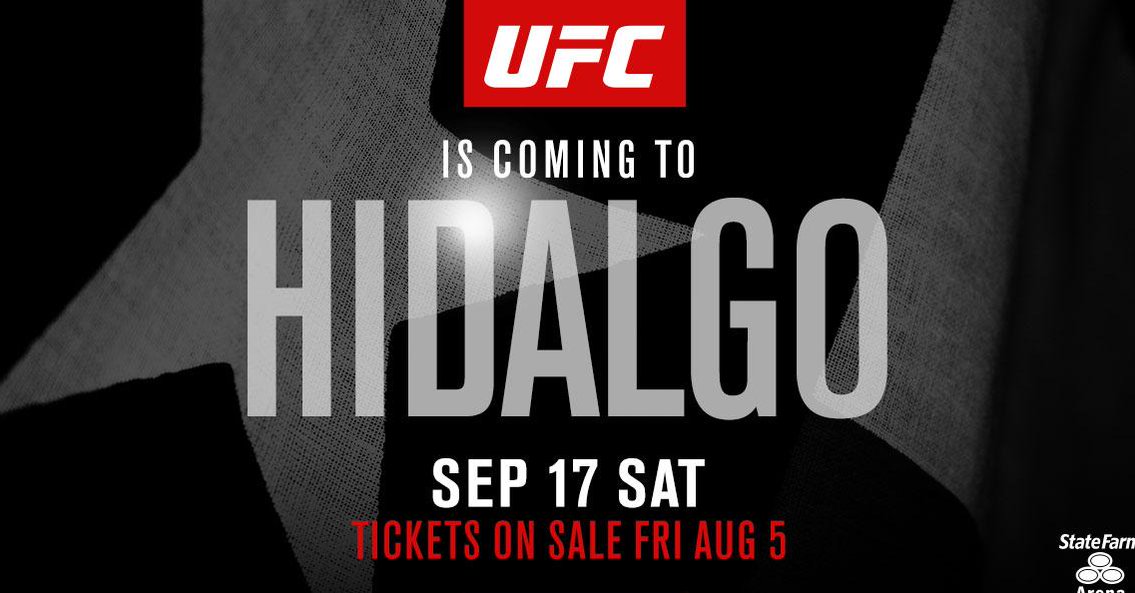 HILDAGO, Texas – The UFC invaded Hildago Texas for the first time in company history tonight.
It will be at the State Farm Arena in Hidalgo, Texas
Let's take a look at some of the top matches and break them down with predictions.
The main card kicks off with Chas Skelly taking on Maximo Blanco. Skelly will be competing in his seventh UFC fight although casual fight fans aren't very familiar with him. They will be tonight as I expect him to put away Blanco with ease and early in the first.

Moving up the card a little bit, it will be UFC veteran Evan Dunham battling Rick Glenn. Dunham has been around awhile and fought some of the best in the Lightweight Division. He is a veteran of 16 UFC fights, and 10-6 in those contests.
With wins over the likes of Efrain Escudero, Tyson Griffin, Nik Lentz, Ross Pearson and Joe Lauzon, no one will dispute he is a tough match. While a title shot may not be a realistic option for a while, if ever, Dunham has proven to be an entertaining fighter and only been stopped 3 times in his entire 23 fight career.
Not much is known about his opponent Rick Glenn, and I expect even less will be known tonight as another quick finish victory for Evan Dunham will occur.

The CO Main Event involves four fighters with a load of potential. They are also four men on the rise looking to get in the title hunt of their respective divisions.
In the first part of the CO Main Event, it will be Uriah Hall vs Derek Brunson.
Hall is famous for his epic spinning kick knockout of a tomato can on the Ultimate Fighter. Since then, his career has been up and down, but still loaded with potential. He has wins over men such as Gegard Mousasi and Chris Leben but also has losses to the likes over Chris Weidman and Robert Whittaker. Hall needs to finally reach his career stride before everyone starts to give up on him and that once bright potential.
His opponent Derek Brunson was a veteran of Strikeforce, but made no bones about it that he wanted to compete for the UFC instead early on in his career. Brunson was accepted to compete in The Ultimate Fighter 17, but on the first day of filming he was pulled from the competition due to Showtime having yet to release him from hi strikeforce contract.
He would eventually get his chance with the UFC in December 2012 when he knocked out Chris Leben at UFC 155. He has been on a tear ever since, going 6-1 in his UFC stint. His only loss came against the extremely talented Yoel Romero in January 2014.
My prediction is Brunson with a split decision victory over Hall tonight.
The final event of the evening is a good one. It is Dustin Poirier vs Michael Johnson.
Johnson is coming off of back to back tough razor thin decision losses to Nate Diaz and Beneil Dariush. Before that stumbling block, he had been on a roll with four straight wins over great competition. Make no mistake about it, Johnson is for real, he holds the only UFC victory over Tony Ferguson, who himself is 11-1 in the UFC. So , Johnson is no slouch.
His opponent is the very dangerous Dustin Poirier. The Diamond is ready to make a serious push at the top of the Lightweight Division. A veteran of 15 UFC fight, Poirier is no stranger to the spotlight and taking on the biggest names. He has the experience of taking such men as Conor McGregor and Cub Swanson to name a few. Poirier will need to bring his entire game to the Octogan tonight to beat Johnson.
I feel that he will, as my official prediction is Poirier over Johnson by unanimous decision.