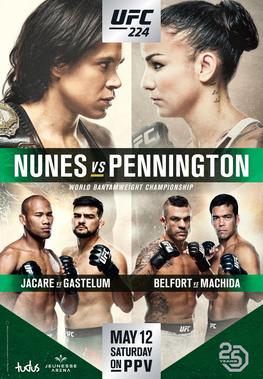 This MMA preview is brought to you by the official sponsor of all things MMA and Boxing at NEOSI, the world class Workout Factory. You can visit them in person, and get the best workout of your life. They are located at 5508 Ridge Rd, Parma, OH 44129.
Call today to schedule your first visit 440-476-6470.
You can visit them on line here – https://www.workoutfactory.com/
The main card of UFC 224 from Brazil proved to be every bit as brutal as expected with four dominant finishes.  The most impactful coming from Women's Bantamweight Champion Amanda Nunes as she took five rounds, but finished challenger Raquel Pennington by TKO.
Pennington actually asked her corner to stop the fight between the fourth and fifth rounds, but they refused to let their fighter quit.  A topic that will cause a serious amount of debate.  A lot of dollars being lost and rules being changed may be the result of that one.
From here, does Nunes prepare for a Super Fight with Cyborg?  At this point it does appear to be the dream match many have been asking for.  With the likes of popular Americans Ronda Rousey, Holly Holm and Miesha Tate nowhere near the title scene (two of them are currently retired), one would have to believe that the new path to Women's MMA fame will have to go through Brazil.
Kelvin Gastelumn battled to a tightly contested split decision victory over Ronaldo Souza.  Ronaldo at one point seemed destined to challenge for the UFC Middleweight title, those days appear to be done.  Gastelumn has now won two straight and has gone 4-1-1 in his last six.  He would be 5-1 if he hadn't been busted for smoking pot following his victory over Vitor Belfort.
Speaking of Belfort, it is safe to say his legendary career came to an end last night at the foot of Lyoto The Dragon Machida.  It was a vintage Machida Crane Kick that put Belfort away at the 1 minute mark of the second round.  Belfort appears to be done after losing his fourth of five fights, and looking to be a shell of his former self.  I'm sure Bellator MMA will be calling for him soon however.
Machida would be wise to call it a career as well, as this win simply proves nothing.  Before UFC 224, Machida had lost 4 of his last 6, with 3 of those coming by brutal and downright scary finishes.  Machida has not evolved and is also a shell of his former self.  Despite the highlight reel victory, Machida is no longer a threat.
John Linekar kept his roll going last night in impressive fashion.  Linekar stopped Brian Kelleher with a third round KO.  Linekar has now won 8 of 9, with his only loss in that stretch coming against current UFC Bantamweight Champion TJ Dillashaw.  The only thing holding Linekar back, is his tendency to miss weight.  He has missed weight 3 times already in his UFC career.
Also, on the subject of missing weight, Mackenzie Dern who came into her bout with Amanda Cooper a sickening 7 pounds over, easily rolled to victory with a first round rear naked choke.  It is hard to be impressed by it however, because of the fact she was so heavy coming in, holding the advantage over Cooper who actually cut weight. Like Linekar, this is now the third time she has missed weight in her career.