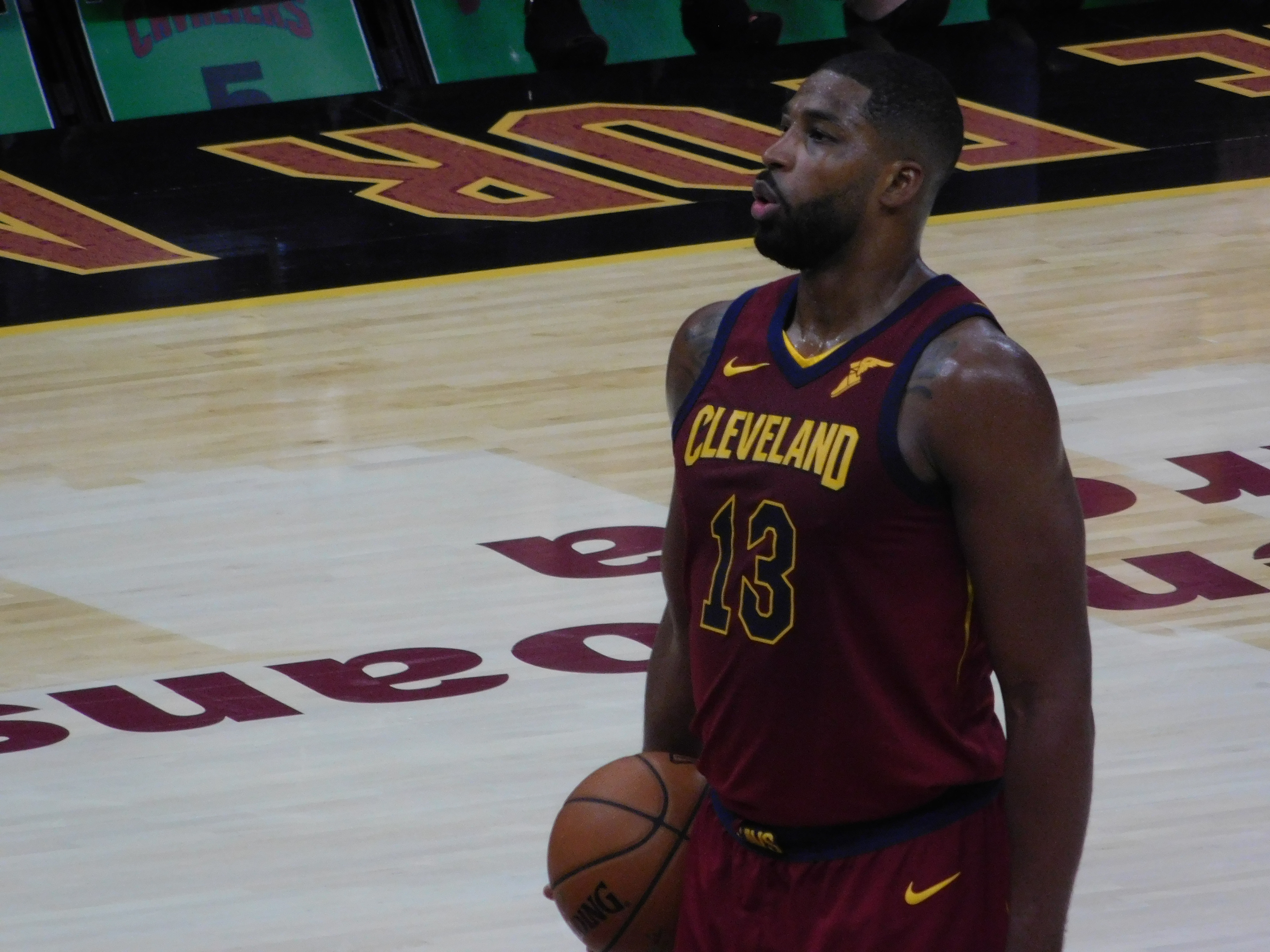 CLEVELAND– Before Sunday's Game 7 against the Indiana Pacers, Tristan Thompson had played just 23 minutes in the previous six games of the Cavaliers' opening round playoff series. He scored just three points and pulled down six boards during that time.
In Game 7, however, Thompson was thrust into the starting lineup, and finished with a double-double behind 15 points on 5-of-6 shooting and 10 rebounds in 35 minutes. It's the most time he's seen on the court all season.
"Nothing like a Game 7," Thompson said. "What I was telling the young guys, 'This is what the playoffs are about. And a Game 7 separates the men from the boys. You've got to give everything you've got.' After Game 6, I looked at (LeBron James), (J.R. Smith) and (Kevin Love) and said, 'We've been through this before. We've been in Game 7, we know what it takes.'"
Tristan Thompson: "There's nothing like a Game 7… it separates the men from the boys" pic.twitter.com/MpgquySJjj

— Ashley Bastock (@AshleyBastock42) April 29, 2018
Faced with a win-or-go-home contest in the first round, head coach Tyronn Lue decided to go with his fourth different starting lineup for the series, filling it with all the guys that remain from that 2016 championship squad. Thompson was inserted along with James, Love, Smith and Kyle Korver, leaving the Cavs without a true point guard, but giving them the extra fire they needed to close out what was arguably the toughest first round series they've played over the last four seasons.
The move paid off, as James, Love, Thompson and Smith combined for 85 of the Cavs' 105 points.
"I just think Game 7, go with the guys who have been here, who have been through it all, know what it takes," Lue said postgame. "I'm just happy for T-Top. He's been here with us for so long and been through all of the things we've been through over the course of the last four years and to step in and play the way he did, I'm just so happy for him."
The decision to start Thompson wasn't made until Saturday morning. Thompson said he was in the weight room ahead of practice when Lue informed him of the decision.
"He just came up to me and said, 'I'm going to start you tomorrow,'" said Thompson. "I said, 'Say no more.' At the end of the day, we're all professionals. Me and T-Lue, we've been through years together. When my number is called, I've got to be there for my guys, especially what's on the line, win or go home. So when he told me I'm starting, just locked in and said, 'It's time to come up and step up.'"
Tristan talks learning that he was going to start yesterday. pic.twitter.com/FXQrlgR4m6

— Ashley Bastock (@AshleyBastock42) April 29, 2018
To say that Thompson has had a rough season would be an understatement. He had career low numbers in games played (53), minutes played (20.2) and points (5.8). His 6.6 rebounds a game were the second lowest of his career, just slightly better than his rookie season. On top of that, Thompson has also dealt with off-the-court issues in recent weeks.
Given his overall year, it wasn't surprising that he was the odd man out of the Cavs' playoff rotation when Larry Nance Jr. was moved to the bench. But after Lue realized the Cavs were over-matched in the paint against the Pacers, he decided to take a gamble with a guy he has largely trusted in his three seasons as head coach. Thompson earned that trust by staying in rhythm throughout the series playing five-on-five with coaches and other players on the outside of the rotation looking in, Cedi Osman and Ante Zizic.
"It's part of being a professional, you gotta stay ready at all times," he said. "It's a long playoff journey. I remember our first year altogether, K-Love goes down against Boston and I get thrown into the starting lineup and I have to play big against Chicago with Pau (Gasol) and Joakim (Noah). So playoffs are a long journey. If I'm not on the court, I've gotta be there to cheer my teammates on and from the sideline be there mentally and keep guys locked in and focused."
It was clear from the beginning of the game that the lineup change caught the Pacers off guard. Beyond what shows up in the box score, Thompson's energy helped give the Cavs momentum early. He was part of the reason Myles Turner faced foul trouble in the first half. He held his own when he was switched onto guards defensively. He set hard screens for James, getting him early looks and giving himself early opportunities on the offensive glass. In the first quarter alone, the Cavs had five second-chance points while the Pacers had none.
That energy carried over into the second half as well, with Thompson creating one of the defensive highlights of the game. With 1:39 to go in the game, and the Cavs leading 100-92, Thompson sent what should have been an easy layup for Darren Collison into the stands of Quicken Loans Arena. Things have hardly gone Thompson's way this year, but when the Cavs needed a big performance most, he was able to return to his roots and get the job done.
"That's the Tristan that we know," LeBron James said. "Giving us extra possessions, catching the ball on the rolls and finishing. Just his energy, his effort. That's how he's made his name in this league, by just being high motor and being able to outwork who's ever across from him."
LeBron on Tristan Thompson's performance: "That's the Tristan that we know" pic.twitter.com/S1NAbncbLO

— Ashley Bastock (@AshleyBastock42) April 29, 2018