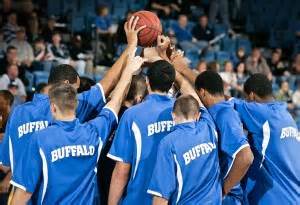 CLEVELAND– Despite the lopsided final score, this one was anything but a blowout as top-seeded Buffalo had their hands full all game against Central Michigan. Late in the game, Buffalo held onto a two-point lead, 72-70. From that point, the Bulls went on a run to put their opponents away.
The late scoring spree was jumpstarted by a Jeremy Harris three ball from the corner, that finally broke the back of the Chippewas and allowed Buffalo to pull away.  The Bulls will now advance to take on the winner of Kent State (4) vs. Ball State (5)
Cecil Williams and his 21 points kept Central Michigan close for the bulk of the contest, but in the end, it wasn't enough to pull off the giant upset.  Pacing Buffalo was Sharp Shooting Guard Jeremy Harris who tallied up 27 points.  Chipping in for the Bulls was CJ Massinburg with 18 much needed points.  Harris and Massinburg also both sunk four each from beyond the arc.
Head coach Nate Oates had this to say after his team's big win in what turned out to be a tough game for the top seed:
"They gave us a tough game, we knew they were going to be tough.  I talked to my guys about what it takes to get an upset, teams that shoot a lot of 3s, they have got a chance to upset you, they shoot as many 3s as anybody in the league.  So that was one.  They didn't miss free throws, we tend to foul a lot, so that was another issue.

So I thought our guys for the most part warriored up on the glass and did what they were supposed to.  Offense was more of a struggle than we're used to.  Wes had a tough game, Jeremy had a role in there early, CJ couldn't make a free throw but he hit that big 3 for us.   I told our guys going in that on the offensive end, we may struggle a little bit.

We may have to find other ways to win it.  Which is the first time in 11 games we didn't shoot over 50 percent from the field, but we had 19 offensive rebounds, so if you get 19-0 boards, and you still shoot 45 percent, you'll probably be all right.  I thought we found other ways to win the game.  Maybe when shots or free throws weren't falling, CJ's a lot better free throw shooter than that.

The charge by Dontay there late, there was a dead ball, we were at the free throw line, I told him to take the charge and seal the game up for us, about 20 seconds before he did, he did it, so he was big.  Williams was big for them.

I can't say enough, that's why he's sitting here right now, he's kind of our defensive captain, I call him, he kind of runs the defense for us.  I thought he did a good job, and Jeremy obviously came out ready to play on the offensive end, so it was a good win.  Shoot, last year we didn't make it out of Thursday, so we're happy to be at Friday this year.