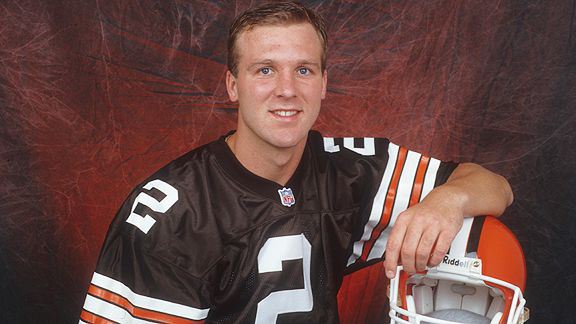 Welcome to a new series here on NEO Sports Insiders – a topic that I think any Browns fans can chat about for hours on end, that being why this organization has been a failure for the last 17 seasons.
Sure there's been a few shining moments, but by in large this organization has been a complete and utter disaster. The Browns, a team with such a strong tradition with a loyal fan base, has done little to give back to the fans.
We take you through what we think are the top 10 reasons as to why it's been as bad as it has, and today we start with the number 9 reason – the awful drafts of the Browns since they came back in 1999.
If you missed the Number 10 reason from Monday, Click HERE
Enjoy!
The #9 Reason Why the Browns Have Failed Since 1999 – Draft Woes Have Plagued Browns Since Day 1

The NFL did not do many favors for Cleveland when they decided to bring back the Browns as an expansion franchise in time for the 1999 season.
But, along with a wide-open salary cap, the one thing the NFL did do was give the Browns a plethora of draft picks in their first two seasons in an attempt to help kick start the franchise in the right direction, including the No. 1 overall pick in both drafts.
The Browns made 11 draft picks in 1999 and 13 draft picks in 2000 for a total of 24 draftees in those first two seasons. Surely, the Browns could find some gems out of 24 draft picks, including having the top-overall pick in both drafts, yes?
Unfortunately, if you are a Browns fan, you know the answer to this all too well. General manager Dwight Clark, rookie head coach Chris Palmer and team president Carmen Policy proceeded to squander most of those draft picks, putting the franchise in a hole they have yet to truly crawl out of.
Two of those 24 picks – guard Manuia Savea and defensive end Eric Chandler – never played in the NFL. Both were drafted in the seventh round in 2000, so that's to be expected.
However, by 2010, all 22 of those remaining players were out of the NFL, with wide receiver/kick returner Dennis Northcutt (second round, 32nd overall, 2000) retiring following the 2009 season. By then, he was a Detroit Lion, having last played for the Browns in 2006.
Actually, there was one more to that list – tight end James Dearth (sixth round, 191st, 1999). Despite only three career catches and one career touchdown, Dearth played until 2011 primarily as a long snapper. He only played one season with the Browns before signing with the New York Jets from 2000-09. He had two cups of coffee with the New England Patriots and San Diego Chargers in 2011 before calling it a career.
According to Pro Football Reference, Dearth only played two games as a Brown. So, the one guy Clark drafted that went on to a lengthy NFL career was given up on after just two games.
The Browns have drafted first overall twice (1999, quarterback Tim Couch; 2000, defensive end Courtney Brown), third overall four times (2001, defensive tackle Gerard Warren; 2005, wide receiver Braylon Edwards; 2007, left tackle Joe Thomas; 2012, running back Trent Richardson), sixth overall twice (2004, tight end Kellen Winslow; 2013, linebacker Barkevious Mingo), seventh overall once (2010, cornerback Joe Haden) and eighth overall once (2014, cornerback Justin Gilbert). Only four of those players reached the Pro Bowl – only four of them (Thomas, Haden, Mingo, Gilbert) are still with the Browns.
The Browns had multiple first round picks four times. Those picks yielded Thomas, quarterback Brady Quinn (2007), Richardson, quarterback Brandon Weeden (2011), Gilbert, quarterback Johnny Manziel (2014), nose tackle Danny Shelton and offensive lineman Cameron Erving (2015). Only Thomas could be considered an All-Pro at this point. Richardson and Weeden were no longer Browns after two seasons. Quinn was no longer a Brown after three. It's expected that Gilbert and Manziel will also no longer be Browns after just their second seasons with the team.
Other than Dearth, their entire 1999 draft class was out of the NFL by 2005. Besides Northcutt, the entire 2000 draft class was out of the NFL by 2006.
Here's a closer look at every single draft class, starting with the first one:

NEO Sports Insiders Newsletter
Sign up to receive our NEOSI newsletter, and keep up to date with all the latest Cleveland sports news.