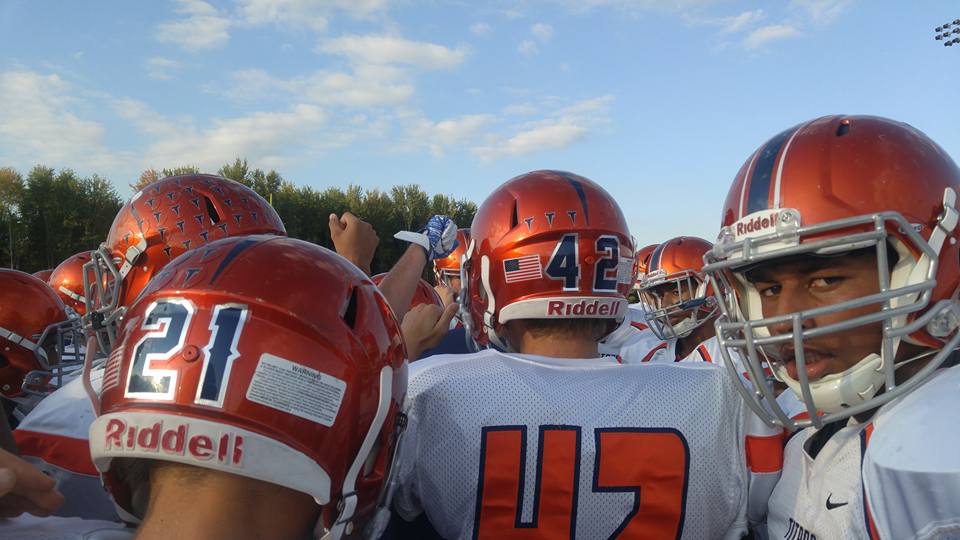 NORTH RIDGEVILLE, OHIO – The red-hot Berea Midpark Titans rolled into North Ridgeville tonight and took out the Rangers in impressive fashion.  The 49-14 victory, is the third straight for Berea Midpark who moves their overall record to 3-1 and also 3-0 in a very competitive SWC.  The Rangers fell to 0-4 on the season in a hard-fought defeat.
The Titans were paced by their dynamic duo of Junior Quarterback Trevor Bycznski and Junior Running back Bryce Agnew.  Both of whom have been nominated for NEOSI Player of the Week two weeks in a row.
Bycznski, who has arguably been one of the best Quarterbacks, if not the best quarterback in the SWC this season, finished with an impressive 27 for 34 passing for an incredible 461 yards while tossing 4 touchdown passes.
What perhaps is even more impressive then the massive amount of yardage piled up on the arm of Bycznski, is the way he spread the ball out and got everyone involved like a true leader does.  Seven different Titans caught balls from Bycznski tonight, 5 wideouts, a tailback and a tight end.  Also, a partridge and a pear tree!  The young man was dominant!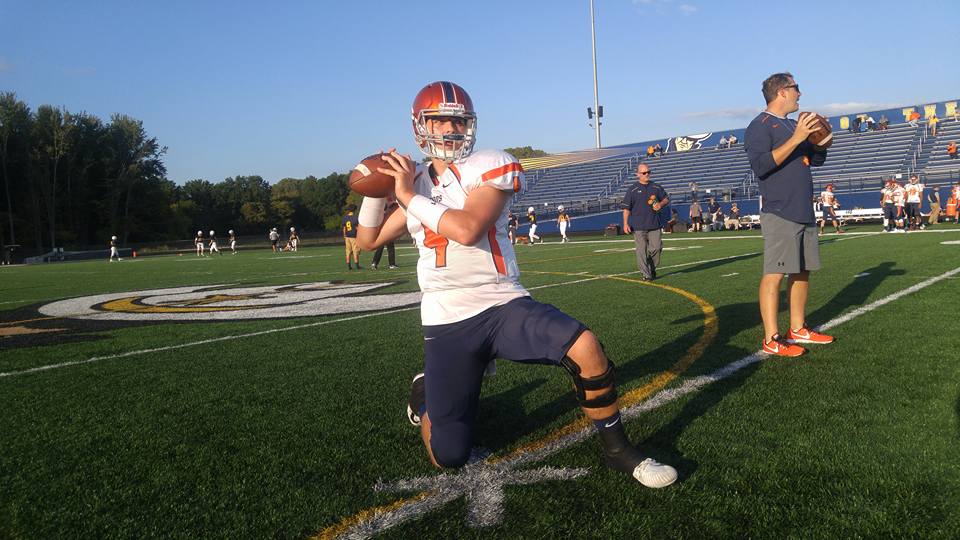 Reid Parry had two catches for 41 yards.  Luis "Louie" Vega had 7 catches for 112 yards and a touchdown.  Garett Waite had a career game with 8 catches for 125 yards and a touchdown.  Waite also had some big catches in the second half that helped put the game away.  Dwayne Holland also stepped up big with 3 catches, 175 yards and two big scores.  David Browning wasn't to be forgotten either, with 3 catches and 28 yards.
Simply put, this five some of wideouts couldn't be stopped!  While the quarterback seemingly gets most of the attention, I'm positive Trevor would be the first to tell you he couldn't do it without these five sensational speed demons going out for passes.  They tip toe the sidelines, go over the middle, not shying away from contact and keep the high-octane offense cooking!
Bryce Agnew finished with 58 yards on 13 carries while scoring 1 time. As usual he also helped by catching balls out of the backfield.  Agnew, caught 4 balls for 42 yards, including several screen passes to help extend first half drives.  The Ranger defense had no answer for Agnew catching balls out of the backfield.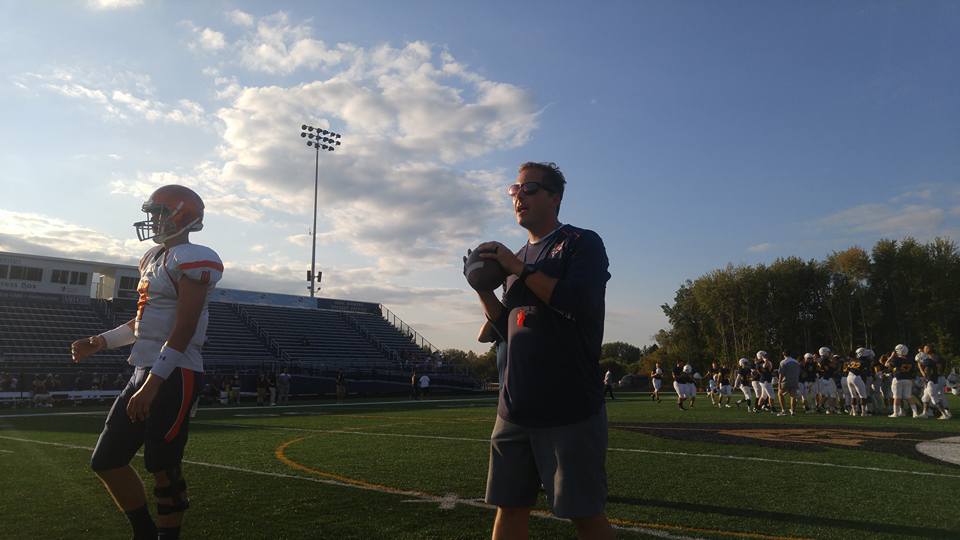 An impressive opening drive by North Ridgeville, which took nearly 6 minutes and saw Shomari Williams rack up 53 rushing yards came up empty.  The Rangers couldn't convert a 4th and 6 from the Titan 14-yard line.
The Titans wasted no time capitalizing on the swing of momentum and drove right down the field on their next possession.  The drive was kept alive several times with nice catches by Luis Vega and a couple of well-timed screen passes to Bryce Agnew.
The Titans would punch in their first score of the night when Bycznski fielded a low snap, recovered and launched a 37-yard missile, connecting with a leaping Dwayne Holland in the back corner of the end zone for the touchdown.  It was a beautiful toss and catch to get the Titans on the board.
After the Titan defense forced a 3 and out, their high octane, fast paced spread offense went back to work.  In a blink of an eye, Berea Midpark blocked the punt and had the ball deep in Ranger territory.  Moments later, it was another Titan touchdown as Jabriel Williams rumbled in from 8 yards to score.
The touchdown was set up by two passes from Bycznski to Holland, a 17-yard grab, followed by a 21 yard gainer to Vega.  It was an impressive first quarter of yardage as Bycznski threw for 148 yards in the first quarter.
A failed fourth down attempt gave the Titans the ball back with a little over 4 minutes to go on their own 40-yard line.  That was playing with fire for the Rangers and they would get burned!  It wouldn't take the Titans offense long to post another score.  This time it was Bryce Agnew pounding it in from the 12-yard line.  Agnew had 30 yards on the drive to help build the Titan lead to 21-0 with 1:51 left to play.
The Rangers would respond with an impressive two-minute drill, capped off by a 27 yard screen pass from Matt Steinmetz to Forrest Croxton which would get the Rangers tasting pay dirt for the first time all night with 51 seconds left on the clock.  Cutting the lead to 21-7.
It was 51 seconds too long as Bycznski wasted no time connecting with Luis Vega moments later, to make it 28-7 at the half.  A dominant first half that saw Bycznski hit 7 different receivers, for over 225 yards and 2 touchdowns.
The second half was more of the same as the Titans piled on 21 more points, including a 71 yard touchdown pass from Bycznski to Dwayne Holland, as well as a 19 yard touchdown strike to Garrett Waite to start the running clock!
While the offense gets most of the attention, the ever-improving defense of Berea Midpark took another step tonight as they held North Ridgeville quarterback Matt Steinmetz to a dismal night.  The junior QB was held to 6 of 22 passing, for 149 yards.  However, one third of those yards came on a screen pass behind the line of scrimmage that the speedster Cade Riley took off for 54 yards.
Riley was one of the few bright spots of the night for North Ridgeville.  Perhaps the brightest star for North Ridgeville tonight was senior running back Shomari Williams who rushed for 212 yards on 33 attempts.  He looks like the real deal and one of the best backs in the state.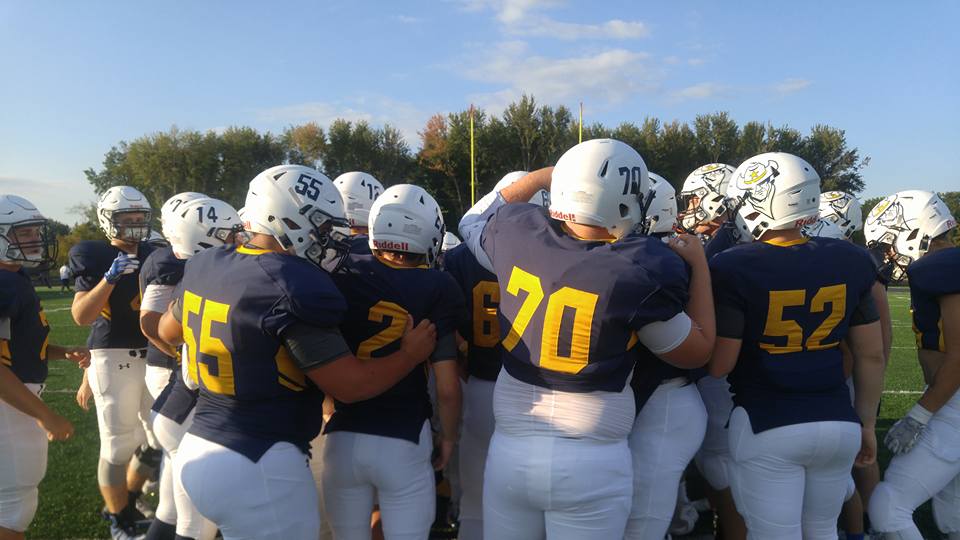 The Titans will look for their fourth straight win next week as they return home to host Amherst.  North Ridgeville will look to tally their first win of the season as they travel to SWC powerhouse, Olmsted Falls.
Box Score by Quarter
Berea MP 14 14 14  7 = 49
North Ridgeville 0 7 7 0 = 14
Scoring Summary
1Q Bycznski 37-yard TD pass to Holland. XP good @3:23
1Q J. Williams 8-yard TD run. XP good. @0:17
2Q Agnew 12-yard TD run. XP good. @1:51
2Q Steinmetz 27-yard TD pass to Croxton. XP good. @0:59
2Q Bycznski 9 yard TD pass to Vega. XP good. @0:24
3Q Bycznski 71 yard TD pass to Holland. XP good. @9:40
3Q Agnew 1 yard TD run.  XP good. @5:30
3Q S. Williams 14-yard TD run.  XP good @3:38
4Q Bycznski 19 yard TD pass to Waite.  XP good. @11:52

NEO Sports Insiders Newsletter
Sign up to receive our NEOSI newsletter, and keep up to date with all the latest Cleveland sports news.