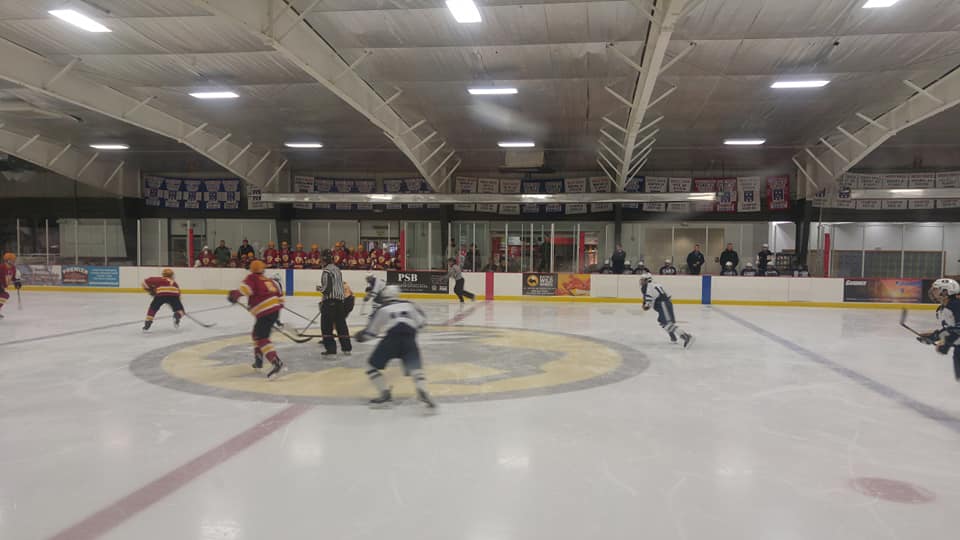 ROCKY RIVER – Day Three of the Tim Alexander tournament got kicked off with a bang this morning as Solon collided with Avon Lake in a matchup of two teams searching for their first tournament win. Solon jumped out to a big lead and then hung on by the skin of their teeth to pull out the 6-3 victory.  Solon was highlighted by a William Furlong hat trick.
It was a wild back and forth affair that showed the heart and feistiness of both teams.  Solon scored within seconds of the opening faceoff.  14 seconds to be exact, when Daniel Thomas got things started with the games first goal.  A few moments later, after a successful Avon Lake penalty kill, Solon scored again.  This time it was Andrew Oliver from Christo Wu finding the back of the net.  The Comets of Solon would score yet again a few minutes later with a goal by William Furlong.
The Avon Lake Shoremen hockey team have already shown numerous times this tournament that they are comfortable playing from behind and are never out of any game.  They once again mounted a furious rally to close the period.  Following a well-timed timeout called by first year head coach Steve Burns, the Shoremen came out a house on fire.  Nick Ospelt scored twice within 20 seconds to cut the lead to 3-2 heading into the first break.
The second period wasn't filled with many goals, but rather several hard hits and near brawls.  After two straight days of hockey, we all knew day three might get a little feisty, and it did. With both teams looking for their first win of the weekend, nothing was going untouched or unchecked for that matter.  The period saw several trips to the penalty box for both teams and a lot of jaw jacking by both.
The Comets did extend their lead to 4-2 on a Christo Wu goal.  The Shoremen did have several power play chances in the period, but couldn't get one in.  The score remained 4-2 heading into the final break.  Goaltender Dillion Aslaksen saved 6 of 7 shots in the frame to keep the Shoremen in striking distance.
The Shoremen would cash in on their next power play chance, scoring just minutes into the third period.  Justin Share cut the lead to 4-3 scoring off of a pass from Tommy Kacmarcik.  Minutes later the Shoremen would get yet another power play with a chance to tie it, but couldn't cash in.
The Comets made them pay for missing that scoring chance, as they put one in of their own to extend the led to 5-3.  The goal coming off the stick of William Furlong, his second of the game.  As the game was dwindling out, William Furlong capped off his hat trick to finish the scoring 6-3.
Please turn to page two for a small photo gallery.

NEO Sports Insiders Newsletter
Sign up to receive our NEOSI newsletter, and keep up to date with all the latest Cleveland sports news.