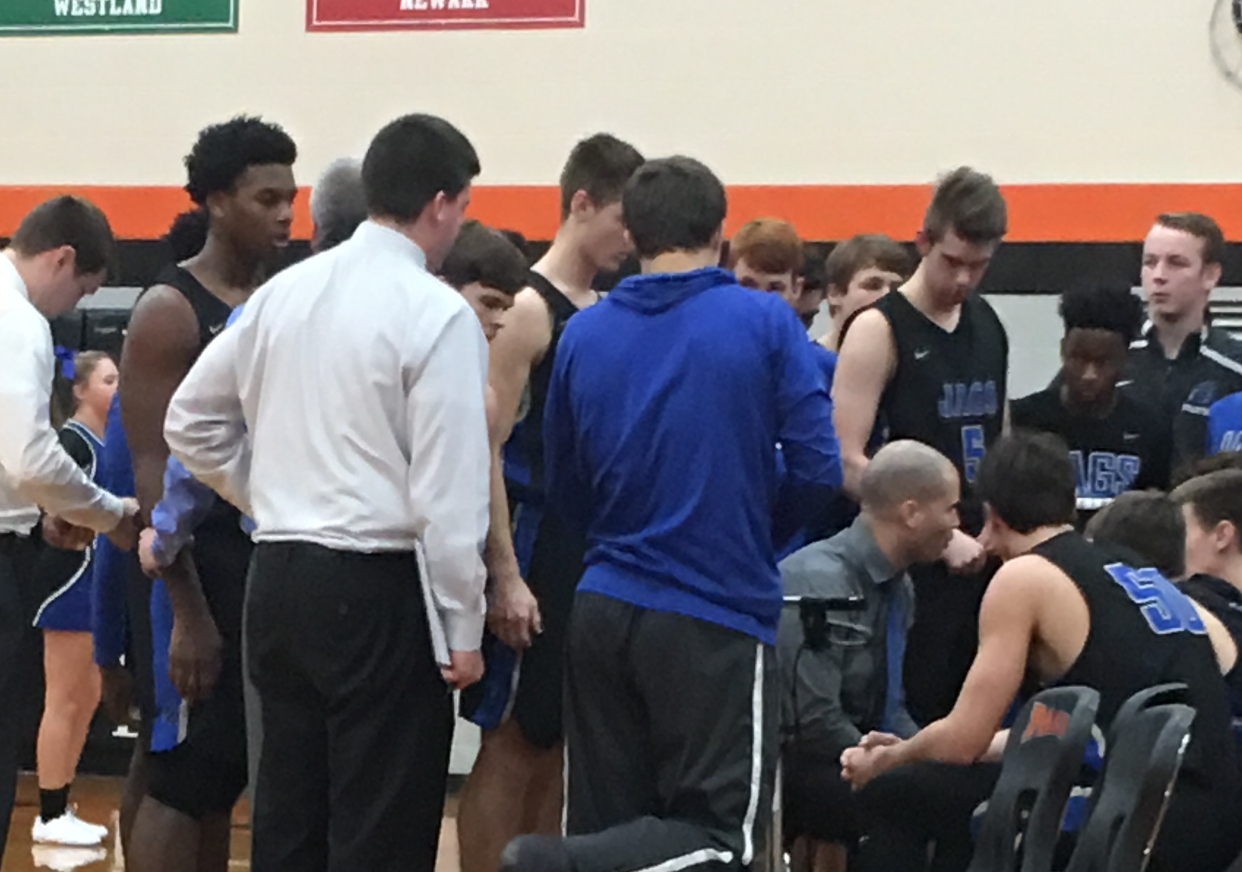 by Logan Kelleher
DELAWARE, OHIO– Hilliard Bradley got their seventh win on the season, but Delaware Hayes did not make it easy.
Bradley took the early lead, finishing the first quarter with the score 11-5. Matt Allocco then hit a 3 as he was fouled, and then made the free throw for a four-point play. AJ Mirgon got three of his six points in the game on a three shortly after, and Chris Mayfield scored four points in the quarter, with two of them coming on a basket at the buzzer to end the first half.
Zach Hummel and Chris Mayfield had six points apiece to lead Bradley, while Terin Kinsway had five to lead Hayes at halftime, with the score at 24-11, in favor of Bradley.
Hayes came out in the second half with a confidence boost, cutting the deficit to seven at the end of three, thanks to Paul Burris and Nate Griggs, who combined for 12 of the teams 16 third quarter points. The score at the end of three was still in favor of Bradley, leading 34-27.
The fourth quarter allowed for Hayes to cut into Bradley's lead, with Terin Kinsway hitting a 3 to cut the deficit to two, with Isaiah Speelman answering with his own, and the two each made one more apiece before Nate Griggs got a 3 of his own, cutting it to a two-point game again.
The game got back in Bradley's favor when AJ Mirgon hit his second 3 of the game, and then Speelman added two free throws to extend the lead. Griggs hit again from 3, but Mayfield got two free throws to extend the lead back to four. Bradley remained in control the rest of the game, and ended up winning on the road, 51-43.
Nate Griggs had 20 points in the game to lead Hayes, scoring 16 of his points in the second half, with nine in the fourth quarter. Terin Kinsway added 13 points of his own. For Bradley, they had three players reach double-digit point totals, with Matt Allocco scoring 13, and Mayfield and Speelman adding 10 apiece, with eight points coming in the fourth quarter for Speelman.
Bradley's win tonight gives them a record of 7-1, while Hayes falls to 5-7. The two teams will play again on Feb. 2.

NEO Sports Insiders Newsletter
Sign up to receive our NEOSI newsletter, and keep up to date with all the latest Cleveland sports news.