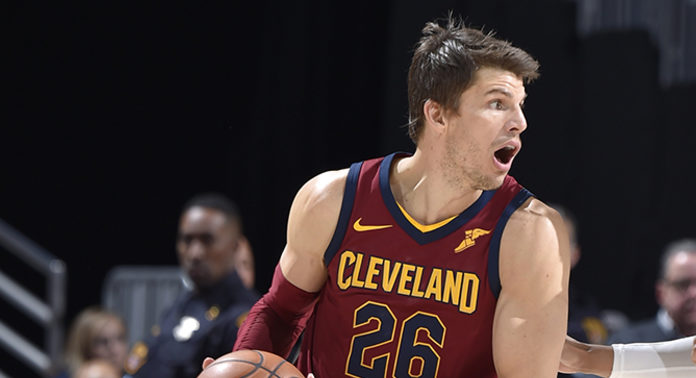 The Cleveland Cavaliers have fell to 0-5 on the season after losing 103-110 to the Detroit Pistons on the road. Without five-time All-Star Kevin Love, who missed the game with foot soreness, shooting guard Kyle Korver was the team's leading scorer with 21 points and led the Cavaliers charge in the fourth quarter before fouling out late in the period.
However, while Cleveland remains winless, their loss to Detroit was another step forward for a group trying to grow together on what's looking to be an arduous season. Here are three takeaways from the Cavaliers loss to the Pistons on Thursday.
Kyle Korver deserves more minutes
Even before Kyle Korver's 21-point outburst against Detroit, the argument for Korver getting more minutes was there. Prior to Thursday's contest, the Cleveland Cavaliers ranked 24th in three-point percentage (32.2), 29th in three-point attempts per game (21.8) and 29th in three-point field goals per game (7.0) per Basketball Reference.
Korver, who is fourth all-time in career three-pointers seemed like a natural solution to their shooting woes.
With a bevy of guards who prefer to put the ball on the floor — George Hill, Collin Sexton, Rodney Hood and Jordan Clarkson all fit this mold — Korver is one of the two backcourt players (the other being J.R. Smith) that Cavs head coach Tyronn Lue has that prefers to shoot from behind the line. He's also one of the few players proving to be consistent three-point threats in the backcourt; he was responsible for four out of eight three-point attempts for Cleveland.
Although his three-point prowess (he shoots 43.1 percent from three for his career) is otherwordly, Korver is more than a three-point specialist. He has the veteran savvy, basketball IQ, competitive fire and team defense to make him a consistent positive for the Cavaliers, even at 37-years-old.
Simplifying the defense has worked
While the Cleveland Cavaliers wanted to switch 1-5 in their first three contests, they made a switch to their defensive scheme and simplified everybody's tasks. They would switch 1-4 with Tristan Thompson guarding the power forward's and have Kevin Love drop back on pick-and-rolls to force him sideline. If the Nets so happened to complete the roll, then Love would be in position to alter shots around the rim, which he did.
The Cavaliers, for all their offensive issues against the Nets, held them to 102 points and 45 points in the first half.
Against the Pistons, Cleveland's simplified switching schemes resulted in them making quick and decisive rotations that weren't there the first few games. Holding the Detroit Pistons to 111 points doesn't look overly impressive but they entered the game averaging 117.0 points per game (7th in the league). Players like Reggie Bullock, who entered Thursday's contest averaging 16.5 points per game, only managed to score five points while shooting 2-10 from the field and 0-4 from three-point range.
The primary reason the Cavaliers lost was because they had nobody who could match up with Detroit's All-Star center Andre Drummond (who collected 22 rebounds) on the glass.
Collin Sexton is steadily progressing
Collin Sexton played a solid floor game on Thursday, attacking but also finding his teammates for easy points throughout the night. He was most impressive, as usual, in the fourth quarter as he knocked down all five of his field goals in the final frame and went 5-9 from the field for the game. He had 14 points, five assists (tied for a team-high) and two steals to just one turnover.
It's his second consecutive game scoring 14 points and his third time this season. His five assists and two steals were also career-highs.
Of course, it's not all about scoring for the Young Bull but his attention to detail. Particularly on the defensive end. However, though he had a couple of defensive miscues, he was largely solid on that end overall.
The point guard position is one of the two most difficult positions for players to transition to coming out of college so some patience is needed for Sexton as he learns how to turn his physical tools and guard skills into savvy play. His ability to distribute on drive-and-kicks is where he could stand to grow the most, considering his first step speed. However, that will come with time as Sexton improves his ability to see the play before it happens.

NEO Sports Insiders Newsletter
Sign up to receive our NEOSI newsletter, and keep up to date with all the latest Cleveland sports news.