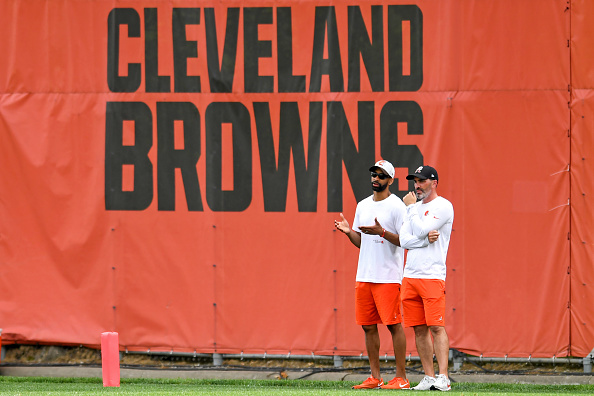 The NFL draft is days away, and the Cleveland Browns will have several scenarios that could pop up starting Thursday when the draft starts in Kansas City that they'll have to make decisions on. The Browns currently have eight picks going into this year's draft. Cleveland's general manager Andrew Berry has done a good job in recent years with making draft selections. He and his front office gurus have wheeled and dealed pretty well in the past and that has landed the Browns with some very good talent.
In last year's draft, Cleveland traded out of their No.44 pick and picked up several additional draft picks, including No. 68 where they took cornerback Martin Emerson, who had a particularly good rookie campaign,
The Browns have improved their roster through the many maneuvers that Berry has overseen and yet his team on the field hasn't had an above .500 record for the last two seasons. While many Cleveland fans are likely not happy about that fact, this team has improved since several years of incompetent play prior to the arrival of the new front office members and coach Kevin Stefanski.
Every draft the Browns are faced with differing situations but in recent memory, this new regime in the front office has made solid draft picks and maneuvered the event with diligence and determination. So, let's look at three different scenarios that could very well present themselves again come this draft. If the past is any indication of what we're going to see in the future, then look for these situations to be positive for the team.
No. 1 scenario: Wheeling and dealing trade picks
With the team currently making a strong case for a pretty solid Week 1 roster already through their recent negotiations to pick up some good free agent talent like safety Juan Thornhill and defensive tackle Dalvin Thomlinson the team is not in a huge rush to pick up a Week 1 starter.
Cleveland could hone in on a handful of players instead that they really want. They could start wheeling and dealing picks like the one they did in last year's draft to get Emerson.
Cleveland might target a player up in the draft and deal a few of their picks. There's the linebacker Trenton Simpson from Clemson whom some believe the Browns really like. He won't be there at the No. 74 pick so if the team wants him, they'll have to be willing to deal.
There's also plenty of talent still available well past that initial pick for the Browns. So, trading further back isn't a bad idea either. There's an edge rusher from Bowling Green named Karl Brooks that would be a good pick-up by the team in the later rounds. Cleveland needs some depth at the edge position and Brooks would be a nice addition. If the team is looking for an additional wide receiver, they could pick up a projected mid-round selection like Trey Palmer from Nebraska.
No. 2 scenario: Trading a current player on the team
Don't be surprised if the Browns work a trade of a current player during this draft. There are several candidates that come to mind including tight end Harrison Bryant, wide receiver Anthony Schwartz, and even offensive left tackle Jedrick Wills.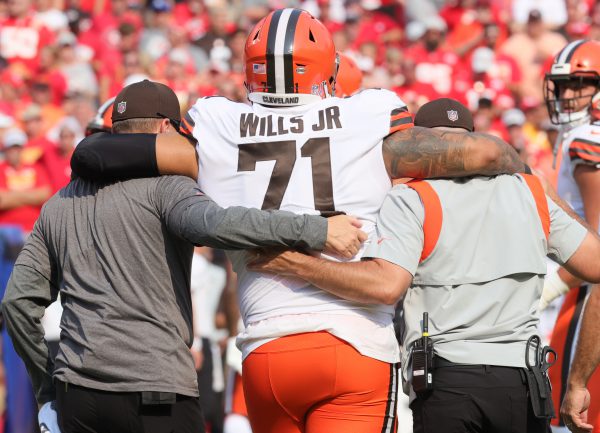 Cleveland picked up free agent tight end Jordan Akins, formally of the Houston Texans and who has played with current Browns quarterback Deshaun Watson in the past. The signing might be the writing on the wall for Bryant and the team could be looking to move on from him.
Wills, the Browns current left tackle didn't exactly play very well this past season. His lack of sticking with the opponent and protecting his quarterback was on full display. Maybe the team can find a new left tackle in this draft early on that could be a replacement for Wills if a trade scenario presents itself.
Schwartz, the third-year wide receiver for Cleveland, was originally a third-round pick back in 2021 but has done practically nothing in his time with the team. There may not even be a market for Schwartz to be traded but maybe he could be packaged in with a few picks for a different team looking for a player like Schwartz, who was a track star at Auburn back in the day.
No. 3 scenario: Taking talent first over a positional need 
There's usually this conversation of taking talent or positional need first at this point in the offseason as we approach the NFL Draft. Every team has specific needs at particular positions but when that pick comes up in the draft does that team take the player that fills that need first or do they go with whoever is highest on their draft boards in terms of talent?
For the Browns, they usually side with the talent. Last season, Cleveland didn't necessarily need cornerback Martin Emerson when they made their first pick of that draft mid-way through the third round. However, they did select him because he was high on their draft board.
This go-around the Browns don't need all eight of their draft picks and if they simply want the best players, they have that luxury. I wouldn't be surprised if the team only lands three or four total players in this draft. But if they are deemed the most talented then this Browns team has only gotten better.
There are also many free agents still out there waiting to make deals and Cleveland could very well revert back to those negotiations with a variety of players at different positional spots once the draft finishes up in a week.
Enjoy the NFL Draft Browns fans. It should be a good show and at least it's not the annual "Browns Super Bowl" that we were all accustomed to over many years of poor play by the team in the last 20 years. The NFL Draft was our Super Bowl in the past, but not any longer. This organization is in a good spot where they can now fine-tune the engine and with a few more updates, they can really compete in the NFL with this 2023 team.

NEO Sports Insiders Newsletter
Sign up to receive our NEOSI newsletter, and keep up to date with all the latest Cleveland sports news.