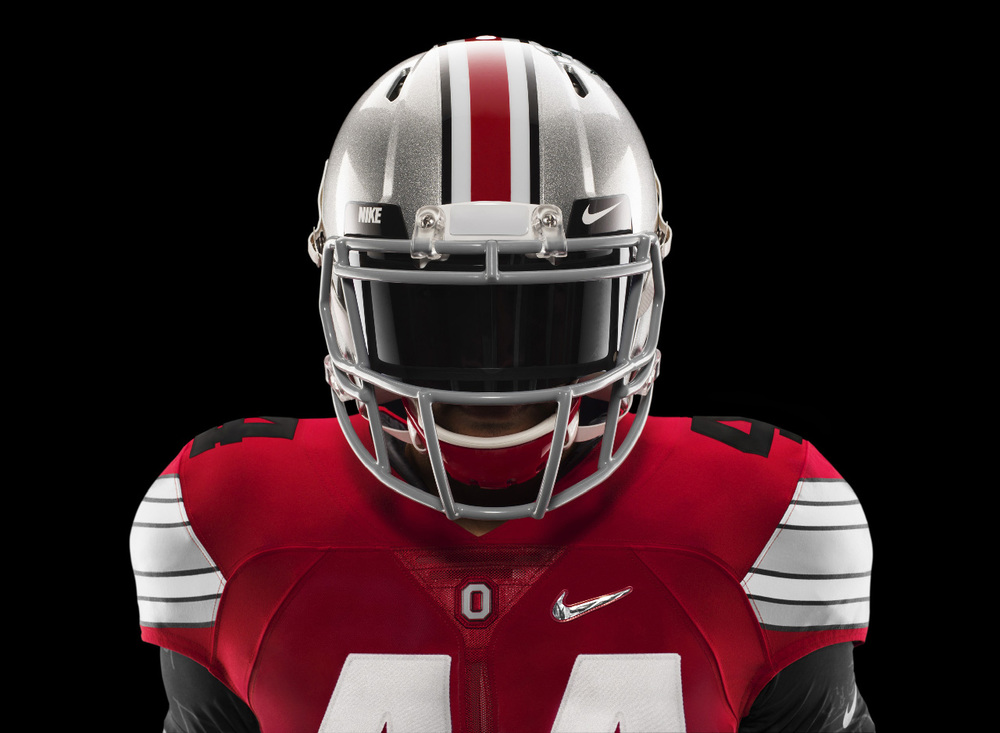 By Spencer Davies
Three Things I Liked
Braxton Miller
After missing all of 2014 with a shoulder injury and losing his starting quarterback job to the likes of Cardale Jones and J.T. Barrett in turn, it was unknown what Braxton Miller would do coming into this year. There were rumors of transfers and frustration running rampant, and it seemed like he wasn't going to be a Buckeye for long.
That all changed when it was announced he would be switching to H-Back, a hybrid between a slot receiver and a running back. This announcement would get Buckeye fans excited, and on Monday he showed why that was the case.
In his first game since the crushing Orange Bowl loss to Clemson nearly two years ago, Miller lived up to the hype.
Miller looked like he'd been playing the position ever since he put on a scarlet and gray uniform. The new #1 for Ohio State only had two receptions, but it was the manner in how he played the position was what was most encouraging. His first reception was a beautiful diving grab that Jones put in his reach for a first down. The second pass he caught? To the house on the opening drive of the second half.
Oh, and let's not forget the nastiest play of the game. Seriously, I thought it didn't get better than the stutter step Miller had against Miami a few years ago. Boy was I wrong.
Miller finished the night with two catches for 78 yards and a touchdown, as well as six rushes for 62 yards and a score. If this is the kind of production Miller gives this season, the Buckeyes are looking even more deadly than last season.
Cardale Jones
Going into Monday's game, mostly everyone (including myself) assumed that J.T. Barrett was going to start game one of the Buckeyes' 2015 campaign. But Urban Meyer decided against that and instead went with the man who stepped up for Ohio State in a dire time of need and led them to their first national championship since 2003, Cardale "12-Gauge" Jones.
It was a victory for Jones, who proved his worth on the national stage in a raucous environment at Lane Stadium. The Glenville product showed smarts both on the ground and in the air, rushing for 99 yards on 13 carries with a touchdown and throwing for 186 yards with two touchdowns and an interception.
His option reads were excellent, making quick decisions that were the difference between losing five yards in the backfield and getting back to the line of scrimmage.
The touchdowns he threw weren't your typical throws either. His first one was under pressure, back-pedaling and off of his back foot, firmly reminding everyone of the strength he has in that cannon of an arm. The second one showed a more finesse side, as Jones threw on the run with a beautiful touch pass to Braxton Miller, who outran the Hokies' secondary for his first touchdown as an H-Back slot receiver. In the fourth quarter, he even threw a jump pass to Johnnie Dixon after running into trouble, which was arguably his most impressive play of the night.
His intangibles for the game feel natural, and that's a good sign for Ohio State.
Ezekiel Elliot
Elliot had 122 yards on 11 carries and two receptions for 16 yards on what for him would be considered a pedestrian night.
But if those numbers are considered "okay" for Elliot and the Buckeyes, something tells me they'll be just fine.
The Heisman hopeful didn't see as much action as some had hoped, as the Hokies' Bear defensive scheme gave the Buckeye offensive line headaches, which I will get to. He even fumbled a crucial punt that turned into a go-ahead touchdown for Virginia Tech going into halftime.
But Elliot kept his head in the game and impacted the game in a different way with some impressive blocking, something that shouldn't go unnoticed.
— Earn Your Leaves (@BuckeyeEdge) September 8, 2015
Expect Elliot to come back next week against Hawaii and put up 150 or more yards on the ground.
Three Things I Didn't Like
Pass Defense
Before Adolphus Washington blasted Michael Brewer and knocked him out of the game, the Hokies' senior quarterback was having his way with the Buckeye defense, going 11-for-16 with 156 yards and two touchdowns.
There were a lot of misdirection and check down plays, and the Buckeyes were clearly struggling to cover them. With less than a minute to go until the half, Isaiah Ford went up and got a ball that Brewer threw up in the air before Vonn Bell could react to it. Virginia Tech would score just two plays later and change the momentum of the game.
Those kinds of mistakes can't happen against a contender, and hopefully next time these issues are addressed.
Offensive Line
Anchored by captain Taylor Decker and junior center Jacoby Boren, the battle of the trenches didn't go in favor of the Buckeye big men.
Boren got an unsportsmanlike conduct early on Ohio State's first drive, which—even though they ended up scoring—made it tougher on the offense having to convert a fourth down.
With multiple holding calls, including one on what would've been a Cardale Jones touchdown, the offensive line has to re-group and get back to their usual selves.
Miscues
In general, the Buckeyes shot themselves in the foot multiple times. It's what got Virginia Tech momentum and if it were a better competitor, it'd be a concern.
An untimely tipped pass into an interception from Cardale Jones, a dropped punt fumble by fill-in return man Ezekiel Elliot and a missed kick in the first half were all key to giving the Hokies the only life they had throughout the game.
Cut the mistakes and the Buckeyes win this one by four touchdowns, plain and simple.

NEO Sports Insiders Newsletter
Sign up to receive our NEOSI newsletter, and keep up to date with all the latest Cleveland sports news.