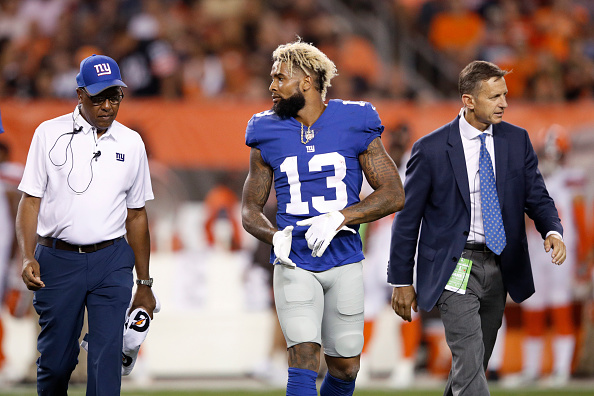 Odell Beckham Jr. is unhappy. Not so much with his new team, the Cleveland Browns, but instead with the franchise which sent him there.
Beckham spent Monday night firing off multiple tweets and voicing his frustration after New York Giants GM David Gettleman implied he was a problem in the locker room. While he insisted he's never been happier than he is right now, his tweets certainly indicate he's holding some ill-will towards his former team.
Im not upset in ANY way about where I landed. But outta respect what they did , was crazy! And beyond disrespectful ! I wanted nothin but the best for NY. But on to a new chapter…. ITS LIFE

— Odell Beckham Jr (@obj) April 22, 2019
Beckham's airing of grievances has many people talking today, with some wondering if his tirade is something to be concerned about. Showing too much emotion has gotten him in trouble in the past, so this could be seen as more proof he's carrying said issue with him to Cleveland.
Personally, I don't have a problem with what Beckham did. You may feel otherwise, but a deeper look at what he's responding to should help convince you this is nothing to worry about.
Let's remember what all has gone down in the past month of Beckham's life. He heard Gettleman insist, multiple times, that he was not being traded. The exact quote was "we didn't sign Odell to trade him."
"We didn't sign him to trade him…" you don't get married to get a divorce … I tried my best , the situation I had been in since I got there never changed … we were still losing. PERIOD… money doesn't bring happiness brotha… remember that

— Odell Beckham Jr (@obj) April 23, 2019
Within two weeks, the same person called Beckham to let him know he'd been dealt to the Browns.
This understandably shook him up. Many read Beckham's initial reaction to the trade as unhappiness about going to Cleveland, instead of realizing his world was flipped from being traded by the team which both drafted him and then signed him to an extension less than a year ago.
On top of this, as he's trying to move forward from said trade, his former GM is now taking shots at his character. Gettleman has implied Beckham was a cancer in New York's locker room. When asked if he felt there was still a culture problem with the Giants, he flatly said "not anymore."
Ask any one of my teammates of who I was as a teammates and a man and a person…. yes I'm cancer to a place that's ok wit losing because I want to win that BADDD. Ur absolutely correct !

— Odell Beckham Jr (@obj) April 23, 2019
Put yourself in Beckham's shoes, here. Try to keep your cool while your former employer has publicly shifted his tone from "he's not going anywhere" to "this team is better now that he's gone."
The reality of the situation is that it's incredibly easy to forget these athletes are human.
Sure, they're paid absurd amounts of money to make show-stopping plays every Sunday. However, this doesn't mean they're immune to character assassinations, that things which would anger you or I don't affect them simply because of the amount of money they make.
Keep in mind, up to this point Beckham hadn't said too much in response to the fallout in New York. He spent the bulk of his introductory press conference with the Browns insisting he was looking forward, refusing the urge to take shots at his former team.
However, it appears hearing Gettleman attack his character a month later, combined with getting angrily bashed by random Twitter users who'd completely avoid saying anything besides "will you sign this" if they met in person, understandably pushed him to a breaking point.
You may argue Beckham should let his actions do the talking. You could claim he should take the high road, or develop thicker skin.
At the same time, we again need to remember the size of someone's paycheck doesn't impact their ability to avoid hitting a boiling point.
This is how I choose to view Beckham's tirade. He's held his tongue, done what he could to embrace his new surroundings. However, his former employer is now incorporating attacks on him as part of running damage control for a bad trade.
Were any of Beckham's tweets offensive? Did he say anything you could deem as awful? Anything which may lead to him needing to delete tweets?
Not really. Consider this more reason to ignore the urge to label his actions as a concern.
We've all been pushed to the brink, driven to a point where we can no longer control our reactions. Just because Beckham is a pro athlete doesn't mean something like that doesn't apply to him. His life for the past month has been whirlwind, and he was clearly pushed over the edge when hearing the Giants keep kicking him on his way out the door.
That's all this was. There's no need to make anything more of it.

NEO Sports Insiders Newsletter
Sign up to receive our NEOSI newsletter, and keep up to date with all the latest Cleveland sports news.