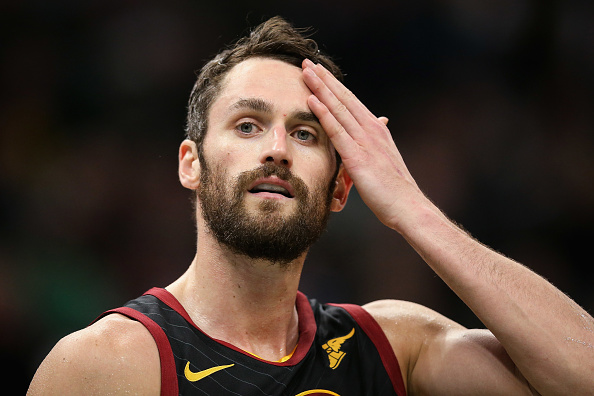 Stop me if you've heard this one before – there are rumors that the Cleveland Cavaliers might trade Kevin Love.
An update like this has surfaced at least once in every season since Love joined the Cavs in 2014. To date, all of them have come and gone without him departing Cleveland. Based on what the team is saying, there's no reason to believe that will change with this latest round of rumors.
However, this hasn't stopped some Cavs fans for pushing the team to move him anyway. After all, he serves no purpose with a rebuilding franchise, and his contract is taking up too much cap space as it is.
Sorry, this is logic I just can't get behind. Yes, in the long run, Love's presence appears ill-fitting on a team enduring a lengthy rebuild. Still, it makes absolutely no sense for Cleveland to move him just for the sake of doing so.
First thing's first – I still believe the Cavs should hang on to Love.
Yes, his days of contending would be shelved for the time being. That said, considering how grueling this rebuild could get, having a multi-time All-Star to willingly help groom the abundance of youth on Cleveland's roster is a huge asset. It's also a benefit this team didn't have the last time it attempted to survive in a post-LeBron world.
However, if the Cavs were to trade him, it shouldn't be done solely because they want to move his money off the books.
For one, a rebuilding team needs more than just a decent looking cap situation. If Cleveland were to move its best player, it needs something in return that can help in the long run. Draft picks, a young player with undiscovered potential, just something the team can use for now or beyond.
Essentially, the Cavs need more than players whose sole role is to represent eventual cap freedom. They should be able to get this, considering Love is still a valuable asset, valuable enough to be worth more than expiring contracts.
More importantly, for those who are pushing to move Love just to help Cleveland's cap, I'm forced to ask why that's so important.
Sure, I'm willing to bet owner Dan Gilbert would love to avoid paying luxury taxes for the first time in a few years. Still, what would the Cavs be clearing up cap space for?
I hate to play Debbie Downer, but it's extremely doubtful Cleveland can be major players in free agency next summer, regardless of how much cap space it has. Not only is it not the marquee destination that attracts big-name talent, the team itself will still be too early in the rebuild process to feel as though it's one or two great players away from contending.
Simply put, the idea of moving Love for the sole purpose of freeing up cap space doesn't make sense, mainly because it implies the Cavs will need it for some summer splurge that just isn't going to happen.
To be clear, I'm not saying Cleveland shouldn't trade Love. If a great offer comes in, it's worth considering.
Still, the idea of trading him solely for the sake of doing it is off-base.
As a reminder, outside of their new crop of rookies, the Cavs will only have four current players under contract beyond this coming season. They aren't in any sort of cap crunch, nor should they be so desperate to move players that they'll literally trade them for nothing but more expiring deals.
What they need right now is assets that can help them during their rebuild. Love could fetch them something like that, and I'm not here to say otherwise. However, Cleveland shouldn't force a trade for him and get nothing but underwhelming returns.
Many Cavs fans have been clamoring for Cleveland to trade Love since soon after he arrived. Whenever this team finally does decide to move him, it should be for something more than cap relief.
If that's all the Cavs would get this summer, they should just hang on to him and we can all meet back here in February when the next round of Kevin Love trade rumors kicks off.

NEO Sports Insiders Newsletter
Sign up to receive our NEOSI newsletter, and keep up to date with all the latest Cleveland sports news.