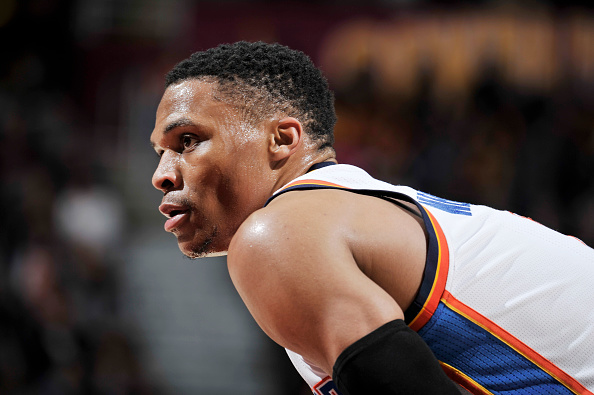 The NBA was turned on its head late Friday night. Kawhi Leonard joining the Los Angeles Clippers, and also convincing Paul George to force the Oklahoma City Thunder to trade him there as well, sent shock-waves through the league.
The moves also seem to have Cleveland Cavaliers fans suddenly dreaming big.
With Oklahoma City dealing one of their best players away and seemingly raising the white flag on the upcoming season, some Cavs supporters think now is the time for their favorite team to swing a deal for the Thunder's other superstar, Russell Westbrook.
If you ask me, this is something Cleveland shouldn't be even remotely considering.
This isn't a knock on Westbrook. I understand he's one of the best players in the NBA. I understand he's a former MVP. I understand his presence would instantly improve the Cavs.
Yet, I still couldn't disagree more with those urging Cleveland to trade for him.
Let's start with the obvious. Westbrook, talented as he undeniably is, will be turning 31-years-old this season. He'll also be owed over $124 million through 2023, and can tack on an additional $47 million the year after that if he picks up his player option.
These facts don't appear to scare away many Cavs fans, which I'll admit isn't terribly surprising. Westbrook is still one of the league's top players, so if someone as talented as he is finds his way onto Cleveland's roster, who cares how much he costs?
Once you dig beyond the surface-level issues, you find two very big reasons why the Cavs have no business exploring a trade for Westbrook.
One – Westbrook does not instantly make Cleveland a title contender.
Sure, acquiring Leonard last summer ended up being the one move that helped push the Toronto Raptors over the edge and bring home their first championship last month. Those who use this as proof Cleveland should go all-in and swing a deal for Westbrook likely forget the fact Toronto had the best record in the East the season before they acquired Leonard.
The Cavs won 19 games last year. They are not one piece away from contending.
The second reason Cleveland shouldn't be pursuing Westbrook? Because it goes against everything the team is trying to do right now.
Every move the Cavs have made over the past year was done as part of a lengthy rebuild. They spent last season prioritizing asset collection over wins. They built a roster loaded with promising, yet undeveloped youth. They hired John Beilein not to make Cleveland an overnight success, but to ensure the younger players they'd be leaning on in the years to come had an experienced leader to help their growth.
This is an important call-out, and one which should dissuade any conversations about a Westbrook deal. Simply put, Beilein didn't sign up for what comes with that kind of move.
He was brought in to groom young players and help the Cavs at the beginning stages of their rebuild. Trading for Westbrook severely alters that course.
Cleveland would be taking a rookie NBA coach and suddenly telling him he's expected to contend. The slow, carefully-crafted restructure the team sold him on when hiring him would be scrapped.
To be blunt, this would be the kind of move that could get people fired. Especially Beilein.
Yes, I get it, watching a rebuild isn't fun. It's deflating, particularly in the early years, and is always one bad move away from falling flat.
However, this doesn't mean Cleveland should just push in its chips already and bet big on Westbrook, pairing him with Kevin Love and a bunch of key players who aren't yet old enough to rent a car.
As enticed as some fans are about the idea of trading for Westbrook, it's a move the Cavs simply shouldn't make.
They can't shift from "this is a lengthy process" to "never mind, we have Westbrook now, championship or bust."
They can't get punch drunk on the idea Westbrook makes them an instant title contender, ignoring the more likely reality of him raising their ceiling to second-round exit.
They can't buckle under fan pressure, letting impatience force them to scrap extensive rebuilding plans.
Bottom line – the Cavs can't trade for Westbrook, if only because it wouldn't pay off the way many fans think it will.

NEO Sports Insiders Newsletter
Sign up to receive our NEOSI newsletter, and keep up to date with all the latest Cleveland sports news.