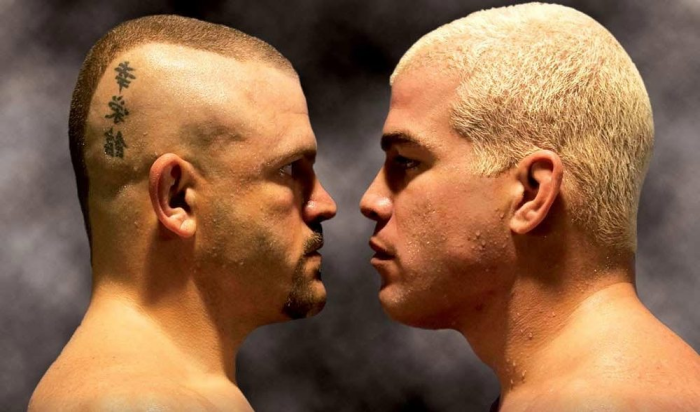 This MMA preview is brought to you by the official sponsor of all things MMA and Boxing at NEOSI, the world class Workout Factory. You can visit them in person, and get the best workout of your life. They are located at 5508 Ridge Rd, Parma, OH 44129.
Call today to schedule your first visit 440-476-6470.
You can visit them on line here – https://www.workoutfactory.com/
—————————————————————————————————————————————————-
It's been a wild and fast paced week in the world of MMA once again. Fighters on the verge of retirement, others coming out of retirement, and some willing to sit on the sidelines until their Championship bout is granted.
Let's get right to it with some of the headlines that caught our eyes!
Chuck Lidell to comes out of retirement to fight Tito Ortiz
The biggest story this week was Chuck Lidell announcing he will be coming out of retirement to fight his long time rival Tito Ortiz. Lidell got the better of the two scraps these men had in the early 2000's but hasn't fought since June 2010. Lidell had lost 3 straight, and five of six at the time of retirement. Four of the five coming by way of brutal knockouts which left Lidell out cold each time. The fight will take place as part of Oscar De La Hoya's Golden Boy Promotions. A date is not yet set for the fight however but we look for it to be sometime later this fall.
Jon Jones and Chuck Lidell engage in a war of words
It didn't take long for the war of words to start again between Jon Bones Jones and Chuck Lidell shortly after the announcement. Jones is sitting on the sidelines yet again, following his most recent drug suspension. While this would have been a dream fight between the two in Lidell's prime, this would be nothing more than a legalized murder if the two ever collide today. If Jones is truly done with the UFC, there is no doubt some shady promoter somewhere will see massive dollars signs and put this fight together.
GSP aims for next fight with Nate Diaz
I can't wrap my head around this one just yet. Diaz is notorious for taking fights and then backing out of them. GSP loves to shut up big mouths with large attitudes (see Josh Koscheck & Dan Hardy). In fact, GSP holds a victory over Nate's older brother Nick. While this fight doesn't make a ton of sense, it would be a great title eliminator for the next shot at Tyron Woodley. Although, that is what Covington vs RDA at UFC 225 in Chicago is supposed to be. So who really knows?
Raquel Pennington's corner sends fighter out for fifth round to take further damage
This has been one heavily debated topic this week with plenty of current and former fighters giving their feedback. I do not believe the corner of Pennington failed their fighter on Saturday Night. I truly don't. A corner knows their fighter far better than they know themselves plenty of times. If the corner truly thought she was in major trouble of serious injury they would have stopped the fight. I realize I'm in the extreme minority here, but that is why you have a corner, to make those exact decisions.
Kelvin Gastelum to sit out until he gets a UFC Middleweight Title Shot
There is far too much of this going on right now. He is fresh off of a loss to Chris Weidman, and his victory over Vitor Belfort being taken away from drug suspension. His win over Ronaldo Souza could have easily went the other way. Also, his only dominant win of late was against Michael Bisping who was a shell of himself only 21 days after the GSP loss. Gastelum still has a lot to prove before demanding title shots.
Mackenzie Dern weighs in 7 pounds overweight for her UFC 224 fight against Amanda Bobby Cooper
She may be the sexiest "overweight" female MMA fans have ever seen. All joking aside, a rule is a rule and this is now the third time she has missed weight. Dern could have a very bright future in this sport, but she needs to get this under control or no one will take her seriously moving forward.
ESPN to broadcast 15 UFC fight cards in 2019
Well, that is certainly cool! Does it spell the end of their deal with Fox? Extra shows increase the chance of a return to Cleveland. The UFC hasn't been around the Midwest or East coast very much this year, let's hope for a big change of scenery in 2019.
Michael Bisping rules out both retirement and a return to Middleweight
The former champ has a few fights left in him, but they won't come at the weight class that won him the title. A smart move for a UFC flag barrier of many years. No need for extreme weight cuts as his most likely final opponent is a trilogy fight with Dan Henderson at 205 pounds.
COMING UP NEXT!!!
Bellator 200 next weekend in London will feature former Pride legend Mirko Cro Cop as well as UFC alumni Phil Davis and Roy Nelson. The big fight is for the belt however, as Gegard Mousasi puts his six fight win streak on the line as he attempts to defeat Bellator MMA Middleweight Champion Rafael Carvalho. This is should be a great night of fights, and I look for Gegard Mousasi to bring home the gold!
Until next time, this has been your MMA minute!

NEO Sports Insiders Newsletter
Sign up to receive our NEOSI newsletter, and keep up to date with all the latest Cleveland sports news.