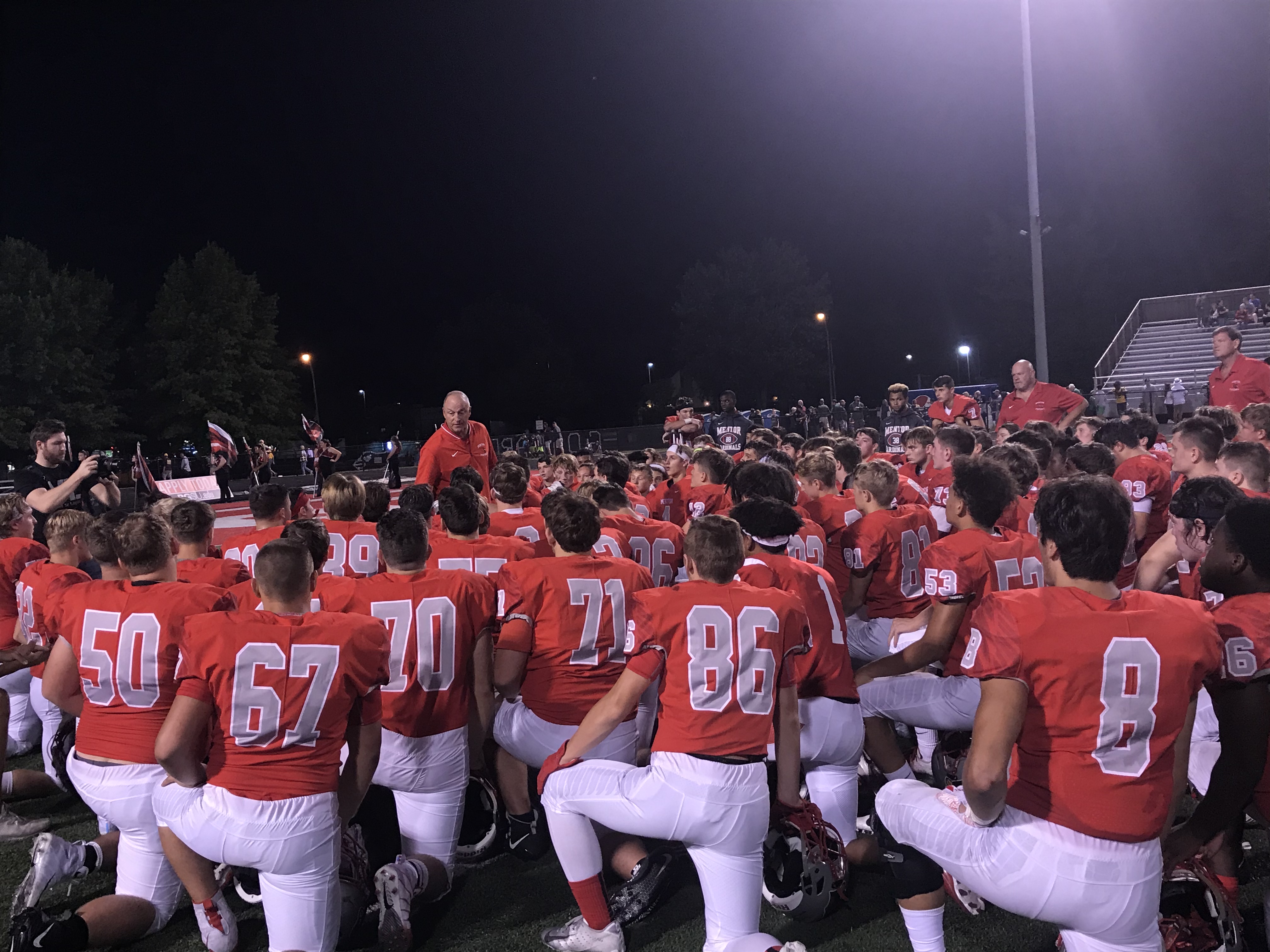 Today The Ohio High School Athletic Association released their official weekly football computer ratings. The weekly computer ratings are released every Tuesday beginning in the fifth week of the season, leading up to the final report on Sunday morning, Oct. 28, when 224 schools (top 8 in each region) will officially qualify for the playoffs.
The top 12 schools in each region are listed below by division and region with record and average points. The football page at OHSAA.org includes an explanation of how the ratings are calculated. The top eight teams in each region in the final report will qualify for the playoffs.
Four weeks in, here's the rankings that involve Northeast Ohio Schools in our coverage area for NEOSI.
Division I
Region 1 – 1. Mentor (8-1) 32.0952, 2. Solon (8-1) 26.9111, 3. Canton McKinley (8-1) 25.9293, 4. Lakewood St. Edward (6-2) 24.3239, 5. Euclid (7-2) 24.0859, 6. Cle. St. Ignatius (6-2) 22.4716, 7. Austintown-Fitch (7-2) 21.5079, 8. Strongsville (6-3) 16.2056, 9. Massillon Jackson (6-3) 15.3389, 10. Cleveland Heights (7-2) 15.15, 11. Medina (4-5) 12.2333, 12. Berea-Midpark (5-4) 11.7333
Division II
Region 5 – 1. Akron Archbishop Hoban (9-0) 27.3549, 2. Maple Hts. (9-0) 20.2778, 3. Warren G. Harding (7-2) 19.697, 4. Garfield Hts. (9-0) 19.3278, 5. Macedonia Nordonia (8-1) 18.1778, 6. Painesville Riverside (7-2) 15.6056, 7. Boardman (5-4) 12.6, 8. Mayfield (5-4) 9.8333, 9. Twinsburg (5-4) 8.7333, 10. Cle. Benedictine (3-6) 8.7278, 11. Lyndhurst Brush (4-5) 8.4697, 12. Akron Ellet (5-4) 6.6444
Region 6 – 1. Tol. Central Cath. (9-0) 27.3611, 2. Whitehouse Anthony Wayne (9-0) 26.6667, 3. Avon (8-1) 22.4722, 4. Avon Lake (8-1) 22.1444, 5. Parma Hts. Valley Forge (6-3) 16.8687, 6. Olmsted Falls (7-2) 16.7167, 7. Holland Springfield (7-2) 15.9056, 8. Tol. St. John's (7-2) 15.0202, 9. North Olmsted (5-4) 14.6389, 10. Amherst Steele (5-4) 13.6778, 11. Tol. St. Francis de Sales (4-5) 10.399, 12. Tol. Waite (5-4) 8.1546
Region 7 – 1. Massillon Washington (9-0) 31.101, 2. Wadsworth (9-0) 26.2111, 3. Barberton (9-0) 24.4278, 4. Dover (7-2) 23.1778, 5. Wooster (7-2) 19.9778, 6. Medina Highland (8-1) 19.9222, 7. Whitehall-Yearling (8-1) 19.4444, 8. Dresden Tri-Valley (8-1) 19.0, 9. Cols. Walnut Ridge (8-1) 18.9444, 10. Canal Winchester (8-1) 18.8944, 11. Massillon Perry (7-2) 18.4059, 12. North Canton Hoover (6-3) 16.85
Division III
Region 9 – 1. Chagrin Falls Kenston (8-1) 23.1, 2. Canfield (8-1) 22.8232, 3. Medina Buckeye (8-1) 21.3778, 4. Chardon (6-3) 20.8833, 5. Akron East (8-1) 20.7222, 6. Alliance Marlington (8-1) 19.5636, 7. Ravenna (7-2) 18.1167, 8. Aurora (6-3) 17.7278, 9. Millersburg West Holmes (7-2) 17.5056, 10. Norton (7-2) 16.7222, 11. Richfield Revere (6-3) 16.2889, 12. Alliance (6-3) 15.2389
Region 10 – 1. Clyde (7-2) 22.9889, 2. Norwalk (7-2) 18.2475, 3. Bay Village Bay (7-2) 17.8278, 4. Tiffin Columbian (7-2) 17.7833, 5. Lexington (5-4) 14.2667, 6. Sandusky (5-4) 13.1556, 7. Rocky River (6-3) 13.0202, 8. Bowling Green (5-4) 12.5111, 9. Parma Padua Franciscan (6-3) 12.1111, 10. Mansfield Senior (4-5) 10.0611, 11. Defiance (4-5) 9.6333, 12. Tol. Scott (6-3) 9.5295
Division V
Region 18 – 1. Liberty Center (9-0) 21.1768, 2. Genoa Area (9-0) 20.0056, 3. Oak Harbor (8-1) 16.8889, 4. Anna (7-2) 16.5167, 5. Elyria Cath. (7-2) 15.7222, 6. Marion Pleasant (7-2) 15.6722, 7. Casstown Miami East (7-2) 13.8556, 8. Richwood North Union (6-3) 12.702, 9. Archbold (6-3) 12.4333, 10. Millbury Lake (6-3) 11.5278, 11. Pemberville Eastwood (6-3) 10.6167, 12. Ottawa-Glandorf (4-5) 9.9222
Division VII
Region 25 – 1. Cuyahoga Hts. (7-2) 14.1222, 2. Windham (8-1) 13.8722, 3. Ashland Mapleton (6-3) 10.25, 4. East Canton (6-3) 8.2, 5. Ashtabula St. John School (6-3) 7.3005, 6. Youngstown Valley Christian (5-4) 6.712, 7. Leetonia (4-5) 5.9056, 8. New Philadelphia Tuscarawas Central Cath. (4-5) 5.7667, 9. Southington Chalker (6-3) 5.7389, 10. Toronto (3-6) 4.8081, 11. Warren John F. Kennedy (4-5) 4.7727, 12. Plymouth (4-5) 4.3111