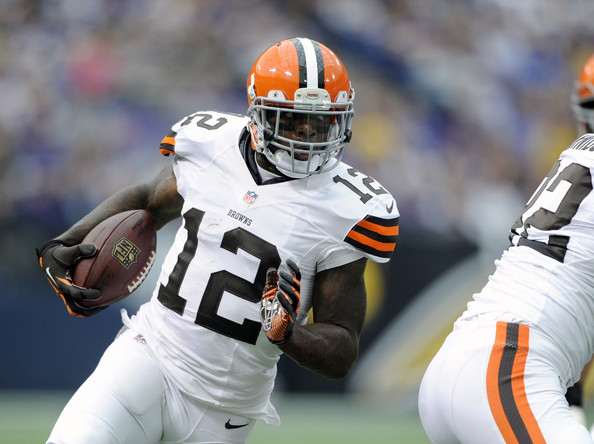 CLEVELAND – Browns Wide Receiver Terrelle Pryor had the game of his life this past Sunday in Miami, albeit in a losing effort. He ran, threw, caught and played just about every position on the field at times.
This sudden emergence was not to be expected, but greatly needed. It got Browns fans excited for the first time in awhile about what potential this offense may have in Week Five when Josh Gordon returned from suspension to line up with Pryor. Those visions of duel threats along with an eventual triple threat from rookie phenomena Corey Coleman went up in smoke this week. (no pun intended)
Just as it seemed everything was finally coming around for Gordon and his life was getting in order, he had an arrest warrant issued for him because of failure to show up for a paternity test. Then, out of nowhere after years of denying being an addict to drugs, he finally came to the realization that he truly needs help and entered an inpatient rehab center yesterday.
While I applaud him for doing the right thing and finally getting the help he needs, I cannot help but question the timing of why now? He was suspended for 10 weeks of the 2014 season, all of the 2015 season, and the first four weeks of this season.
He had nearly 3 years to go to rehab, including the legal and drug problems he had while in college to get it addressed. Smoking pot, is addicting, a lot of people try to say it isn't but it clearly is. I truly hope this man gets his life turned around, for his family, his children and himself.
Was he worth all of this trouble? The numbers would say so. 35 games played, 161 catches, 2,754 yards and 14 touchdowns. However, common sense would say differently, enough is enough and it is time to move on.
Football is only a game, is a game worth a life thrown away to drugs? NO! I wish Mr. Gordon the best moving forward, but it is time for the Browns to begin the next chapter without him.
This Browns beat was brought to by Matteo's Casual Italian in Olmsted Falls.
Where this weekend Chef Tony is serving up some excellent food once again.
Chef Tony's first weekend special is grilled sausage, red peppers, eggplant, and green olives with heirloom tomatoes. His second special feature is boneless short rib atop buttered mashed potatoes and served with garlic green beans and black peppercorn sauce.
Seats for this weekend are filling up fast, click here to check out the rest of the menu and book your table today.
http://www.matteoscleveland.com/

NEO Sports Insiders Newsletter
Sign up to receive our NEOSI newsletter, and keep up to date with all the latest Cleveland sports news.