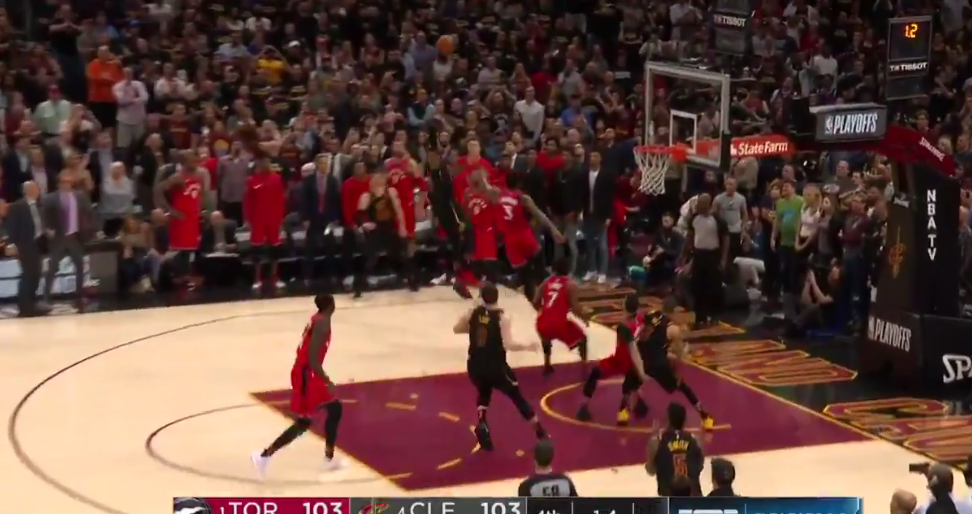 CLEVELAND– Just when you think you understand the greatness of LeBron James, he pulls another spectacular play out of his "toolbox," causing you to question everything you think you know.
With eight seconds to go in Game 3 against the Toronto Raptors and the game tied at 103, the Cavaliers called timeout to regroup. After all, they blew a 14-point third quarter lead and were now trying to avoid overtime.
It was a moment James acknowledged postgame they never should have been in in the first place. But still, the Cavs knew there was more than enough time for James to get one final look at the basket for a win.
Head coach Tyronn Lue opted to inbound the ball the length of the court so they could avoid a half court trap and give James plenty of space to make a play happen.
"I thought if we took it full court we could try and space the floor out and we wanted C.J. Miles' man to come up at half court and stay and let LeBron come off and the whole floor would be open,"Lue said. "They tried to double team in the backcourt but he beat the double and got down and made a big shot for us."
James beat the potential full-court trap that Lue mentioned with O.G. Anunoby on him and Pascal Siakam closing in. He got level with the foul line and started to make his move towards the left baseline. Anunoby stayed on him, but no help came as Miles stayed in the corner, not willing to let Kyle Korver get an open look. On the left baseline James faded away and kissed the ball off the glass to turn the 0-2 into the 0-3, to paraphrase Drake.
Unreal. ? #WhateverItTakes pic.twitter.com/zsxDkSCj16

— Cleveland Cavaliers (@cavs) May 6, 2018
"The level of difficulty of that shot is very difficult," James said. "Don't try it at home."
What makes this final sequence even crazier is realizing James essentially called his shot at shootaround on Saturday morning. When asked about the flurry of fadeaway jumpers he hit in Game 2 on Toronto's homecourt, he contended that the old adage "two points is two points" is meaningless.
"Two points ain't two points," he said. "That's a lie. … Coaches have said that for years, but two points is not two points. I'll explain it to you later."
And explain he did. But perhaps James is so confident in calling his shots because he knows he can make them. James said that he doesn't always know what kind of shot he is going to take, but he trusts his game.
"I told you this morning that the ability to have different things in my toolbox and the repertoire that I have, that throughout the game I can kind of go through those," James said. "I trust every shot that I'm going to take because I work on every shot."
Kevin Love backed up James' assertion.
"What you come to find out as his teammate and playing with him is that he practices those shots all the time and makes them all the time," he said.
Love went on to talk about the crazy three-pointer that James hit to send a regular-season game against the Washington Wizards into overtime last season. Love threw him a full court pass on their "touchdown" play as James popped out to the right wing and nailed a dagger to send the game into overtime. The Cavs eventually went on to win.
"He practiced that (shot) that day, came into practice the next day and hit it a couple more times in a row," Love said. "I know this has been long-winded, but I'm almost speechless about seeing this type of thing, because you see him shoot that shot all the time."
Much like Love, Korver also struggled to find the words when it came to describing what James is capable of.
"I've seen him shoot that shot—the game-winner—countless times when he's just messing around at shootaround or in practice," Korver said. "It's always like 'When would he shoot a shot like that?' Maybe to win a playoff game, I don't know. Unbelievable play. He did it again. He's just been so huge in those moments for us all year. He relishes the moment, and yeah, I ran out of words."
The other element that makes this shot even more mind-boggling, is that the Raptors knew what kind of shot James was looking for. Check out any playoff buzzer-beater throughout his career. In most of them, he's going left. It's the exact move he feels comfortable with, and the Raptors saw it coming. Even with that in mind, they were unable to counter and get James off the direct path he wanted.
"You know he's going left," Kyle Lowry said. "He got to a spot. Not much going through your mind, just a great contest and at that point you kind of go, 'alright, OG get a contest,' and maybe we could've doubled or made him go right. You know he's going left and he made a tough shot."
Toronto was very much playing for their playoff lives last night. The Cavs are 9-0 in series that they lead 3-0. It's also important to note that over the summer, Toronto overhauled their entire style of play with this exact series in mind. LeBron James ended the Raptors season in the playoffs in each of the last two years, and if the Raptors wanted any chance of over-powering him they were going to have to be open to change.
Head coach Dwane Casey wanted more guys involved in the offense instead of running isolation plays for Lowry and DeMar DeRozan. They wanted more 3-pointers for everybody. Throughout the regular season, the returns were positive. The Raptors won 59 games and took the top-seed in the East. Through three games of the Eastern Conference semifinals, however, Toronto is now staring down the barrel of the exact same weapon because they still have not found an answer to containing James.
"I think a coach would sleep a little bit better if they lost the game without me making it, just because of my history and how many opportunities I've been in that position and done it over and over," James said.
Now, on the brink of elimination, the Raptors are facing an existential crisis that is once again James' doing. After full-scale changes, with a few hard dribbles and a fadeaway shot that is borderline unguardable, James leaves nothing but rubble behind him where the conference's top team once stood.
He now has five buzzer-beaters throughout his career in the playoffs. This was his second this season, the first coming in that Game 5 win over Indiana. These are the types of moments that are already programmed in LeBron James' DNA. They're ones he has trained for throughout his life, and ones that help bring the dreams of a kid from Akron to fruition.
"I've been doing that since I was like 6, 7, 8 years old," he said. "Maybe even before that. There's a picture floating around of me beside a Little Tikes hoop with a saggy Pamper on and I was doing it back then and all the way up until now, at 33. Things that you dream about, that you get those opportunities and I've been fortunate enough to get a handful of those in some of the biggest moments in my career."
My favorite soundbite from Bron tonight on another shot "that you dream about" pic.twitter.com/TEV4135eDW

— Ashley Bastock (@AshleyBastock42) May 6, 2018

NEO Sports Insiders Newsletter
Sign up to receive our NEOSI newsletter, and keep up to date with all the latest Cleveland sports news.