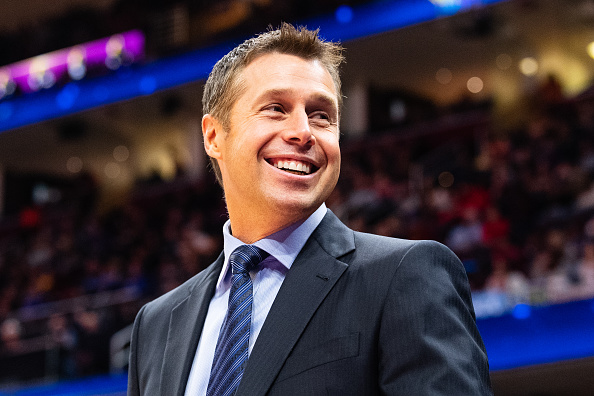 Not long ago, I lobbied for Larry Drew to get an honest chance to stay on as the Cleveland Cavaliers' full-time coach.
Unfortunately, it appears that won't be coming into fruition, as the team and Drew have agreed to part ways. That said, in looking for his replacement, a great candidate to replace him was just made available.
Dave Joerger has been inexplicably fired by the Sacramento Kings, a franchise which refuses to get out of its own way. In a perfect world, the Cavs would ensure he's not looking for a job very long.
In fact, I think Cleveland would be foolish not to pursue Joerger as the team's next head coach.
Joerger made a name for himself with the Memphis Grizzlies, leading them to the postseason in all three years as head coach. The team parted ways with him after a regression in his final year, with the Kings quickly working to sweep him up in the aftermath.
For context, Sacramento's hiring of Joerger was seen as the franchise's first showing of competence in quite some time.
The team deciding to fire him today is viewed by many as a return to form.
This isn't to say Joerger is flawless. The Kings appeared to be making a turnaround this year, at one point contending for a playoff spot. Young players like De'Aaron Fox and Buddy Hield were showing significant development, while rookie Marvin Bagley was making Sacramento's choice of passing on Luka Dončić look not as crazy as it initially appeared.
However, the Kings collapsed down the stretch, missing the playoffs for the thirteenth straight season. Defensively, they didn't have much to brag about, allowing more points per game than all but four teams.
So, no, I'm not saying Joerger is an elite coach. That said, I'd see him as a great fit in Cleveland.
For one, he did something no Sacramento coach has been able to do in quite some time – show progress. Though the Kings finished with just 39 wins, said total was still the highest they've generated since 2006. This was partly a result of the development he was able to get out of Fox, Hield and Bagley.
Simply put, Joerger was given two goals in Sacramento this year – develop young players and win. Based on the results seen from this team over the past few seasons, it's fair to argue he did enough with both tasks.
Knowing he was able to get a lot out of young talent on a team which hasn't seen much success in over a decade, why wouldn't you be intrigued about him landing in Cleveland?
Young talent is exactly what the Cavs are planning to rely on in the years ahead. Collin Sexton and Cedi Osman both established themselves as key pieces for this team to build around. Meanwhile, should Cleveland land a top-three draft pick, it'll find itself in a position to add a franchise-altering rookie into the fold.
Toss in vets like Kevin Love, Larry Nance Jr., along with (provided they aren't traded) Jordan Clarkson and Tristan Thompson, and Joerger would have himself a decent cast to work with in his first year with the team.
The Cavs are once again attempting to build a winning team without LeBron James, and are in need of a coach who can get the most out of the youth they'll be leaning on moving forward.
If you ask me, Joerger seems like a perfect fit. Here's hoping Cleveland feels the same way.

NEO Sports Insiders Newsletter
Sign up to receive our NEOSI newsletter, and keep up to date with all the latest Cleveland sports news.