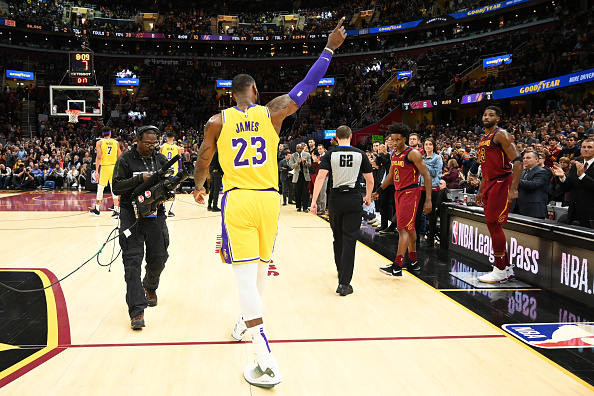 There was a time when a headline like that would be considered a joke.
The idea of the Cleveland Cavaliers, a star-crossed franchise in all years not involving LeBron James, seeing the chance to acquire him and thinking "pass"? In what world is that realistic?
Yet, I'm here to say that's exactly what should happen if the suddenly-even-more-chaotic-than-before Los Angeles Lakers decide they want to call it with the LeBron project earlier than planned. Should they honestly consider trading James, the Cavs shouldn't bother getting involved.
For those who (somehow) missed it, Year One of James' time in L.A. has been a disaster. An ill-fated trade attempt for Anthony Davis created a massive schism in the locker room. A roster surrounding James with young, still-developing players and past-their-prime vets, none of which could shoot, unsurprisingly didn't generate wins.
Top it off with team president Magic Johnson surprising everyone and announcing his resignation last night, and you get one hell of a disaster in LA.
Such a situation doesn't make the concept of trading James that far-fetched.
Per Yahoo! Sports, his teammates no longer trust him. The Lakers reportedly considered cutting ties with James earlier this year after the fallout from the Davis trade saga. The man who recruited him last summer is now gone, and much of the mess left behind was both his and James' doing.
With so much chaos, it's not lofty to think the Lakers would want to wash their hands of this whole ordeal. If this is the case, it'd only be logical for them to call Cleveland and tease the idea of a reunion.
Should something like that take place, the Cavs should say "thanks, but no thanks" and call it a day.
For one, there's a 0% chance any such deal wouldn't require Cleveland's lottery pick in the upcoming draft. While James would theoretically make the Cavs a better team next year, the idea of parting with a key piece of their future for one-to-two years of competitive basketball is the last thing they should do.
More importantly, though, is the simple fact it's time for the Cavs to move on. It's time for them to build their team without holding out hope for a potential homecoming with James.
That idea was much more feasible in 2014, when James had a good amount of basketball left in him. Now, at age 34, it makes no sense for Cleveland.
To clarify, I'm not saying something along the lines of "screw him, the Cavs don't need that guy anymore." I'm just hammering home the fact both sides need to keep going their separate ways instead of plotting for another reunion.
Despite Cleveland finishing this year with just 19 wins, there were slivers of hope to be found in an ugly season.
The team continued displaying growth despite frequently coming up on the losing end of the scoreboard. Players like Collin Sexton and Cedi Osman showed promise as potential building blocks, something which wasn't present the last time the Cavs endured life without James. There's reason to believe landing a high lottery pick could grease the wheels for this rebuild.
Likewise, James chose to leave Cleveland for the second time in his career. He clearly wanted to play basketball elsewhere, as many claim the decision to head to LA was in the works before last season even ended. As a result, there'd be no reason for the Cavs to actively pursue an opportunity to bring him back.
To be frank, James made this decision, so they should let him live with it.
I still believe James should be celebrated in Cleveland, still remembered as the man who came back home to win the city's first championship since 1964. That said, this is a memory the Cavs should leave where it is instead of chasing the opportunity to recreate it.
The Cavs may not ever win a title without James. However, it's time for them to give said concept an honest try. As a result, should the Lakers actually test the trade market on James, Cleveland shouldn't even bother getting involved.

NEO Sports Insiders Newsletter
Sign up to receive our NEOSI newsletter, and keep up to date with all the latest Cleveland sports news.