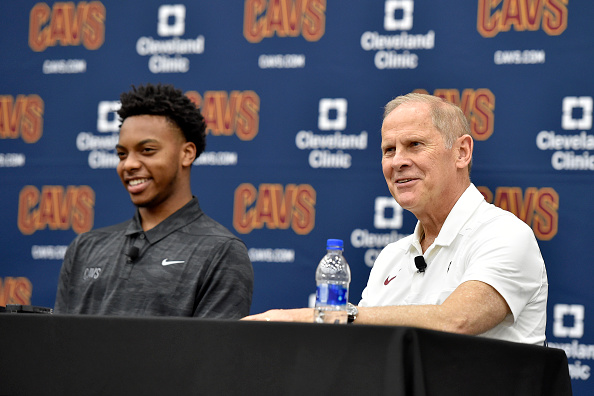 One of the first bits of analysis I heard about the Cleveland Cavaliers' draft last night was that it "wouldn't send fans rushing to buy tickets."
I can't argue with that. At the end of the day, there wasn't really anyone the Cavs could've selected in their given position that would guarantee nightly sellouts at Rocket Mortgage FieldHouse.
What I will argue, though, is that the Cavs' selections of Darius Garland, Dylan Windler and Kevin Porter Jr. did accomplish something more important than ticket sales.
It ensured new coach John Beilein was given a roster that will significantly help his transition into the NBA.
Making the leap to the pros has proven difficult for even the best college coaches. Just Google 'Rick Pitino Celtics' and you're sure to find all the proof you'll need of that.
As a result, Cleveland handing the keys to its rebuild over to Beilein despite his never coaching in the NBA is certainly a risky move. Should it backfire, this team will continue to set itself back in a post-LeBron world.
Based on the way the Cavs drafted, it's clear they're doing everything they can to ensure this hire is a successful one.
Each player Cleveland selected seems to fit Beilein's needs in one way or another, especially Garland.
With him, Beilein is getting exactly what he built his success with at Michigan – a two-guard offense. While pairing Garland with Collin Sexton will take some work, the two of them can eventually help Beilein implement the same system that made the Wolverines a consistent winner during his 12-year tenure. Both possess a dynamic scoring ability which should boost a Cleveland offense that averaged fewer PPG than all but one team last season.
In a way, Windler seems like the perfect kind of player for Cleveland's new coach. Beilein made his name at Michigan building successful teams without the marquee recruits Duke or North Carolina were able to pull in. With that in mind, Windler, a talented shooter from unheralded Belmont University, appears to be right up Beilein's alley.
The same could be said for Cleveland's final pick of the night. One of Beilein's trademark skills is getting the most out of his players, which will come in handy with Porter Jr. He showed loads of potential at USC, but was continuously sidetracked by maturity issues. Getting him to hit his ceiling will be tricky, but is also a task Beilein seems more than capable of handling.
At the end of the day, the Cavs went into the draft prioritizing fit for their new coach over need. Players like Jarret Culver or Cam Reddish could've helped with Cleveland's deficiency at wing. However, the team instead grabbed a guard who could adapt well in Beilein's system, then added two potent shooters to create plenty of space for him to work with.
Most importantly, the Cavs' draft follows the exact game-plan they laid out when they first hired Beilein.
Player development was always the top priority this season. Beilein wasn't hired to fast-track this rebuild, he wasn't brought in to make the Cavs an overnight contender. As a result, Cleveland didn't swing for the fences and do everything it could to add a pro-ready star. It instead grabbed three players who have tons of potential, and just need the right coach to get it out of them.
To me, that sounds like an ideal draft class for Beilein.
A lack of NBA experience remains one of the biggest red flags with Cleveland's new coach. Knowing this, it seems the Cavs drafted to ensure Beilein had a roster he knew he could manage. They didn't force him to develop ill-fitting parts, nor did they reverse course and make a desperate attempt to win now.
Cleveland's draft may not have been the kind that boosts season ticket sales, but it's one that should help ease their new coach's transition into the NBA. When you're in the middle of a rebuild, that's far more important than attracting sellout crowds.

NEO Sports Insiders Newsletter
Sign up to receive our NEOSI newsletter, and keep up to date with all the latest Cleveland sports news.