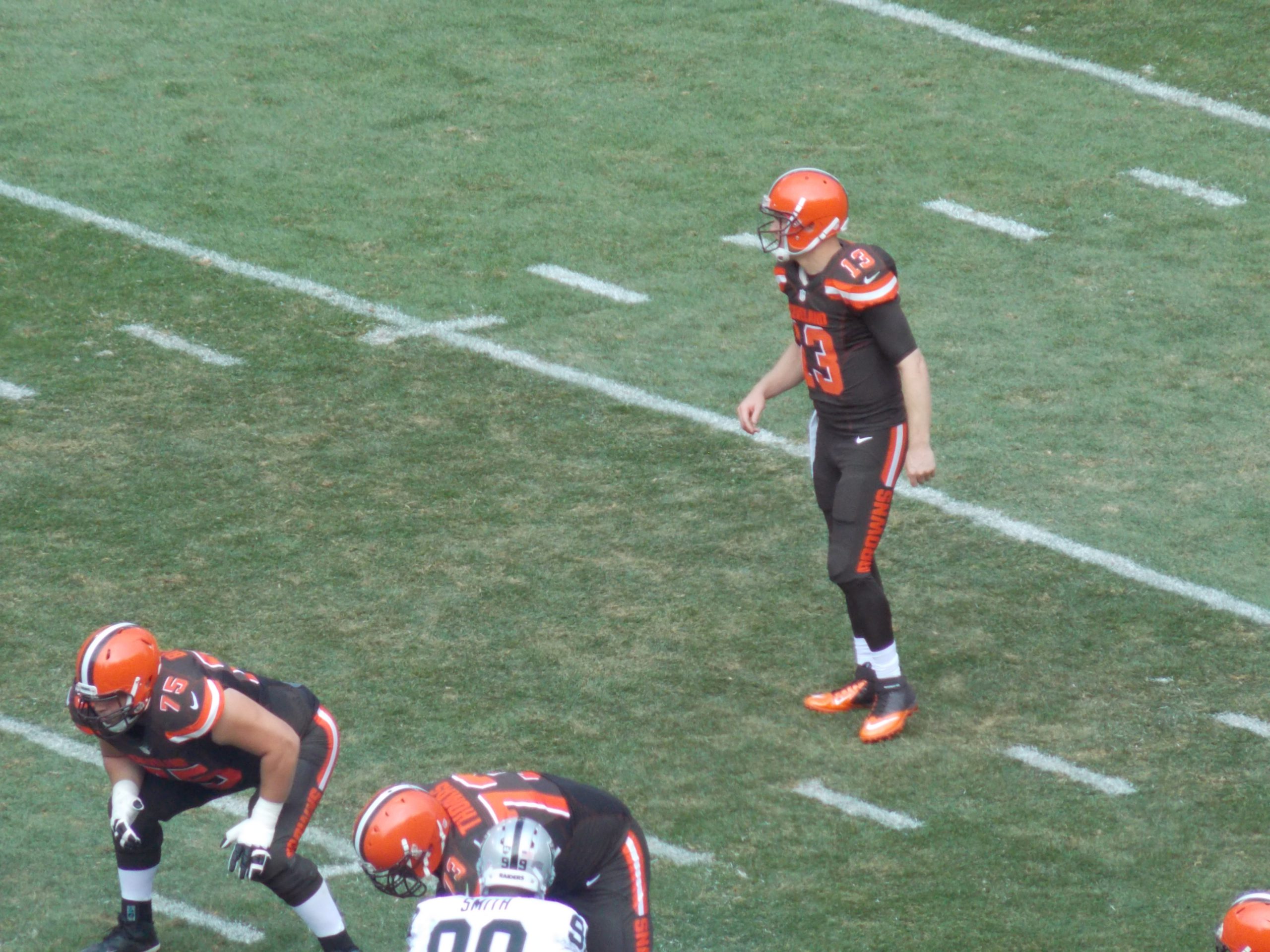 The Cleveland Browns have found themselves back at square one, at least according to myself and likeminded individuals. A 27-20 loss last Sunday to the Oakland Raiders spelled that out for me, and I can't be too sure that I like what's yet to come.
With three games in the books for the 2015 season, the fans, front office, coaching staff, and apparently even some players still don't seem to know what the franchise is looking for.
I don't need to say it, because it's already been said by so many who share these thoughts, but I'll throw it out there. Josh McCown isn't the answer, nor has he ever been. I get it. You want to win… but what's three, four, or maybe five games going to do for you?
Absolutely nothing.
I'm the biggest optimist as they come when dealing with the Brown and Orange, but for once I'm feeling completely downtrodden. The simple fact of the matter is, we keep drafting or signing the same guy.
Take a look at some stats for their careers:
Josh McCown: 58.7 CMP%, 6.64 AVG, 63 TD, 60 INT, 76.4 RAT
Brian Hoyer: 56.3 CMP%, 7.22 AVG, 20 TD, 20 INT, 76.6 RAT
Brandon Weeden: 57.2 CMP%, 6.67 AVG, 27 TD, 29 INT, 74.0 RAT
Colt McCoy: 60.3 CMP%, 6.57 AVG, 25 TD, 23 INT, 78.2 RAT

It's almost scary, isn't it? How can the franchise consistently be picking the same exact player to be "it" over and over and over again? How are they failing so miserably at the most important position on the field? It's almost comical to me at this point, and I know I don't stand alone in saying that.
Look, I don't have the answers, nor can I tell you if Johnny Manziel is going to be it. What I do know is we haven't seen enough of JFF to make a fair assessment, regardless of how you've pegged his few starts and some random quarters of play here and there.
Only in football do we scrutinize on such a small stage.
How ridiculous would it be to try to determine if you drafted well in the NBA based on a players first few quarters or games? What about a few innings, or a handful of the 162 games a year for baseball players? You wouldn't do that, nor should you ever. Think career-wise and track records, people.
Not just a few performances. That's why I stand firm by my decision and say give Manziel his fair shot. Why is this even being questioned by so many? What are you afraid of?
If at odds best we are looking to win only a handful of games, I'd much rather take my beatings with the 22 year old under center. You can't deny he has natural talent and playmaking abilities that I don't think we will ever see from McCown, or anyone else listed as QB on the Browns roster at the moment.
You've seen the flash and flair from him on the field, and I'm not talking about the retired hand gesture either. I'm talking about the ability to find someone deep down the field, or take a shot at the end zone when a hole opens up in the middle.
I'm talking about the ability to roll out or escape from pressure in the pocket to dump the ball off for the first down.
I'm talking about the element of surprise, because no one truly knows what JFF can do.
I know Manziel isn't perfect, and I like many others acknowledge he's a work in progress. He's admitted himself he has things to work on between the lines, and I certainly tip my hat to him in the way he has handled his off-the-field image as of late.
Isn't it somewhat of an unwritten rule in the sporting world that you forgive the young talent for their mistakes, and that they'll learn through experience? Remember, this is just Manziel's second season in the NFL. Don't be so quick to write him off when he hasn't even had two years under his belt.
Wouldn't it be nice to see if we actually have a quarterback? Aren't you even the slightest bit curious about the draft pick (that wasn't named LeBron James) that surged jersey and ticket sales and caused a buzz in Cleveland?
If not, continue cheering on for the same guy you've watched for season after season, and I mean that regardless of what the last name on the jersey says. They've all been they same. Just look at the numbers, they speak for themselves.

NEO Sports Insiders Newsletter
Sign up to receive our NEOSI newsletter, and keep up to date with all the latest Cleveland sports news.