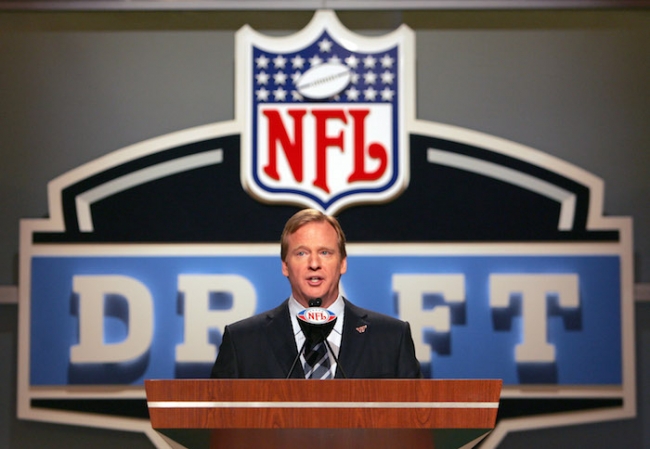 We knew right after the Titans fell to the Colts on Sunday afternoon where the Browns stood in terms of what would be their pick in the first round of the 2016 NFL Draft to take place in May.
Tennessee, who like the Browns canned their General Manager, also will be on the lookout for a new coach, as Mike Mularkey was their interim head coach, and while he will get an interview, many think Chip Kelly may wind up with the Titans as their new head coach when it's all said and done.
As for the draft, the Browns will have the second overall pick, and of course since the Titans took Marcus Mariota last year in the draft, the top QB will be on the board when the pick comes to the Browns at number two.
While the 12 teams in the postseason will not have their draft position known until after Super Bowl 50, here's the order as it stands right now – we do know the first 20 teams are set for draft order.
Team
W
L
T
Winning %
Opp W
Opp L
Opp T
SOS
#
1
Tennessee Titans
3
13
0
0.188
126
130
0
0.492
2
Cleveland Browns
3
13
0
0.188
136
120
0
0.531
3
San Diego Chargers
4
12
0
0.25
135
121
0
0.527
4
Dallas Cowboys
4
12
0
0.25
136
120
0
0.531
5
Jacksonville Jaguars
5
11
0
0.313
121
135
0
0.473
6
Baltimore Ravens
5
11
0
0.313
130
126
0
0.508
7
San Francisco 49ers
5
11
0
0.313
138
118
0
0.539
8
Miami Dolphins
6
10
0
0.375
120
136
0
0.469
9
Tampa Bay Buccaneers
6
10
0
0.375
124
132
0
0.484
10
New York Giants
6
10
0
0.375
128
128
0
0.5
11
Chicago Bears
6
10
0
0.375
140
116
0
0.547
12
New Orleans Saints
7
9
0
0.438
129
127
0
0.504
13
Philadelphia Eagles
7
9
0
0.438
130
126
0
0.508
14
Oakland Raiders
7
9
0
0.438
131
125
0
0.512
15
St. Louis Rams
7
9
0
0.438
135
121
0
0.527
16
Detroit Lions
7
9
0
0.438
137
119
0
0.535
17
Atlanta Falcons
8
8
0
0.5
123
133
0
0.48
18
Indianapolis Colts
8
8
0
0.5
128
128
0
0.5
19
Buffalo Bills
8
8
0
0.5
130
126
0
0.508
20
New York Jets
10
6
0
0.625
113
143
0
0.441
21
Washington Redskins *
9
7
0
0.563
119
137
0
0.465
22
Houston Texans *
9
7
0
0.563
127
129
0
0.496
23
Pittsburgh Steelers *
10
6
0
0.625
129
127
0
0.504
24
Seattle Seahawks *
10
6
0
0.625
133
123
0
0.52
25
Green Bay Packers *
10
6
0
0.625
136
120
0
0.531
26
Kansas City Chiefs *
11
5
0
0.688
127
129
0
0.496
27
Minnesota Vikings *
11
5
0
0.688
129
127
0
0.504
28
New England Patriots *
12
4
0
0.75
121
135
0
0.473
29
Cincinnati Bengals *
12
4
0
0.75
122
134
0
0.477
30
Denver Broncos *
12
4
0
0.75
128
128
0
0.5
31
Arizona Cardinals *
13
3
0
0.813
122
134
0
0.477
32
Carolina Panthers *
15
1
0
0.938
113
143
0
0.441