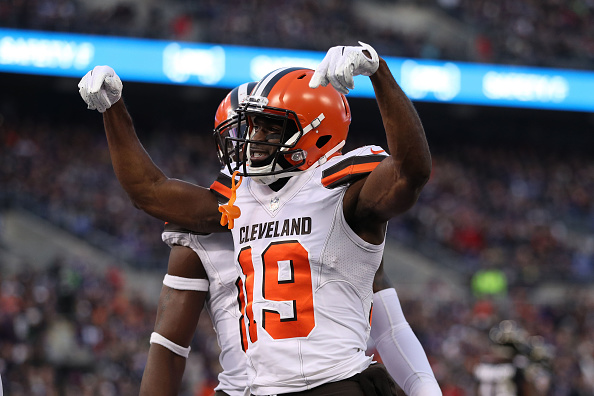 Like left tackle Greg Robinson, receiver Breshad Perriman joined the Cleveland Browns on a last-ditch effort to save his career. Like Robinson, Perriman far exceeded expectations, proving to be a viable big-play option for Cleveland's passing game in 2018. Like Robinson, Perriman entered the offseason as a free agent seeking a new contract.
Unlike Robinson, Perriman apparently isn't willing to accept a one-year, prove it offer from the Browns.
We learned yesterday that, while Robinson was happy to sign a one-year, $7 million extension to stay in Cleveland, the team is reportedly far apart when it comes to terms with Perriman. It seems the wideout is more than ready to test his value on the open market, aiming to net himself an expensive new deal.
I sure hope the Browns don't feel compelled to meet said demand. As much as I'd love to see Perriman remain in Cleveland, there's no need for the team to pony up a big contract for his services.
To be clear, I'm not taking a shot at Perriman. Hardly seen as a solution when the Browns signed him midway through last season, he stunned everyone by shedding his notorious case of the dropsies and proving to be a deep threat for quarterback Baker Mayfield. I truly do hope Cleveland puts an effort towards retaining him.
However, said effort needs to have a limit. If Perriman is seeking a massive salary increase as part of a three-to-four-year deal, there's no need for the Browns to consider such an option.
Yes, Perriman surprised everyone with his performance last year. However, the reason it was such a shock was due to his struggling so badly in the seasons before.
Perriman was never able to live up to his first-round status as a member of the Baltimore Ravens, dealing with a mix of injuries and an inability to consistently catch the ball. The only reason he was available as a midseason pickup in the first place last year was due to the Ravens essentially giving up on him.
While Perriman seemed to leave his struggles in Baltimore, his stats with the Browns don't exactly merit an enormous pay raise.
In ten games, he notched 16 receptions, 340 yards and two touchdowns. This marks a notable improvement, but certainly isn't impressive enough to convince the Browns to lock themselves into a longer, more expensive contract with him.
Sure, you could argue cap space is hardly a concern for Cleveland. The team still boasts more money to spend this offseason than almost every other franchise in the league. Still, just because the money is available doesn't mean it needs to be burned on a wideout who still needs to prove he's worth it.
This is essentially the main reason why I don't think the Browns should feel pressured to sign Perriman regardless of his increased demands. He's understandably trying to get as much as he can thanks to how well he played last year. In the end, though, ten games is hardly enough of a sample size to prove you're a completely different player.
As was the case with Robinson, the Browns need to know for sure Perriman is indeed a consistently reliable player worth investing in, not just someone who had himself a solid streak of games.
With that in mind, if what he's asking for is above market value, the Browns shouldn't feel compelled to pay up just because they can. They don't have to completely shut the door on him, as it'd be worth the effort to work something out with him. Still, they also shouldn't make a significant investment in someone who still needs to show them he's worth it.
Perriman surprised many with his newfound reliability last year. He just needs to prove he can maintain it. Until he does, it doesn't make sense to meet any above-market demands.

NEO Sports Insiders Newsletter
Sign up to receive our NEOSI newsletter, and keep up to date with all the latest Cleveland sports news.