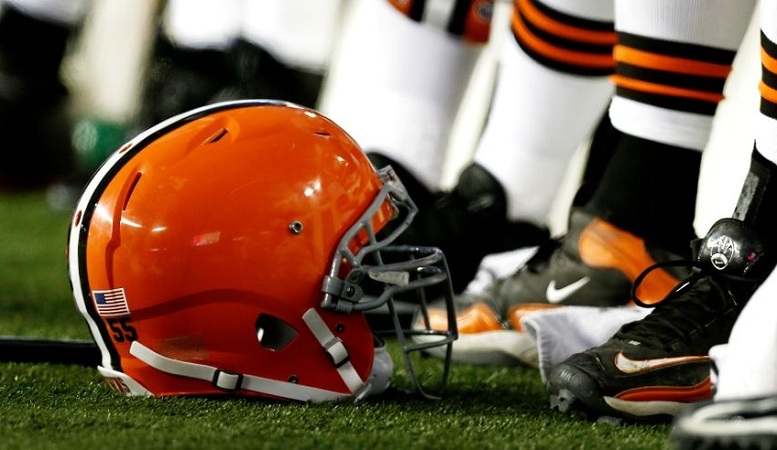 According to Bleacher Report's Mike Freeman, the Cleveland Browns have some interest in acquiring Washington quarterback Robert Griffin III.
Considering the Browns' current quarterback situation, it's no stretch to believe that. The Browns know exactly what they have; they're praying that Josh McCown is at the very least a viable stopgap option who can possibly navigate them into next season, and it should be fairly obvious at this point that the organization thinks very little of Johnny Manziel's ability.
As for  Griffin, he has been unseated as the starting quarterback in Washington by Kirk Cousins, who has ranged from subpar to awful against just about everyone but the Browns (he threw for 329 yards and two touchdowns in a 38-21 victory in Cleveland in 2012). Just three seasons ago, Griffin was busy setting the football world on fire, winning NFL Offensive Rookie of the Year by throwing for 3,200 yards and 20 touchdowns against just five interceptions.
But a few concussions, a torn-up and badly mismanaged knee, a dislocated ankle and a whole bunch of character-assassinating later, Griffin is about ready to be banished from the Washington organization. This is in spite of the fact that Griffin has completed nearly 64 percent of his passes, which would put him in the top ten all-time. It's a relatively small sample size, sure, but it shouldn't be ignored. McCown's career completion percentage is just under 59 percent.
This is also in spite of the fact that Griffin has 40 career touchdowns to 23 interceptions and rushed for 815 yards in 2012, when he wasn't injured and didn't have a whole team trying to sabotage him just yet.
So now that he's been benched for Cousins, purely out of an organizational and philosophical bias, there's really no turning back. Washington has publicly given its vote of no confidence to Griffin, and the only plausible option is for both sides to move on.
Freeman says Washington would surely like to get something in return, obviously, but offers haven't amount to anything better than a fifth-round pick. Sure, Griffin could possibly be cut, but if it comes down to a trade, you mean to tell me you wouldn't want the Browns to give up the right to draft a fringe roster player for a quarterback who isn't far removed from being quite possibly the most exciting player in football?
If you're truly and vehemently anti-Griffin, ask yourself: why?
What does Josh McCown do to inspire confidence in you this season and beyond? Is it his nearly 1:1 touchdown to interception ratio? Or the fact that he has now played for seven different teams? Maybe it's his career 17-32 record that gets you going?
And what are you still clinging to with Johnny Manziel? At this point, we actually know that Griffin can play; there is ample evidence to prove that. In Manziel's case, the only thing we really have to go off of are two decent passes against second-teamers in a preseason game. His regular-season play from 2014 will make you turn away in abject horror, get down on your knees and pray for your soul to be cleansed.
The Browns would be fools to not take a chance on Griffin. Their current quarterback situation is quite possibly the bleakest it has been since 1999, and a pretty solid defense almost ensures that Cleveland won't be the worst team in the NFL in 2015, meaning the Browns will likely miss out on the next supposed "can't-miss" quarterback prospect. And no matter who they might draft at quarterback in 2016, there is no guarantee that he'll be worth anything in professional football.
Robert Griffin III is a great player who needs a fresh start. If the Browns were smart, he'd retool himself and rejuvenate his career in Cleveland.

NEO Sports Insiders Newsletter
Sign up to receive our NEOSI newsletter, and keep up to date with all the latest Cleveland sports news.