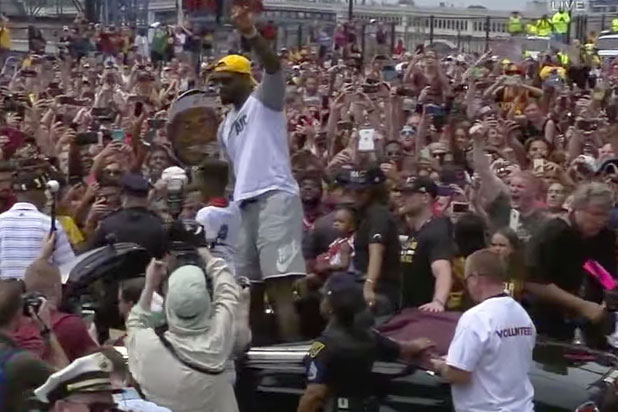 Ten days removed from Game 7 of the NBA Finals, it's starting to sink in what kind of legendary status the champion Cavaliers have reached in the city of Cleveland.
LeBron James already was going to be a basketball legend regardless, but has now become a hero to the city. Whether that's fair or valid compared to real heroes, like police officers, soliders. etc., he's going to be looked at as one of the biggest figures in Cleveland history, sports-related or otherwise.
But the other guys are reaching celebrity status, too.
This is what happens when a team wins a championship. Everyone gets their time to shine. Harrison Barnes and Draymond Green got it in 2015, now we're seeing all of the Cavs in the spotlight.
Richard Jefferson went from Snapchat god to champion and fan-favorite.
Matthew Dellavedova might be gone heading into 2016-2017, but his performance in the 2015 Finals and helping win the 2016 Finals make him a Cleveland folk hero for life. He'll never have to pay for his own coffee anywhere in Cleveland.
Star point guard Kyrie Irving became superstar point guard on June 13, when he scored 41 points.
But the 24-year-old's career could end today and he would be a Cleveland legend. The beauty of it is that he has plenty of great years ahead if all things go to plan, but it's hard to think of any 24-year-old cementing himself in Cleveland history the way Kyrie did this June.
Kevin Love will forever be remembered for his great defense on Steph Curry in the final minute of Game 7. He'll also be remembered for double shotgunning beers and rocking the championship belt in the locker room celebration.
He joked on Colbert's late show that he wanted to make sure he had a player to hug when the Cavs celebrated on the court, so he sought out LeBron. This was clearly a shot at the people who claimed he "wasn't liked on the team."
Tristan Thompson doesn't have to put up with fans moaning about expensive contracts or missing free throws. He proved his value tenfold in the Finals.
Tyronn Lue received a call from the president and J.R. Smith was mentioned by name.
J.R. is probably the most fun player to watch in all of this celebration. He has been making headlines just being the same care-free guy he was his whole career.
The only difference is it's turned up to champion level.
But as we get further away from the victory, it's become clearer to me anyway, that anyone who was a part of that championship will be immortalized in Cleveland sports history.
We'll be telling our grandchildren about RJ and Lil' Kev, Shumpert's hair, J.R.'s refusal to wear a shirt, Love's championship belt, Kyrie's shot, and LeBron's block.
Anyone who witnessed the end of a 51-year-drought will be able to tell future generations 51 years later everything about it that was so awesome.
It could be an ever greater story if they repeat.